05 May

What to Pick for the Long-Term
What to Pick for the Long-Term
May 5, 2021
Forex?
Seriously?
In our Monday Newsletter, we had a great question: "If you had to invest your money for 20 years, without touching it, what would you do?"
And my brief answer was: I would trade Forex.
How can that be?
No one in their right mind would put their hard-earned money in Forex. What about all the self-help books saying that trading doesn't work? What about all the experts saying that nothing beats an index fund?
What about the famous 60/40 Portfolio (60% stocks, 40% bonds) that everyone's always used and always will?
In short, what kind of person would recommend long-term investing with Fx?
Well, it might be the kind of person who thinks this is awful: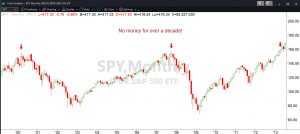 An investor in the market in 2000 would have made no money for the next 7 years…and then would have not made money for another five and a half.
That's over 12 years of no returns whatsoever.
If that's the best thing out there, we're doomed.
But there are other things out there.
And one of those other things is Forex.
But isn't Forex dangerous and scammy?
First, what's more dangerous than no money for 12 years?
Second, yes, Forex has some dangers.
Remember the Swiss Franc crash in 2015?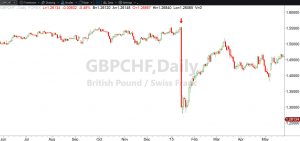 That gapped down 2,000 points and there wasn't much we could've done about it. (Of course, if you were Short, it was a magnificent, life-changing windfall.)
Or this British Pound crash in 2016?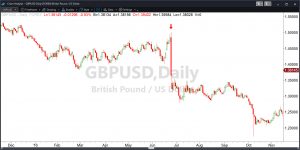 That was scary, too. (Unless, again, you were Short.)
Does that make Forex scarier than anything else?
How about being long Crude Oil futures contract when it went below $0?
How about having your life savings in Enron stock because it's one of the top ten biggest and brightest companies in the world? (It went to $0).
How about being Long GameStop at $325?
Buying-and-holding stocks (and futures) is very dangerous. Both of those can lose all your money.
And they can also have sickening gaps. Every day is a chance that something bad happened overnight. That's part of the business.
But Forex doesn't have these problems.
There is only one gap a week, which means less opportunities for overnight risk.
And it's not a company, so a currency pair is almost certainly not going to disappear overnight because their billion-dollar product was a fraud.
And it's not an index fund, which suffers from huge drawdowns, miniscule returns, and offers the possibility for no money for many years.
No, Forex is no more dangerous than anything else. It could be argued it's actually less dangerous.
The real danger in Forex is the scam artists. The people who prey upon our insecurities while trying to make a dishonest quick buck.
If we do it responsibly, though, Forex offers us a technically-observant market with very flexible account sizing and leverage to boost our returns.
Talk to you soon.
Join the free Newsletter list here.
To become a Member go here.
Disclaimer:
It should not be assumed that the methods, techniques, or indicators presented in these products will be profitable or that they will not result in losses. Past results are not necessarily indicative of future results. Examples presented on these sites are for educational purposes only. These set-ups are not solicitations of any order to buy or sell. The authors, the publisher, and all affiliates assume no responsibility for your trading results. There is a high degree of risk in trading.
HYPOTHETICAL OR SIMULATED PERFORMANCE RESULTS HAVE CERTAIN INHERENT LIMITATIONS. UNLIKE AN ACTUAL PERFORMANCE RECORD, SIMULATED RESULTS DO NOT REPRESENT ACTUAL TRADING. ALSO, SINCE THE TRADES HAVE NOT ACTUALLY BEEN EXECUTED, THE RESULTS MAY HAVE UNDER- OR OVER-COMPENSATED FOR THE IMPACT, IF ANY, OF CERTAIN MARKET FACTORS, SUCH AS LACK OF LIQUIDITY. SIMULATED TRADING PROGRAMS IN GENERAL ARE ALSO SUBJECT TO THE FACT THAT THEY ARE DESIGNED WITH THE BENEFIT OF HINDSIGHT. NO REPRESENTATION IS BEING MADE THAT ANY ACCOUNT WILL OR IS LIKELY TO ACHIEVE PROFITS OR LOSSES SIMILAR TO THOSE SHOWN.