12 Jun

What About RSI?
What About RSI?
June 12, 2023
Subscribe to my YouTube Channel HERE.
Last week, we discussed a Daily Heron 245 portfolio and, honestly, the testing went better than I thought it would.
So it made me think.
What about RSI?
As you know, the Daily Heron uses the CCI indicator to enter trades. But my favorite indicator is the RSI.
Why?
Because of silly emotions. The first successful robot I ever built was based on the RSI.
I also like how it trades, though. Relative strength is a real thing. Relative strength, in various forms, has worked better than buy-and-hold for over a century.
So I like that, too.
That doesn't mean it's better than CCI, though.
Let's find out.
To keep it apples to apples, we'll use almost the same target and stop as we did for the Daily Heron. Of course, almost isn't exact, but we'll live with it.
Here are the details.
The RSI Daily Hornet 245
Long Trades: When RSI closes into Oversold (Length 3, Oversold 20), enter at Open of the next bar
Short Trades: When RSI closes into Overbought (Length 4, Overbought 80), enter at Open of the next bar
Filter: For Long, price must be above the 140 SMA (opposite is true for Short trades)
Target: 77 pips
Stop: 300 pips
Extreme Exit Long: When RSI reaches 92
Extreme Exit Short: When RSI reaches 7
(It shouldn't reach the RSI exit very often, if at all).
As you can see, it's similar but not exact.
How did it do?
Here's the report on the GBPUSD (via Portfolio Architect):

The numbers look good. Here are the Annual Returns: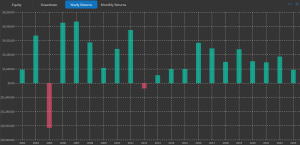 The past ten years have been very good. And the win rate is phenomenal if you like to win a lot. RSI seems like a good idea.
But there is that 2005 big red bar. Apparently, 2005 was a year of trends that kept going and didn't bounce back when price went into Overbought/Oversold.
What do you think?
Is ten straight years good enough? Or do you have to throw it out because of one bad year 18 years ago?
Or could you keep it as-is and start building a portfolio to see if that mitigates that old drawdown?
We'll pick the last option in the next Newsletter.
Talk to you soon.
Join the free Newsletter list here .
Get Robot information HERE.
Visit my Performance Page HERE.
Buy my new book HERE.
The Inevitability of Becoming Rich is HERE.
My latest YouTube video is HERE.
Disclaimer:
It should not be assumed that the methods, techniques, or indicators presented in these products will be profitable or that they will not result in losses. Past results are not necessarily indicative of future results. Examples presented on these sites are for educational purposes only. These set-ups are not solicitations of any order to buy or sell. The authors, the publisher, and all affiliates assume no responsibility for your trading results. There is a high degree of risk in trading.
HYPOTHETICAL OR SIMULATED PERFORMANCE RESULTS HAVE CERTAIN INHERENT LIMITATIONS. UNLIKE AN ACTUAL PERFORMANCE RECORD, SIMULATED RESULTS DO NOT REPRESENT ACTUAL TRADING. ALSO, SINCE THE TRADES HAVE NOT ACTUALLY BEEN EXECUTED, THE RESULTS MAY HAVE UNDER- OR OVER-COMPENSATED FOR THE IMPACT, IF ANY, OF CERTAIN MARKET FACTORS, SUCH AS LACK OF LIQUIDITY. SIMULATED TRADING PROGRAMS IN GENERAL ARE ALSO SUBJECT TO THE FACT THAT THEY ARE DESIGNED WITH THE BENEFIT OF HINDSIGHT. NO REPRESENTATION IS BEING MADE THAT ANY ACCOUNT WILL OR IS LIKELY TO ACHIEVE PROFITS OR LOSSES SIMILAR TO THOSE SHOWN.