25 Mar

We Need Something Better
We Need Something Better
Mar. 25, 2020
Back when I was learning tennis, every pro taught the same way.
Hit through five balls and finish the racquet straight up to the sky.
I loved tennis, so I followed orders.
And my strokes were awful.
I managed to win matches because I tried hard and hit the ball in, but I found I could never beat the players with huge strokes. My hit-through-five-balls didn't work under the pressure of their fast, flowing racquet-speed.
My strokes were a stupid way to play.
When I decided to become a tennis coach, I studied the best players in the world. Guess what? Nobody did that five-balls stuff. Nobody finished to the sky.
So I threw out everything that had been regurgitated on me and only taught what worked. That new methodology worked 100% of the time.
Now here we are in the middle of a financial crisis. And what have we been told for years?
Put all your money in the stock market and put 40% in bonds. 
People love money so they follow orders.
How's that done lately?
There has to be a better way.
There has to be a way to invest so that the upside is far better than 7-8% per year (maybe), 50-75% drawdowns, and horrifying in a crisis.
Instead of doing the experts' "tried-and-true" process of:
1) Save your money;
2) Invest it in the stock market,
how about a different process of:
1) Save your money;
2) Invest it in something that makes more money with less drawdown and doesn't fold in a crisis.
That's why I entered a trading contest with breakout robots. I want to see how much better that style is than buy-and-hold, and I want it verified. So far that is going pretty well: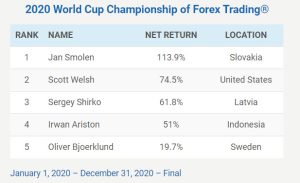 The important part to me, though, is finding a better way. And sharing it.
This week we're going to talk about another completely-free way to trade our money. It was created by some traders who wanted to provide a public account of how trend following investing would do in real time. They publish all their trades and all their results every day.
And the free portfolio they track is up 43% in March and up and 61% for 2020.
You can find the portfolio at http://www.40in20out.com/.
In our next emails, I'll break down exactly what they do and then I'll replicate their portfolio and then I'll track those results back to 2014.
Maybe this is a step toward a better way.
Talk to you soon.
Join the free email Newsletter list here.
To get on the email list, go here.
To become a Member go here.
Disclaimer:
It should not be assumed that the methods, techniques, or indicators presented in these products will be profitable or that they will not result in losses. Past results are not necessarily indicative of future results. Examples presented on these sites are for educational purposes only. These set-ups are not solicitations of any order to buy or sell. The authors, the publisher, and all affiliates assume no responsibility for your trading results. There is a high degree of risk in trading.
HYPOTHETICAL OR SIMULATED PERFORMANCE RESULTS HAVE CERTAIN INHERENT LIMITATIONS. UNLIKE AN ACTUAL PERFORMANCE RECORD, SIMULATED RESULTS DO NOT REPRESENT ACTUAL TRADING. ALSO, SINCE THE TRADES HAVE NOT ACTUALLY BEEN EXECUTED, THE RESULTS MAY HAVE UNDER- OR OVER-COMPENSATED FOR THE IMPACT, IF ANY, OF CERTAIN MARKET FACTORS, SUCH AS LACK OF LIQUIDITY. SIMULATED TRADING PROGRAMS IN GENERAL ARE ALSO SUBJECT TO THE FACT THAT THEY ARE DESIGNED WITH THE BENEFIT OF HINDSIGHT. NO REPRESENTATION IS BEING MADE THAT ANY ACCOUNT WILL OR IS LIKELY TO ACHIEVE PROFITS OR LOSSES SIMILAR TO THOSE SHOWN.