14 Apr

Using Fair Value Robots for Prop Trading
Using Fair Value Robots for Prop Trading
Apr. 14, 2023
I get a lot of emails about Forex prop trading.
People love it.
The charms of prop trading are lost on me, though. At least for now.
I don't do any prop trading.
But maybe I'm wrong.
If we were to consider prop trading, though, we really couldn't use any trend following systems. Systems that go for big wins and suffer frequent small losses just don't work well for prop firms that have super tight drawdown rules.
No, it seems to me that prop firm trading needs lots and lots of wins. The more we win, the more we stay out of drawdown, even if if doing so greatly decreases our long-term profit potential.
But long-term profit potential doesn't matter in prop trading. What matters is beating the challenge and getting funded (i.e. money for nothing). If we get funded, we get to make profits on other people's money. And fortunes have been made using that mode of thinking.
That being said, what about using the no-stoploss style of trading of the Fair Value robot (like we talked about in the last Newsletter)? If we're winning all the time and have equity curves like we did on the EURJPY 15M, wouldn't that eventually pass the Challenge? Here's that curve again: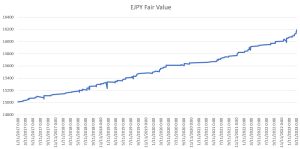 Furthermore, wouldn't adding more currency pairs add more profit while potentially not adding much drawdown? Hmm.
In the original Fair Value course I made six years ago, I used 5 different pairs. You can see all those pairs and all the details in the YouTube playlist here: https://www.youtube.com/watch?v=dsR-RFHx6o0&list=PLvuTGCuHKnomDCBN3onZRcn-Eoxi-WM9A
But there's a part of me that doesn't think trading like this can stand the test of time. I worry about the Big Drawdown coming along and ruining everything.
So, I ran a test (using Portfolio Tester) on all 5 of those original pairs. Here's the Report: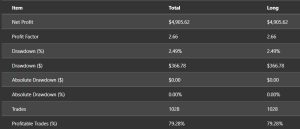 And here's the portfolio Equity Curve since 2017 (exported w/Portfolio Architect):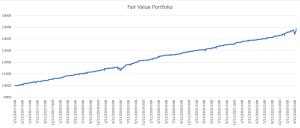 According to the testing, the portfolio has held up.
Here are some takeaways and notes.
One, all of the pairs have slightly different settings. The ones I gave away for free in the last Newsletter are a good place to start. I give all the settings to people who purchase the Elite Membership or the Fair Value robot.
Two, all of them only use Long Only. Could Short trades be used, too? Probably. You would have to test it out (or wait for me to test it eventually).
Three, it's probably not enough money to pass a draconian prop firm challenge in a restrictive time window. But more pairs could be added to try to counteract that. Again, that's something that could be tested.
Four, the drawdown is really good. Trading all of these together has a hypothetically miniscule drawdown amount.
In short, if I were to try prop trading, this would be a great place to start.
Winning a lot and seeing low drawdowns is a great way to attempt to get funded.
Talk to you soon.
Join the free Newsletter list here .
Get Robot information HERE.
Visit my Performance Page HERE.
Buy my new book HERE.
The Inevitability of Becoming Rich is HERE.
My latest YouTube video is HERE.
Disclaimer:
It should not be assumed that the methods, techniques, or indicators presented in these products will be profitable or that they will not result in losses. Past results are not necessarily indicative of future results. Examples presented on these sites are for educational purposes only. These set-ups are not solicitations of any order to buy or sell. The authors, the publisher, and all affiliates assume no responsibility for your trading results. There is a high degree of risk in trading.
HYPOTHETICAL OR SIMULATED PERFORMANCE RESULTS HAVE CERTAIN INHERENT LIMITATIONS. UNLIKE AN ACTUAL PERFORMANCE RECORD, SIMULATED RESULTS DO NOT REPRESENT ACTUAL TRADING. ALSO, SINCE THE TRADES HAVE NOT ACTUALLY BEEN EXECUTED, THE RESULTS MAY HAVE UNDER- OR OVER-COMPENSATED FOR THE IMPACT, IF ANY, OF CERTAIN MARKET FACTORS, SUCH AS LACK OF LIQUIDITY. SIMULATED TRADING PROGRAMS IN GENERAL ARE ALSO SUBJECT TO THE FACT THAT THEY ARE DESIGNED WITH THE BENEFIT OF HINDSIGHT. NO REPRESENTATION IS BEING MADE THAT ANY ACCOUNT WILL OR IS LIKELY TO ACHIEVE PROFITS OR LOSSES SIMILAR TO THOSE SHOWN.