17 Nov

Using Bollinger Bands™ on Stocks
Using Bollinger Bands™ on Stocks
Nov. 17, 2023
Subscribe to my YouTube Channel HERE.
Sometimes important truths take a while to sink in.
And then they quickly become overwhelmingly obvious.
One of those trading truths is: A system is the key.
It's easy for online people to look at a system on SPY or AAPL and mockingly say, "What's the point of a system? You can just buy-and-hold it!"
Yes, good point, online person.
Except for one small thing.
NO ONE CAN DO IT.
I literally do not know one single person who's used buy-and-hold successfully for any period of time (even though many people make popular videos on how well it theoretically works).
Why is it so hard?
Because losing money with no system in place is one of the most difficult things a human can face.
But a system changes that. A system gives confidence (through data) and provides discipline.
A system is a long-term, successful solution.
While buy-and-hold is a pipe dream (for most people).
That said, let's put Bollinger Bands™ to work again, this time on stocks.
First up is the SPY.
Here are the details:
BB Breakout 30-Minute SPY Strategy
Long Entry: A break above the Upper Band (20 Length, 2.2 std dev)
Target: $300
Stop: $550
Here are some trades from 2023: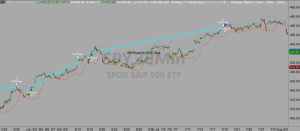 And here's the Report trading $10k of stock each time from 2007-2023 with no compounding via Portfolio Architect: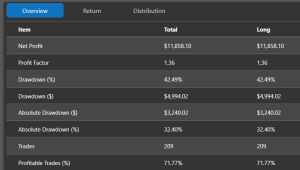 On a risk-adjusted basis, this strategy hypothetically matches the market over this time period (assuming a buy-and-holder didn't sell out during a crisis). Staying in via a system always beats panicking and getting out.
How would this system do on a tech stock like AAPL?
Here's the hypothetical Curve and Report for Apple from 2007-2023 trading $10k of stock each time. For AAPL, we used a $900 target and an $800 stop instead: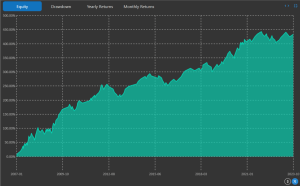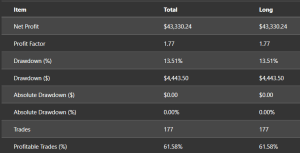 Compounding, of course, would do much better. And this clearly beats an index fund.
Again, it would be easy to say, "Buying-and-holding AAPL would do better."
You know what, though?
Doing 1,000 pushups a day would do better than what we're doing.
But almost no one can do it.
The system you can do for a long-time is exponentially better than the best theoretical return on paper.
And that might be the most important idea in trading.
Talk to you soon.
Join the free Newsletter list here .
Get Robot information HERE.
Visit my Performance Page HERE.
Buy my new book HERE.
The Inevitability of Becoming Rich is HERE.
My latest YouTube video is HERE.
Disclaimer:
It should not be assumed that the methods, techniques, or indicators presented in these products will be profitable or that they will not result in losses. Past results are not necessarily indicative of future results. Examples presented on these sites are for educational purposes only. These set-ups are not solicitations of any order to buy or sell. The authors, the publisher, and all affiliates assume no responsibility for your trading results. There is a high degree of risk in trading.
HYPOTHETICAL OR SIMULATED PERFORMANCE RESULTS HAVE CERTAIN INHERENT LIMITATIONS. UNLIKE AN ACTUAL PERFORMANCE RECORD, SIMULATED RESULTS DO NOT REPRESENT ACTUAL TRADING. ALSO, SINCE THE TRADES HAVE NOT ACTUALLY BEEN EXECUTED, THE RESULTS MAY HAVE UNDER- OR OVER-COMPENSATED FOR THE IMPACT, IF ANY, OF CERTAIN MARKET FACTORS, SUCH AS LACK OF LIQUIDITY. SIMULATED TRADING PROGRAMS IN GENERAL ARE ALSO SUBJECT TO THE FACT THAT THEY ARE DESIGNED WITH THE BENEFIT OF HINDSIGHT. NO REPRESENTATION IS BEING MADE THAT ANY ACCOUNT WILL OR IS LIKELY TO ACHIEVE PROFITS OR LOSSES SIMILAR TO THOSE SHOWN.