12 May

Turning Good Into Very Good
Turning Good Into Very Good
May 12, 2023
This week we've looked at two simple systems and how they work together.
(You can get all the details on these two systems for free by going here (BB 1H) and here (3 MA Cross)).
Initially, we had a problem.
The simple BB 1-Hour GJPY robot has been struggling in recent months.
But by adding the 3-MA-Cross30M GJPY robot, we mostly solved the problem.
As you recall, here are the BB 1H Annual Returns by itself: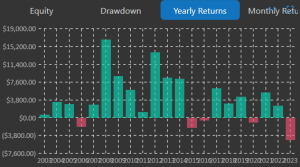 And here's how much we improved it by adding the 3-MA-Cross: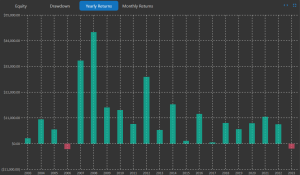 That's probably good enough.
But we want more than good enough. Is there anything we can do?
First, we need to make sure we know what we're doing.
Because over-optimizing is a real thing. A real bad thing.
If we take ONE system and notice its problems, the best answer is not to optimize it to death until it looks better. Trying to force one robot to solve all market conditions is a losing battle. Almost assuredly, we'll never make it work.
Actually, by trying to make a one-size-fits-all strategy, we'll probably make it unprofitable.
So, if we're going to try to lessen drawdown and increase profit, we have to leave simple systems alone. Instead, we'll just add more simple systems.
If we use our brains and try to make the systems fit together well, we can improve our situation and keep the odds of future success on our side.
In short, we added one simple system. What if we add another?
Let's take a look.
This time we'll add a 1-Hour RSI system using the Master Trend robot. This system is in the Master Trend course videos and is different than our previous two in a few ways:
It only trades a certain part of the day (before 12 pm ET).
It has a time exit.
It has a large move to break-even. Meaning: it moves to break-even after substantial profit has been achieved. It doesn't move too soon but it does make sure a big winner doesn't turn negative.
It has a smaller stoploss and smaller targets.
That seems like it might make our portfolio better. Does it?
Here are the Annual Returns with the BB 1H, 3-MA-Cross 30M, and the Master Trend RSI 1H put together (via Portfolio Architect):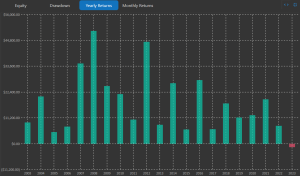 Well, look at that. No more losing years.
Hey, moron, 2023 is red!
Easy now. I see it. But we're only four months in. Considering it has hypothetically ended profitably every year since 2003, I'm going to let it play itself out.
Simple systems will always struggle at some point. There's no way around it.
But piecing simple systems together with a little common sense can hypothetically turn a struggle into something profitable.
Talk to you soon.
Join the free Newsletter list here .
Get Robot information HERE.
Visit my Performance Page HERE.
Buy my new book HERE.
The Inevitability of Becoming Rich is HERE.
My latest YouTube video is HERE.
Disclaimer:
It should not be assumed that the methods, techniques, or indicators presented in these products will be profitable or that they will not result in losses. Past results are not necessarily indicative of future results. Examples presented on these sites are for educational purposes only. These set-ups are not solicitations of any order to buy or sell. The authors, the publisher, and all affiliates assume no responsibility for your trading results. There is a high degree of risk in trading.
HYPOTHETICAL OR SIMULATED PERFORMANCE RESULTS HAVE CERTAIN INHERENT LIMITATIONS. UNLIKE AN ACTUAL PERFORMANCE RECORD, SIMULATED RESULTS DO NOT REPRESENT ACTUAL TRADING. ALSO, SINCE THE TRADES HAVE NOT ACTUALLY BEEN EXECUTED, THE RESULTS MAY HAVE UNDER- OR OVER-COMPENSATED FOR THE IMPACT, IF ANY, OF CERTAIN MARKET FACTORS, SUCH AS LACK OF LIQUIDITY. SIMULATED TRADING PROGRAMS IN GENERAL ARE ALSO SUBJECT TO THE FACT THAT THEY ARE DESIGNED WITH THE BENEFIT OF HINDSIGHT. NO REPRESENTATION IS BEING MADE THAT ANY ACCOUNT WILL OR IS LIKELY TO ACHIEVE PROFITS OR LOSSES SIMILAR TO THOSE SHOWN.