26 Apr

Trading a System That's Red-Hot Right Now
Trading a System That's Red-Hot Right Now
Apr. 26, 2023
I'm not very interested in The Next Big Thing.
Most predictions are wrong. Most new businesses fail. Most fads disappear.
Spending brainpower trying to find the next Dogecoin seems like an unproductive use of time.
I'm more interested in The Boring Thing That's Worked Forever.
But.
There's no denying that some trading systems work best in certain environments.
And ignoring systems that thrive for short periods of time seems obtuse and detrimental.
There are systems that can get red-hot all of a sudden.
Should we hop on and ride them until it's over?
It's a tough question.
Some traders just trade what they trade and let everything else go. Someone in Omaha does that (and has done okay).
But it begs the question: Why not take advantage of the hot hand?
The stock market has gone through mind-bending transformations since 2020. It's trended harder than ever before and then done the opposite. It's been more volatile than ever and then gone to sleep. It's rewarded buy-the-dippers and then punished them unmercifully.
But there's been big money to be made on all of those transformations. All them were The Next Big Thing. For a short while.
Here's a current example.
The Nasdaq has been running wild the past few years. WILD. In both directions.
Take a look at this simple system on the NQ 5M Futures Contract:
If it's 2:00 ET, then we can look for a trade.
If the 2:00 bar is green and it's higher than the day's open, go Long. If it's red and below the day's open, go Short.
Stop: $1050 per contract
Exit at 4 pm ET
You can see where this is going. If the Nasdaq is trending hard (up or down), this system will catch big wins. If the market isn't doing anything, the wins will become tiny and nothing will happen.
Here's the Curve for this system from 2005-2019:

For years, it barely did anything. Then it got a little frisky in 2018 when we had that mini meltdown.
But here's the Curve from 2020-2023:

And take a look at the Yearly Returns (via Portfolio Architect):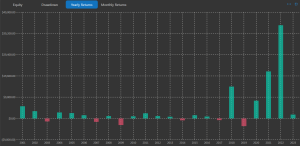 Holy macaroni. This system could've potentially taken a $10k account and turned it into an $85k account since 2020. That's over a 700% hypothetical return.
Is that worth it?
Sure, this probably won't last forever. It definitely won't last forever.
But it also doesn't seem like the market will go back to sleep anytime soon.
What if this system's run lasts three more years? Or longer?
How much money could someone trading a system like that make in that time?
It's a very tough question.
Trading it on its own could be stressful. Potentially fun and lucrative, but stressful.
But maybe we could think about it another way.
We'll do that in the next Newsletter.
Join the free Newsletter list here .
Get Robot information HERE.
Visit my Performance Page HERE.
Buy my new book HERE.
The Inevitability of Becoming Rich is HERE.
My latest YouTube video is HERE.
Disclaimer:
It should not be assumed that the methods, techniques, or indicators presented in these products will be profitable or that they will not result in losses. Past results are not necessarily indicative of future results. Examples presented on these sites are for educational purposes only. These set-ups are not solicitations of any order to buy or sell. The authors, the publisher, and all affiliates assume no responsibility for your trading results. There is a high degree of risk in trading.
HYPOTHETICAL OR SIMULATED PERFORMANCE RESULTS HAVE CERTAIN INHERENT LIMITATIONS. UNLIKE AN ACTUAL PERFORMANCE RECORD, SIMULATED RESULTS DO NOT REPRESENT ACTUAL TRADING. ALSO, SINCE THE TRADES HAVE NOT ACTUALLY BEEN EXECUTED, THE RESULTS MAY HAVE UNDER- OR OVER-COMPENSATED FOR THE IMPACT, IF ANY, OF CERTAIN MARKET FACTORS, SUCH AS LACK OF LIQUIDITY. SIMULATED TRADING PROGRAMS IN GENERAL ARE ALSO SUBJECT TO THE FACT THAT THEY ARE DESIGNED WITH THE BENEFIT OF HINDSIGHT. NO REPRESENTATION IS BEING MADE THAT ANY ACCOUNT WILL OR IS LIKELY TO ACHIEVE PROFITS OR LOSSES SIMILAR TO THOSE SHOWN.