27 Jul

Trading a New "ETF"
Trading a New "ETF"
July 27, 2022
The message from the most famous financial advisors in the world is clear:
You have to be diversified.
It's the only way to trade, and if we stay diversified we can beat all of the mutual funds and active traders by a mile.
All the experts and all the "research" says so.
"But how can we do it," we ask. "How can we utilize the omnipotent power of diversification?"
"Easy," they say. "Just trade an ETF."
What's an ETF? It's an instrument made up of a bunch of other instruments. The SPY ETF, for example, has all of the S&P 500 inside of it. If you trade the SPY by itself–just one instrument–you get the diversification benefit of actually trading the entire S&P 500 all at once.
We can buy the SPY, forget about it forever because it's diversified, and beat the returns of everyone.
So they tell us.
How diversified are we, though? The SPY has five hundred companies but don't many of them overlap? And aren't they all just companies with similar problems in bad times and similar advantages in good times? It sounds diversified, but is it?
Is there anything else that better uses the superpowers of diversification?
How about an instrument that takes the interest rates of an entire country into account? The movement of interest rates is enormously complex, factoring in politics, GDP growth, central bank doctrines, consumer behavior, and many other things. How about if that instrument also took into account the relationship of one country's currency versus another? Now we're factoring in all those elements from all over the world.
The complex relationship between England, Scotland, Wales and Japan, for example, seems way more encompassing than a few hand-picked United States companies.
Isn't just one Forex currency pair way more diversified than an ETF?
Furthermore, one Forex currency pair trends way harder than an ETF ever could.
More diversification and more returns? Why would anyone turn that down?
And, as you know, I don't turn it down. I only trade the "GBPJPY ETF" (GBPJPY in spot Fx) in all of my Forex accounts.
Is it safe to do that? Is it effective?
The safe part is up to each trader. If a conglomerate of U.S. companies seems safer than a multi-faceted, multi-country relationship, then stick to a basic ETF. The experts would applaud anyone who loves SPY.
We're going to focus this week on effective. Does trading GBPJPY produce good returns?
Let's look at 2022 first. How has the diversified stalwart SPY done in 2022?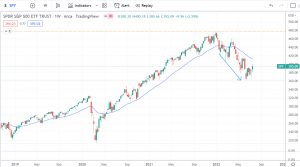 It's been lousy (down about 16%). How about the financial advisor community's special baby, the VOO?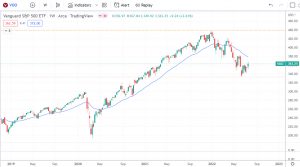 Same thing.
But how has a Daily system on the "GBPJPY ETF" (that we talked about on 3/21/21) performed?

It's up $3,800 in 2022. On a hypothetical $20k account, the "GBPJPY ETF" would be up 19%.
More diversification and more return. Hmm.
In our next Newsletter, we'll go over the details to this system.
Talk to you soon.
Join the free Newsletter list here .
Get Robot information HERE.
Visit my Performance Page HERE.
Buy my new book HERE.
The Inevitability of Becoming Rich is HERE.
My latest YouTube video is HERE.
Disclaimer:
It should not be assumed that the methods, techniques, or indicators presented in these products will be profitable or that they will not result in losses. Past results are not necessarily indicative of future results. Examples presented on these sites are for educational purposes only. These set-ups are not solicitations of any order to buy or sell. The authors, the publisher, and all affiliates assume no responsibility for your trading results. There is a high degree of risk in trading.
HYPOTHETICAL OR SIMULATED PERFORMANCE RESULTS HAVE CERTAIN INHERENT LIMITATIONS. UNLIKE AN ACTUAL PERFORMANCE RECORD, SIMULATED RESULTS DO NOT REPRESENT ACTUAL TRADING. ALSO, SINCE THE TRADES HAVE NOT ACTUALLY BEEN EXECUTED, THE RESULTS MAY HAVE UNDER- OR OVER-COMPENSATED FOR THE IMPACT, IF ANY, OF CERTAIN MARKET FACTORS, SUCH AS LACK OF LIQUIDITY. SIMULATED TRADING PROGRAMS IN GENERAL ARE ALSO SUBJECT TO THE FACT THAT THEY ARE DESIGNED WITH THE BENEFIT OF HINDSIGHT. NO REPRESENTATION IS BEING MADE THAT ANY ACCOUNT WILL OR IS LIKELY TO ACHIEVE PROFITS OR LOSSES SIMILAR TO THOSE SHOWN.