04 May

There's No Such Thing as a Market Downturn
There's No Such Thing as a Market Downturn
May 4, 2022
_________________________
As you know, I did The Trading Battle last week: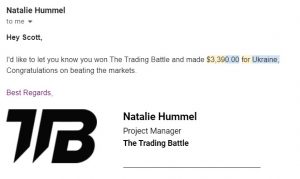 Hooray! Now, on the to the Newsletter…
_________________________
When the market craters, everyone gets very nervous.
And they should.
Because they thought it was different this time. Because they thought Robinhood was revolutionary and that stocks never go down.
Just buy on the dips and watch it come back.
And then reality slaps that strategy in the face.
Market downturns destroy the accounts of the innocent and ignorant alike.
But only if you let them.
For system traders, market downturns don't exist.
They go by another name: hugely profitable trend celebrations.
For example, world-changing, criminal activities perpetrated by the likes of the Enron convicts weren't really a problem (to traders, that is). All you had to do was stop out.
How do you lose your life savings if you stopped out with an 8% loss and never got back in? How does your account go bankrupt if your breakout never triggers?
A lot has been written on The Great Crash of 1929. And it was horrible. People were encouraged buy stocks with 90% margin–and everyone did. It's easy to see how millions lost everything.
Except it isn't easy to see.
Even using 90% margin, all everyone had to do was STOP OUT. The market rolled over hard and stayed rolled over for a long time. Any basic trend following system would have stopped out of the current trade when the crash hit and then not entered again until it was over.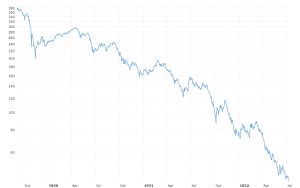 Anyone using a basic trend following system would have survived completely intact, wondering what all the fuss was about.
Market crashes only hurt us if we buy-and-hold. If we don't trade in that dangerous way, there aren't any problems.
For example, we've already talked about the fact that this year is the worst start we've seen in the stock market since 1939. Scary stuff.
Is it though?
Here's our basic 3-moving average cross strategy on a hard-trending instrument (the GBPJPY). You can get all the details on this system in this video.
The market's crashing! Run for the hills!
Nope.
Here's that simple strategy that follows the trend and stops out when the trend is over. It's up over $4,100 this year trading 1 lot each time with no compounding:

Here's the Equity Curve:
If you never read the news and only traded a simple strategy on a trending instrument, would you ever know there was a crash?
If not, does that mean they don't exist?
In our next Newsletters, we'll look at more strategies that don't believe in crashes.
Talk to you soon.
Join the free Newsletter list here .
Get Robot information HERE.
Visit my Performance Page HERE.
Buy my new book HERE.
The Inevitability of Becoming Rich is HERE.
My latest YouTube video is HERE.
Disclaimer:
It should not be assumed that the methods, techniques, or indicators presented in these products will be profitable or that they will not result in losses. Past results are not necessarily indicative of future results. Examples presented on these sites are for educational purposes only. These set-ups are not solicitations of any order to buy or sell. The authors, the publisher, and all affiliates assume no responsibility for your trading results. There is a high degree of risk in trading.
HYPOTHETICAL OR SIMULATED PERFORMANCE RESULTS HAVE CERTAIN INHERENT LIMITATIONS. UNLIKE AN ACTUAL PERFORMANCE RECORD, SIMULATED RESULTS DO NOT REPRESENT ACTUAL TRADING. ALSO, SINCE THE TRADES HAVE NOT ACTUALLY BEEN EXECUTED, THE RESULTS MAY HAVE UNDER- OR OVER-COMPENSATED FOR THE IMPACT, IF ANY, OF CERTAIN MARKET FACTORS, SUCH AS LACK OF LIQUIDITY. SIMULATED TRADING PROGRAMS IN GENERAL ARE ALSO SUBJECT TO THE FACT THAT THEY ARE DESIGNED WITH THE BENEFIT OF HINDSIGHT. NO REPRESENTATION IS BEING MADE THAT ANY ACCOUNT WILL OR IS LIKELY TO ACHIEVE PROFITS OR LOSSES SIMILAR TO THOSE SHOWN.