28 Nov

The Twitter Trend System
The Twitter Trend System
November 28th, 2018
There are a lot of good places to find trading systems.
Twitter isn't one of them.
Or so I thought.
A few months ago, I apparently lost my mind and was looking through Twitter for trading ideas.
Honestly, what are the chances of finding useful trading tips on Twitter?
But I found a tweet that looked interesting. It was about a simple trading system that had tested out pretty well (according to the tweeter).
I knew that the system would be a hot mess but, as you know, I love systems. I couldn't resist.
So I coded it up and…whoa. It actually didn't look too bad. I was shocked.
I then tried it on a bunch of instruments and it looked good on most of the things I tried.
So I thought I'd share it with you this week.
Here are the details:
System: The Twitter Trend System (named for its place of origin)
Philosophy Behind It: If we trade with the trend with a reliable indicator, good things can happen.
Need Special Indicators? No.
Chart: Daily
Instrument: AUDJPY
Long or Short? Long Only (rules of the system; this system said to only go Long)
Entry parameters: 1) Price must close above the 100 SMA; 2) RSI (set to 2 Length) must go into extreme Oversold (set to 10); 3) Enter at Open of next bar
Exit: Get out when RSI goes into Oversold (set to 53)
Hypothetical Profit: $25,342
Hypothetical Max drawdown: -$8,352
Trade size: 1 full lot
Hypothetical account size: $10,000
Test Period: 2005-2018
Number of Trades: 74
Here is the Multicharts Performance Report: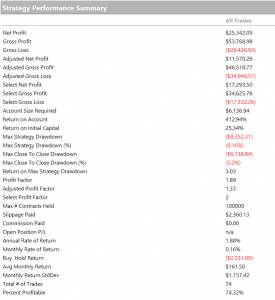 Some takeaways.
First, nice job, Twitter! This is very simple system, and simple systems tend to work.
Second, I modified the original system in the exit only. It originally called for an exit higher than Overbought 53. But this exit worked for many currency pairs, so I stayed with this setting.
Third, it's not a ton of trades. Statistically, we'd love to see more. But this is a simple methodology that is hardly optimized. Simple, timeless ideas don't really need more stats to back them up. The logical nature of the system is its own back-up.
Fourth, this system is fine as it is but also is a great foundation to build on. We don't have stops, targets, timed exits, or anything else in this system. We just go with the trend and use the RSI. We might be able to make this better. Or even use a different indicator. There seems to be a lot of meat on this bone.
Last, I'd love to see how this AUDJPY chart trades with some other currency pairs.
I'm looking hard for a new portfolio to trade in 2019, and I like this very much. Maybe this could be the one.
We'll look at more currency pairs in our next email. Get on the email list here.
To see more systems on my YouTube channel, go here.
Talk to you soon.
Disclaimer:
It should not be assumed that the methods, techniques, or indicators presented in these products will be profitable or that they will not result in losses. Past results are not necessarily indicative of future results. Examples presented on these sites are for educational purposes only. These set-ups are not solicitations of any order to buy or sell. The authors, the publisher, and all affiliates assume no responsibility for your trading results. There is a high degree of risk in trading.
HYPOTHETICAL OR SIMULATED PERFORMANCE RESULTS HAVE CERTAIN INHERENT LIMITATIONS. UNLIKE AN ACTUAL PERFORMANCE RECORD, SIMULATED RESULTS DO NOT REPRESENT ACTUAL TRADING. ALSO, SINCE THE TRADES HAVE NOT ACTUALLY BEEN EXECUTED, THE RESULTS MAY HAVE UNDER- OR OVER-COMPENSATED FOR THE IMPACT, IF ANY, OF CERTAIN MARKET FACTORS, SUCH AS LACK OF LIQUIDITY. SIMULATED TRADING PROGRAMS IN GENERAL ARE ALSO SUBJECT TO THE FACT THAT THEY ARE DESIGNED WITH THE BENEFIT OF HINDSIGHT. NO REPRESENTATION IS BEING MADE THAT ANY ACCOUNT WILL OR IS LIKELY TO ACHIEVE PROFITS OR LOSSES SIMILAR TO THOSE SHOWN.