18 May

The Nightmare Scenario
The Nightmare Scenario
May 18, 2022
There's a saying in coaching:
If a dog's gonna bite you, he'll do it as a pup.
Meaning: if a player is going to flame out, you'll know right away. Ten-year veterans don't suddenly become toxic in the locker room.
It's the new ones, the pups, that will cause damage, and they'll do it right away. That's why the first few days on a team are crucial for new additions.
The same is true for trading.
Experts like to teach the "core principles" that regular people can use to become millionaires. The principles? Save and invest.
How to invest? The stock market. Why the stock market? Because the index fund propaganda machine tells us to.
But here's what no one talks about. Here's the nightmare scenario.
Let's say we bought in to the "core principles", saved the savings, and did the math. We're ready to retire!
We have $200,000 saved up and we need $20,000 each year for expenses. Lucky for us, the market does that and more (especially lately). Our nest egg will never drop below our original amount and we might even be able to grow it. The stock market always goes up after all!
Now, let's travel back to 2007. The year when people with no money owned five properties, housing never went down, and we were rolling in a bull market. Here's how our Financial Independence Retire Early life turned out: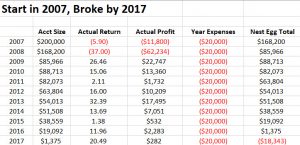 Yikes. The dream scenario ended in bankruptcy.
By 2017, we wouldn't have anything left. All $200k of our savings is gone. Why?
Because of what happened right out of the gate.
To win this game, the beginning has to be okay. We can't lose in the first two years. By losing and pulling money out at the same time, our account takes a hit that turns into a death spiral.
And it spirals even when the market does very well. If you look at the market returns from 2009-2017, they're great (at least for an index fund). It doesn't matter.
Even though we have years of great returns, we're decimated anyway. The initial losing knocked us out. (How come no one tells us that?)
When trying to become financially independent, everything comes down to what happens at the start. That's where all the pressure is.
So, do we have to just cross our fingers and hope it goes okay at first?
Nope. There are a few things we can do.
And we'll talk about those in the next Newsletters.
Talk to you soon.
Join the free Newsletter list here .
Get Robot information HERE.
Visit my Performance Page HERE.
Buy my new book HERE.
The Inevitability of Becoming Rich is HERE.
My latest YouTube video is HERE.
Disclaimer:
It should not be assumed that the methods, techniques, or indicators presented in these products will be profitable or that they will not result in losses. Past results are not necessarily indicative of future results. Examples presented on these sites are for educational purposes only. These set-ups are not solicitations of any order to buy or sell. The authors, the publisher, and all affiliates assume no responsibility for your trading results. There is a high degree of risk in trading.
HYPOTHETICAL OR SIMULATED PERFORMANCE RESULTS HAVE CERTAIN INHERENT LIMITATIONS. UNLIKE AN ACTUAL PERFORMANCE RECORD, SIMULATED RESULTS DO NOT REPRESENT ACTUAL TRADING. ALSO, SINCE THE TRADES HAVE NOT ACTUALLY BEEN EXECUTED, THE RESULTS MAY HAVE UNDER- OR OVER-COMPENSATED FOR THE IMPACT, IF ANY, OF CERTAIN MARKET FACTORS, SUCH AS LACK OF LIQUIDITY. SIMULATED TRADING PROGRAMS IN GENERAL ARE ALSO SUBJECT TO THE FACT THAT THEY ARE DESIGNED WITH THE BENEFIT OF HINDSIGHT. NO REPRESENTATION IS BEING MADE THAT ANY ACCOUNT WILL OR IS LIKELY TO ACHIEVE PROFITS OR LOSSES SIMILAR TO THOSE SHOWN.