11 Sep

The Myth of a "Good" Risk-to-Reward Ratio
The Myth of a "Good" Risk-to-Reward Ratio
Sept. 11, 2023
Subscribe to my YouTube Channel HERE.
People who preach about positive risk-to-reward just wear me out.
Why?
Because it's reward-to-risk, not risk-to-reward! A 5:1 ratio is 5x the reward for 1x the risk.
Say it right!
(Gathering myself.)
That's not the only reason.
The real reason these zealots exhaust me is that what they demand simply isn't true.
There is no mathematical bias toward a 5:1 reward-to-risk as opposed to a 1:5 reward-to-risk.
One isn't easier or more likely or smarter than the other.
It's just numbers.
For example, a "good" 5:1 reward-to-risk system with a 20% win rate produces $40 every ten trades.
($100 for a win, -$20 for a loss, two wins for $200, eight losses for -$160.)
A "bad" 0.4:1 reward-to-risk with an 80% win rate produces $120 every ten trades.
($40 for a win, -$100 for a loss, eight wins for $320, two losses for -$200.)
Hmm, I think $120 is more than $40.
So why are the 5:1 devotees so devoted?
For some reason, they love being wrong. For some reason, they love systems that aren't detailed enough to win more often.
For some reason, they love losing.
And if that's what you like, then that's what will work.
But it's not the only way.
Not by a long shot.
Back in the glory days, before Tradestation dropped Forex, I traded a "bad" risk to reward system on the USDJPY only. The reward to risk ratio on this system was a pitiful 1 to 3.64.
In other words, my stop was 3.64 times bigger than my profit.
The exact opposite of what the zealots tell us to do.
And how did it do with real money in a real account? Here's the recreated, hypothetical Equity Curve from that time period: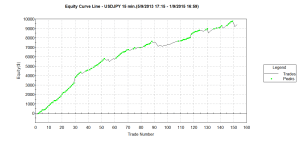 I made 100% on my real account in a year.
Does that type of "bad" reward-to-risk system still work today?
Here's a daytrading futures system on the ES that I've been watching for many months now. It also has a horrible reward-to-risk ratio of 1 to 2.2. (The stop is 2.2x bigger than the target.)
And here's the Equity Curve of that system from August 2017 to September 2023: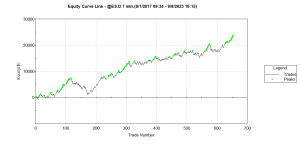 But what about that drawdown on the left side of the chart?
Yes, there's a drawdown, but here are the hypothetical Annual Returns:

No losing years. Even with the drawdown.
The takeaway?
Don't be afraid of low reward-to-risk systems. They can work just fine.
In fact, sometimes they can work much better than high reward-to-risk systems.
In our next Newsletters, we'll look at the Hornet once again.
Talk to you soon.
Join the free Newsletter list here .
Get Robot information HERE.
Visit my Performance Page HERE.
Buy my new book HERE.
The Inevitability of Becoming Rich is HERE.
My latest YouTube video is HERE.
Disclaimer:
It should not be assumed that the methods, techniques, or indicators presented in these products will be profitable or that they will not result in losses. Past results are not necessarily indicative of future results. Examples presented on these sites are for educational purposes only. These set-ups are not solicitations of any order to buy or sell. The authors, the publisher, and all affiliates assume no responsibility for your trading results. There is a high degree of risk in trading.
HYPOTHETICAL OR SIMULATED PERFORMANCE RESULTS HAVE CERTAIN INHERENT LIMITATIONS. UNLIKE AN ACTUAL PERFORMANCE RECORD, SIMULATED RESULTS DO NOT REPRESENT ACTUAL TRADING. ALSO, SINCE THE TRADES HAVE NOT ACTUALLY BEEN EXECUTED, THE RESULTS MAY HAVE UNDER- OR OVER-COMPENSATED FOR THE IMPACT, IF ANY, OF CERTAIN MARKET FACTORS, SUCH AS LACK OF LIQUIDITY. SIMULATED TRADING PROGRAMS IN GENERAL ARE ALSO SUBJECT TO THE FACT THAT THEY ARE DESIGNED WITH THE BENEFIT OF HINDSIGHT. NO REPRESENTATION IS BEING MADE THAT ANY ACCOUNT WILL OR IS LIKELY TO ACHIEVE PROFITS OR LOSSES SIMILAR TO THOSE SHOWN.