11 May

The Magic Tool for Getting Rich
The Magic Tool for Getting Rich
May 11, 2022
They probably mean well.
They're probably not trying to be misleading.
But, despite giving some good advice on how we can become millionaires, every financial independence expert I've heard takes a wrong turn at Albuquerque.
The budgeting advice is good (if boring and despised by many). The living-beneath-your-means talk is good (but can lead to obsessive behavior). The saving part is good (along with increase-your-income ideas).
But the key to all of it lies in one area.
Investing.
Budgeting and frugality and saving won't make us rich. The only way to get there is to have our money make money. Otherwise, we're doomed to live an austere life that doesn't pay off in riches at the end.
We have to invest. And here's where it goes off the rails.
The experts tell us that we have to use index funds and a stock/bond mix. It's a "core principle". Which is weird.
Because financial experts spend all their time motivating us, telling us that anyone can become a millionaire.
And then they turn right around and say, "But trading is impossible. You have no chance. Just give up and be an index-funder."
Then they give us a magic tool because trading and market-timing don't work.
How nice.
What's that magic tool?
Dollar Cost Averaging (DCA).
It's made people rich, they say. And I'm sure it has. Here's a quick explanation if you don't already know.
Because "academic studies" have shown that market timing is impossible (other studies show the exact opposite), the best way to build wealth over time is to ritually add money to your trading account. A simple way to do that is to add money to your trading account every month.
Since we allegedly don't know when the market will go up or go down, by adding money on a schedule, we not only increase our nest egg, we take advantage of dips.
When the market goes down, we get more shares (due to lower prices). Then when the market goes back up, we make a lot more money because we bought on sale.
By doing this over time, our money magically compounds at accelerated rates, making us rich as quickly as possible.
If we are disciplined enough to create savings each month, and then keep adding that savings to our trading account, compounding plus additionally-added funds leads us to the promised land.
On paper, it makes sense. Here's an example.
We'll do something crazy and use AAPL instead of an index fund or ETF. We've just broken the core principle of financial wisdom, but we'll do it anyway.
And we'll assume that we are starting with a small amount (making this exercise accessible to anyone), and we'll only add a little each month. Specifically, we'll start with just $600 of AAPL stock and we'll add $100 of hypothetical savings to that account each month. That $100 will buy new shares and hopefully our pot will grow nicely.
For a time period, we'll use 2011-2014. The reason we're picking that time will be clear in upcoming Newsletters but it's also a good time to analyze. No pick market crashes or famous news events happened in this window.
Here's what a sample of the boring spreadsheet looks like: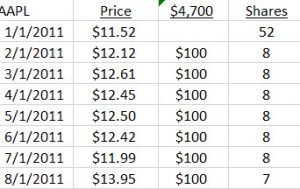 On January 1st, 2011, our $600 bought 52 shares of AAPL at a price of $11.52. Then next month, we invested our $100 savings and bought 8 more shares at the price at that time ($12.12). And so on.
There were definitely some ups and downs in the next few years but we believe in AAPL and believe in the stock market. We never hesitated in our complete trust that this will work in long run.
So, did it work?
Absolutely.
From 1/1/11 through 12/31/14, the total amount of our money invested was $5,300 (the original $600 plus $100 each month). That's what we would have had if we did nothing but keep our money under our mattress.
Instead, by using DCA, our account now shows a balance of $8,891. It worked! We now have 67% more money because we used this magic tool. And if we did it for several more years, we could potentially have a substantial account size.
Who has two thumbs and gives great financial advice?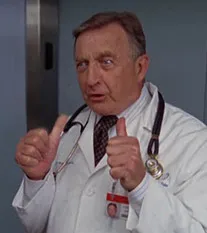 A financial advisor!
Of course, if we used an index fund, we would have made less money. A lot less.
And, of course, AAPL could go to $0 (DCA wouldn't save us then!) and an index fund can stay unprofitable for a decade or more.
But DCA is a powerful tool.
I wonder what would happen if we used it on something that makes more money in a better way.
What if we used DCA on a trading system?
In our next Newsletters, we'll find out.
Talk to you soon.
Join the free Newsletter list here .
Get Robot information HERE.
Visit my Performance Page HERE.
Buy my new book HERE.
The Inevitability of Becoming Rich is HERE.
My latest YouTube video is HERE.
Disclaimer:
It should not be assumed that the methods, techniques, or indicators presented in these products will be profitable or that they will not result in losses. Past results are not necessarily indicative of future results. Examples presented on these sites are for educational purposes only. These set-ups are not solicitations of any order to buy or sell. The authors, the publisher, and all affiliates assume no responsibility for your trading results. There is a high degree of risk in trading.
HYPOTHETICAL OR SIMULATED PERFORMANCE RESULTS HAVE CERTAIN INHERENT LIMITATIONS. UNLIKE AN ACTUAL PERFORMANCE RECORD, SIMULATED RESULTS DO NOT REPRESENT ACTUAL TRADING. ALSO, SINCE THE TRADES HAVE NOT ACTUALLY BEEN EXECUTED, THE RESULTS MAY HAVE UNDER- OR OVER-COMPENSATED FOR THE IMPACT, IF ANY, OF CERTAIN MARKET FACTORS, SUCH AS LACK OF LIQUIDITY. SIMULATED TRADING PROGRAMS IN GENERAL ARE ALSO SUBJECT TO THE FACT THAT THEY ARE DESIGNED WITH THE BENEFIT OF HINDSIGHT. NO REPRESENTATION IS BEING MADE THAT ANY ACCOUNT WILL OR IS LIKELY TO ACHIEVE PROFITS OR LOSSES SIMILAR TO THOSE SHOWN.