20 Apr

The Key to Getting 100-Baggers
The Key to Getting 100-Baggers
Apr. 20, 2022
What are the stories that excite us the most?
They're the fictional ones where a Philadelphia boxing bum goes the distance with the World Champion.
They're the non-fictional ones where a ragtag group of college kids believes in miracles and beats the best team in the world.
Or it's the one about the janitor who parlayed a tiny investment and small salary into $8 million.
Stories about nothing turning into everything change lives.
Because they start where we now are and end in generational wealth. They travel a road that maybe we can travel too.
That's why studying 100-baggers is so important. Seeing the path that makes 10,000% and turns $10k into $1 million might motivate us to do it.
The key, though, is that it has to be attainable. A story about buying a garage-full of silver in 1948 doesn't help us. Hearing about an old Picasso in our grandma's attic isn't repeatable. But studies about instruments that anyone has access to can be very useful.
And that's what the book 100-Baggers was trying to do. It attempted to study all the stocks that returned at least 10,000% since 1962. These were stocks any of us could've bought. Any of us could have turned $10k into a million with these picks.
But when studying these 100-baggers, two major problems arose.
The first is that there's no good way to predict big winners before they happen.
Earnings growth is kind of important but so is sales growth. Return on Equity seems to be important but sometimes it didn't matter. Sometimes it was tech stocks that went on these massive runs and sometimes it was boring consumer stocks.
In short, as Christopher Mayer said, "There is no magic formula to find long-term multi-baggers."
That's depressing. But all is not lost.
While there's no special formula, any of us have a chance to pick huge winners.
For example, anyone could have used Apple's products and seen they were exciting and different. AAPL became a 100-bagger in 25.3 years (starting in 1980).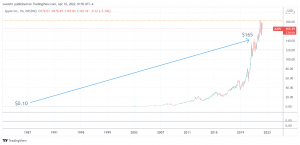 Anyone could have loved Walmart's low prices and seen that this was something totally unique. WMT became a 100-bagger in 12.5 years (starting in 1970).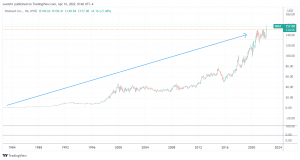 Anyone could have realized they've eaten a Big Mac three times this week. McDonald's became a 100-bagger in 18.7 years (starting in 1965).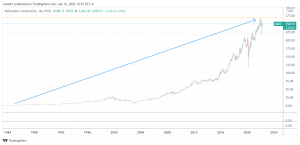 So, while there's no secret recipe, it's definitely possible.
But that brings us to the next MAJOR problem.
No one is committed enough.
Did you notice the timeframe for the three winners above? It's measured in decades. The average time it took for those 100-baggers to reach their goals was 18.8 years.
We'd have to sit tight for almost two decades to win. In the same investment. Doing nothing while the world burns and drawdowns rip our trade to shreds.
How many people do you know that can give their full attention to loved ones for even one short meal without pulling out their phones? Most people can't stay committed to work for a 2-hour shift.
How do we stay committed for decades?
And that's exactly what it takes. Here are the stats.
In the 1960s, the average time to achieve 10,000% returns was 30 years.
From 1990-2014, the average time for 10,000% was 12.8 years.
The average time for easy-to-pick household names was 17.5 years. 
Here are some names you'd recognize and the time it took: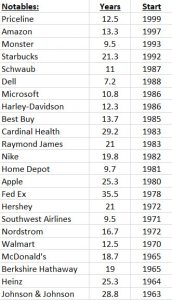 Think about that. Amazon–the one company anyone could have picked, the best trade of our generation– took 13.3 years to make 10,000%.
That's the real obstacle. It's not the stock-picking or even the trading system. It's the commitment.
It's the commitment that sabotages our success.
"To make money in stocks you must have 'the vision to see them, the courage to buy them and the patience to hold them.' According to Thomas Phelps, 'patience is the rarest of the three.'"
If we won't commit, 100-baggers are nothing but a pipe dream.
But if we can commit to patience, research shows it can be done.
In fact, it can be done faster and easier trading something other than stocks.
And we'll talk about that in our next Newsletters.
Talk to you soon.
Join the free Newsletter list here .
Get Robot information HERE.
Visit my Performance Page HERE.
Buy my new book HERE.
The Inevitability of Becoming Rich is HERE.
My latest YouTube video is HERE.
Disclaimer:
It should not be assumed that the methods, techniques, or indicators presented in these products will be profitable or that they will not result in losses. Past results are not necessarily indicative of future results. Examples presented on these sites are for educational purposes only. These set-ups are not solicitations of any order to buy or sell. The authors, the publisher, and all affiliates assume no responsibility for your trading results. There is a high degree of risk in trading.
HYPOTHETICAL OR SIMULATED PERFORMANCE RESULTS HAVE CERTAIN INHERENT LIMITATIONS. UNLIKE AN ACTUAL PERFORMANCE RECORD, SIMULATED RESULTS DO NOT REPRESENT ACTUAL TRADING. ALSO, SINCE THE TRADES HAVE NOT ACTUALLY BEEN EXECUTED, THE RESULTS MAY HAVE UNDER- OR OVER-COMPENSATED FOR THE IMPACT, IF ANY, OF CERTAIN MARKET FACTORS, SUCH AS LACK OF LIQUIDITY. SIMULATED TRADING PROGRAMS IN GENERAL ARE ALSO SUBJECT TO THE FACT THAT THEY ARE DESIGNED WITH THE BENEFIT OF HINDSIGHT. NO REPRESENTATION IS BEING MADE THAT ANY ACCOUNT WILL OR IS LIKELY TO ACHIEVE PROFITS OR LOSSES SIMILAR TO THOSE SHOWN.