10 Nov

The Key Ingredient to Growing a Small Account Quickly
The Key Ingredient to Growing a Small Account Quickly
Nov. 10, 2021
Growing a small account into a large one will always be an important topic.
Because it will always be potentially life-changing.
If a family has $10,000 saved and suddenly has $50,000 saved, that's a massive difference.
And there are very few things out there can make that sort of difference in people's lives. Trading is one of them.
But there's one critical ingredient that seems to be neglected when thinking about growing a small account into a big one.
The ingredient? Luck.
Most people find that disheartening, but it's not. It's actually empowering because understanding that leads to resilience. And resilience can help us do almost anything.
We're not talking about blind luck, though. We're not talking about the gambler who sold everything he owned and bet it all on one spin of roulette. Doing that is irresponsible, moronic, and insane. (Unless you win. Just kidding. Definitely just kidding.)
We're also not talking about trying to grow a small account Gamestop-Style. Getting rich on a stock like that is also blind, undependable luck.
Wait a second, GameStop wasn't luck! I researched it for five minutes on my app and read some social media posts!
Well, if we bought a breakout on GME in August 2015, April 2016, February 2017, January 2018, January 2019, or December 2019, we would have failed miserably, very miserably, or catastrophically miserably.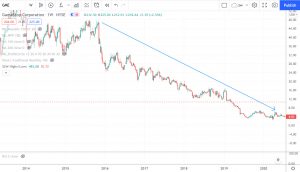 Yes, the breakout finally worked in a mind-bending way in 2021, but that's just luck. Practically blind luck. The kind of luck that is very, very, very hard to repeat. (And usually leads to losing entire accounts).
No, what we're talking about is Strategic Luck.
This is the kind of luck we get when we show up at the tennis club every day for weeks– even though we're not getting paid– and a future superstar walks in the door and asks you for a lesson because you were there.
It's lucky that you were there when she walked in. But you made it your mission to give yourself a chance to be lucky.
That kind of luck has a strange way of working out in our favor. And has a strange way of never working out for the pro sitting at home scrolling on his phone all day.
So, what we need to do is find a system that uses Strategic Luck. How do we do that?
First we need a large sample size. What are the chances you'll get a superstar client the first day you sit around at the club? The chances are almost zero. But what are the chances it will happen for you if you decide to sit at the club all day for the next year? Very high.
This means we need a system that produces a lot of trades. How many is a lot? Let's say 300 or more.
Once we have a sample size, then we need to see some winning streaks. How do we know what books will sell next year? The ones that will sell next year will probably be the ones that sold this year. If our system has winning streaks, there will probably be another winning streak coming in the future.
And then we need to be bold. If we get shy when the superstar walks in and asks for a lesson, even Strategic Luck can't help us. When we get asked for a lesson, the answer better be, "Absolutely, I'm ready when you are!" If the answer is, "I don't know, maybe," then we're not going anywhere.
This means, of course, we have to bet aggressively. We have to use the 8th wonder of the world: compounding.
See what we've done?
We have a system that has produced winning streaks multiple times. And then we're betting big so we're ready to capitalize when the winning streak happens to us.
There's no guarantee the win streak will happen right away. Or at all. No one knows if and when the superstar will walk through the door.
But we can give ourselves a chance. And because it's based on probabilities and not blind luck, we can have the courage to stick to it.
Remember, we can't be asleep when the win streak comes. We have to be there, ready to bet big.
In our next Newsletter, we'll look at a specific system and see if Strategic Luck can work any magic.
Join the free Newsletter list here to get the details on the next system.
To become an Elite Member go here.
Disclaimer:
It should not be assumed that the methods, techniques, or indicators presented in these products will be profitable or that they will not result in losses. Past results are not necessarily indicative of future results. Examples presented on these sites are for educational purposes only. These set-ups are not solicitations of any order to buy or sell. The authors, the publisher, and all affiliates assume no responsibility for your trading results. There is a high degree of risk in trading.
HYPOTHETICAL OR SIMULATED PERFORMANCE RESULTS HAVE CERTAIN INHERENT LIMITATIONS. UNLIKE AN ACTUAL PERFORMANCE RECORD, SIMULATED RESULTS DO NOT REPRESENT ACTUAL TRADING. ALSO, SINCE THE TRADES HAVE NOT ACTUALLY BEEN EXECUTED, THE RESULTS MAY HAVE UNDER- OR OVER-COMPENSATED FOR THE IMPACT, IF ANY, OF CERTAIN MARKET FACTORS, SUCH AS LACK OF LIQUIDITY. SIMULATED TRADING PROGRAMS IN GENERAL ARE ALSO SUBJECT TO THE FACT THAT THEY ARE DESIGNED WITH THE BENEFIT OF HINDSIGHT. NO REPRESENTATION IS BEING MADE THAT ANY ACCOUNT WILL OR IS LIKELY TO ACHIEVE PROFITS OR LOSSES SIMILAR TO THOSE SHOWN.