01 Sep

The Incredible/Dreaded Moving Average System
The Incredible/Dreaded Moving Average System
Sept. 1, 2021
Do any research on long-lasting trading systems and one system will show its face repeatedly.
Listen to any trend following manager and he or she will either use this system or will have tested this system.
Listen to any TV trading shows, and you'll hear the name of one system above all others.
What's the system?
The Moving Average Cross (MA Cross).
It's so famous, a version of it even has a cool name. The 50/200 system is called "The Golden Cross". (It's lesser-known evil brother is "The Death Cross". Scary.)
And there's a reason it's so famous.
It's perfect for trend following.
If the short-term trend is suddenly rising fast, a trend is likely under way. You can't escape it. Every great trader success story started with a moving average cross. Take TSLA, for example.
On 11/5/2019, the fast (50) moving average closed above the slow (200) moving average. That's a signal. At the Open of the next bar (on 11/6/2019), a Long trade was entered. A stop wasn't needed but was placed at 2x the ATR.
How did it go?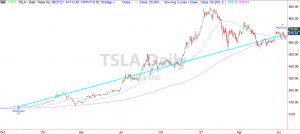 The November trade finally closed out on July 12, 2021 (after the fast MA closed below the slow MA on 7/9/21).
Conservatively speaking, that famous old system would have turned a hypothetical $10k account into $100,000. 
And if a trader used margin, the win would be gigantic.
That's life-changing money. That's a trade that people make YouTube videos about that get two million views. That's a trade that makes a trader famous for life.
And where did it come from?
A boring old moving average cross system.
What's the problem with this system? There are a few.
One, it's lagging. Price will rise or drop, sometimes substantially, before the moving averages cross and give a signal.
Two, you need something to trend for it to work. Of course, that's true with any trend following system.
Three, it easily leads optimization temptation. Hmm, I wonder if a 49/199 cross is even better? Testing an MA cross system can lead a trader down a deep rabbit hole.
Four, if you use an initial stop, how do you get back in if you stop out and the MAs don't cross again? Just stay out and potentially miss the trend?
And, five, it doesn't travel across different platforms. It's hard to replicate results on different platforms, especially in Forex. This is a minor problem –just test and trade the platform you're using!– but it's an obstacle for "thorough" testers.
See why traders like me shy away from it?
But if you decide to use it on something that you know is trendy, it's hard to find something better. And it's harder to find a system that's been around longer.
For fun, what about AMZN with the Golden Cross?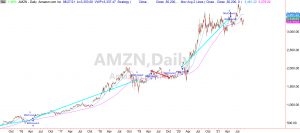 This system would have made a boatload of money on AMZN.
[Just in case you're curious, two previously high-flying stocks now have the 50 SMA under the 200 SMA. That means they could be trades in near future. Those symbols are NIO and JMIA. Those are for entertainment only. Enjoy!]
But the question is: does this work on Forex? I've worked on an MA Cross robot for years, and finished a version back in 2019. I haven't done anything with it since then.
How has it done?
We'll take a look in the next Newsletter.
Join the free Newsletter list here to get the details.
To become an Elite Member go here.
Disclaimer:
It should not be assumed that the methods, techniques, or indicators presented in these products will be profitable or that they will not result in losses. Past results are not necessarily indicative of future results. Examples presented on these sites are for educational purposes only. These set-ups are not solicitations of any order to buy or sell. The authors, the publisher, and all affiliates assume no responsibility for your trading results. There is a high degree of risk in trading.
HYPOTHETICAL OR SIMULATED PERFORMANCE RESULTS HAVE CERTAIN INHERENT LIMITATIONS. UNLIKE AN ACTUAL PERFORMANCE RECORD, SIMULATED RESULTS DO NOT REPRESENT ACTUAL TRADING. ALSO, SINCE THE TRADES HAVE NOT ACTUALLY BEEN EXECUTED, THE RESULTS MAY HAVE UNDER- OR OVER-COMPENSATED FOR THE IMPACT, IF ANY, OF CERTAIN MARKET FACTORS, SUCH AS LACK OF LIQUIDITY. SIMULATED TRADING PROGRAMS IN GENERAL ARE ALSO SUBJECT TO THE FACT THAT THEY ARE DESIGNED WITH THE BENEFIT OF HINDSIGHT. NO REPRESENTATION IS BEING MADE THAT ANY ACCOUNT WILL OR IS LIKELY TO ACHIEVE PROFITS OR LOSSES SIMILAR TO THOSE SHOWN.