07 Apr

The Hornet Makes Its Case
The Hornet Makes Its Case
Apr. 7, 2023
Perfectionism is overrated.
In fact, it might be the worst thing to believe in.
Not starting something until it's perfect almost always means never starting it.
Not bothering to work out at all because we may not be able to work out for the next 100 days in a row is self-defeating.
But trading is different. Especially trading automated strategies.
To trade automated strategies, we need to work and work until the numbers are 100% perfect.
THE TESTING MUST EXACTLY MATCH REAL-LIFE TRADES.
Right?
Well, that's what I've been thinking for the past couple of years.
But it's very recently occurred to me that I may be completely wrong.
Maybe it doesn't have to be perfect. Maybe trying to be perfect is essentially trying not to make money.
Earlier this week, we saw a chart of the GBPJPY 15-Minute Hornet. There are other, original settings I used only for the USDJPY, but the ones I talked about this week were different.
The Hornet normally allows for a numeric profit target (like 20-150 pips) but also exits when the RSI indicator goes from Oversold to Overbought, or vice versa.
And sometimes, on a 15-minute chart, a move from Oversold to Overbought on the 15-minute chart is very small.
And if a trade only makes 2 pips in the end, then a sudden large spread can completely wipe out the small profit.
Thus, a winner turns into a loser.
Thus, someone stops trading this strategy.
But the settings from Monday tried to mitigate that problem. These settings changed Oversold and Overbought to 1 and 99, respectively. In other words, it almost never exited on an indicator reversal.
It almost always would exit on a pip target or a pip stopout.
Further, the reward to risk ratio on the Monday Hornet was way overboard. The target was 20 pips while the stop was 110 pips.
That sort of "negative risk to reward" leads to a 80%+ win rate but it also takes a big loss every now and then.
That seems risky, but the numbers say otherwise. Here's the Report again on the 15M GJPY Hornet:

The negative reward to risk seems to work out very well over time. What kind of a moron wouldn't trade those types of numbers?
But it gets worse.
Here's a portfolio (via Portfolio Architect) of 15M Hornet robots (GBPJPY, EURJPY, GBPUSD, and USDJPY), all with the same settings:

And here are the Annual Returns: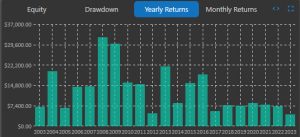 It's kind of ridiculous.
Yes, from everything I've said and seen, real-life trading wouldn't perfectly match those hypothetical, tested results.
But.
What if I got 90% of that?
Ninety percent of that would be incredible.
Again, if it's 50%, then that's a whole other topic.
But not considering something like this might be the stupidest thing I could do.
Hopefully you aren't making a mistake like this in your trading.
I'll be back next week with more systems.
Talk to you soon.
Join the free Newsletter list here .
Get Robot information HERE.
Visit my Performance Page HERE.
Buy my new book HERE.
The Inevitability of Becoming Rich is HERE.
My latest YouTube video is HERE.
Disclaimer:
It should not be assumed that the methods, techniques, or indicators presented in these products will be profitable or that they will not result in losses. Past results are not necessarily indicative of future results. Examples presented on these sites are for educational purposes only. These set-ups are not solicitations of any order to buy or sell. The authors, the publisher, and all affiliates assume no responsibility for your trading results. There is a high degree of risk in trading.
HYPOTHETICAL OR SIMULATED PERFORMANCE RESULTS HAVE CERTAIN INHERENT LIMITATIONS. UNLIKE AN ACTUAL PERFORMANCE RECORD, SIMULATED RESULTS DO NOT REPRESENT ACTUAL TRADING. ALSO, SINCE THE TRADES HAVE NOT ACTUALLY BEEN EXECUTED, THE RESULTS MAY HAVE UNDER- OR OVER-COMPENSATED FOR THE IMPACT, IF ANY, OF CERTAIN MARKET FACTORS, SUCH AS LACK OF LIQUIDITY. SIMULATED TRADING PROGRAMS IN GENERAL ARE ALSO SUBJECT TO THE FACT THAT THEY ARE DESIGNED WITH THE BENEFIT OF HINDSIGHT. NO REPRESENTATION IS BEING MADE THAT ANY ACCOUNT WILL OR IS LIKELY TO ACHIEVE PROFITS OR LOSSES SIMILAR TO THOSE SHOWN.