25 Oct

The Free System That Kills the Market
The Free System That Kills the Market
Oct. 25, 2023
Subscribe to my YouTube Channel HERE.
It's so ridiculous, it makes me laugh.
Or vomit.
Index fund influencers have this clever way of making us feel like ignoramuses.
First they slowly shake their head at anyone trying to be better than average.
Then they bring out their big guns:
There are thousands of stocks out there and almost none of them beat the market. (insert statistics)
Smart people can't beat the market. Neither can you. (insert statistics)
You can't time the market. You can only put time into the market. (insert statistics)
Then they pat us on our stupid heads and stupid brains and we quietly walk away.
Except it's all garbage.
Based on poorly-used math.
First of all, many, many stocks can beat the market–if you trade. Who says we have to buy-and-hold? How is that the only comparison?
Mark Minervini made well over triple digits in 2021, and he never bought-and-held a single stock.
To make an argument based on one single method is ludicrous.
Especially when it's just about the worst method out there (unless you're using dividend stocks).
So, if we're not buying-and-holding, what are we doing? We're trading.
And if we're trading, what does that mean?
We're timing the market.
In short, everything index influencers say is not true. Or is completely misleading.
IF a trading system actually works, of course.
Today, we'll look again at a free system. Can it beat the market? Let's find out.
To keep it apples to apples (kind of), we'll use the 5-minute ES RSI system. I track it monthly on my website and you can get all the details in this video. (The details start at the 7:45 mark and the hyperlink starts at that point.) It's a daytrading strategy and doesn't hold trades overnight. Basically, it enters on an RSI breakout and has a big target and a small stop.
For comparison, we'll put $10,000 into the unbeatable S&P 500 in the form of SPY. From January 5, 1998 to October 2023, SPY would have turned that $10k into $69,000. That's a 590% total return.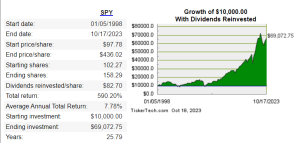 Woohoo.
And how much work would that have been? We'd have to call Vanguard up and do a 15-30 minute interview to set up the account. Remember, it was 1998. And then go into our account every month to re-invest dividends.
On the other hand, here's the 5M ES.D RSI Strategy trading 1 contract each time with no compounding: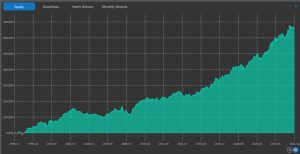 It hypothetically turned the $10k into $76,917, for a 669% return. That beat the market.
But wait. Because we're trading, we can increase the trade size if we want to. So, when the account doubles, we'll add one contract.
If we did that, the $10k would've turned into $216k– for a 2,060% return.
That kills the market.
How much work would it take? A phone call to Tradestation, copy and paste code, click ON, and add a contract every few years.
The work load is comparable.
A trading strategy versus an index fund is not.
In our next Newsletter, we'll add a new and interesting wrinkle.
Talk soon.
Join the free Newsletter list here .
Get Robot information HERE.
Visit my Performance Page HERE.
Buy my new book HERE.
The Inevitability of Becoming Rich is HERE.
My latest YouTube video is HERE.
Disclaimer:
It should not be assumed that the methods, techniques, or indicators presented in these products will be profitable or that they will not result in losses. Past results are not necessarily indicative of future results. Examples presented on these sites are for educational purposes only. These set-ups are not solicitations of any order to buy or sell. The authors, the publisher, and all affiliates assume no responsibility for your trading results. There is a high degree of risk in trading.
HYPOTHETICAL OR SIMULATED PERFORMANCE RESULTS HAVE CERTAIN INHERENT LIMITATIONS. UNLIKE AN ACTUAL PERFORMANCE RECORD, SIMULATED RESULTS DO NOT REPRESENT ACTUAL TRADING. ALSO, SINCE THE TRADES HAVE NOT ACTUALLY BEEN EXECUTED, THE RESULTS MAY HAVE UNDER- OR OVER-COMPENSATED FOR THE IMPACT, IF ANY, OF CERTAIN MARKET FACTORS, SUCH AS LACK OF LIQUIDITY. SIMULATED TRADING PROGRAMS IN GENERAL ARE ALSO SUBJECT TO THE FACT THAT THEY ARE DESIGNED WITH THE BENEFIT OF HINDSIGHT. NO REPRESENTATION IS BEING MADE THAT ANY ACCOUNT WILL OR IS LIKELY TO ACHIEVE PROFITS OR LOSSES SIMILAR TO THOSE SHOWN.