23 Oct

The "Everyday" Portfolio That Kills the Market
The "Everyday" Portfolio That Kills the Market
Oct. 23, 2023
Subscribe to my YouTube Channel HERE.
Well, I'm angry again.
Which, of course, is what social media is designed for.
But, man, index fund influencers can be so [censored] condescending.
I know. They think they're trying to help.
And I think I want to set myself on fire.
The topic of the video in question was something like, "Why I Decided to Stop Picking Stocks". (It's good. Look it up.)
And here's the highly paraphrased summary:
There are about 8,000 stocks out there.
And only a few actually beat the S&P 500 (allegedly).
Famous stock pickers also underperform the market.
So who are you to think you can pick winning stocks, you pathetic piece of garbage.
I guess I have to just buy an index fund and shut up forever.
Or.
Maybe we can pick stocks. Maybe it's not that hard.
Try this.
Don't watch any more videos or read any more Annual Reports. Just make a tight list of companies you use everyday.
And make sure you really use them everyday and happily do so with no thought of using something else.
That sounds fun. So I did it. It took less than five minutes.
Here's my list:
Starbucks (SBUX). I love their classic coffee cakes. I get them all the time for a treat.
Google (GOOG). I use Chrome literally every day and have many important Google docs I work on constantly.
Apple (AAPL). I'm not a fan of smartphones but I'm a huge fan of reading on my iPad and watching YouTube videos on it. Hey, wait! YouTube is owned by GOOG. That's a double whammy.
Amazon (AMZN). I order packages, watch Prime now and then, and make constant searches for books and other items.
Microsoft (MSFT). I have a PC that I love that runs Microsoft Windows. I can never use a Mac again.
Great.
Now what if I bought those stocks?
If they're indispensable for me, maybe they're useful for others. Oh geez. I just did what I'm not supposed to do.
I just became a stock picker.
All that's left is to see how bad an index fund would have beaten me over time.
Here's what SPY did from 2010-2023. Remember, we're pathetic and index funds are Zeus.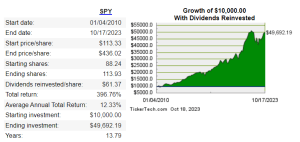 There's the promised land. The only land. It returns 396%.
Let's see how badly that beat my first everyday stock, SBUX: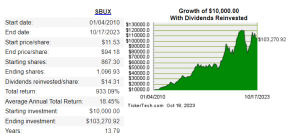 SBUX beat the market by two country miles (933%). How about the rest of my list?
GOOG beats the market (406%)–even though SPY had a 4-year head start!
AAPL kills the market (2,600%).
AMZN kills the market (1,862%).
MSFT kills the market (1,311%).
But wait, the zealots might say. You only picked the high-flying stocks! That's not fair!
As I said, I only picked the stocks I absolutely, positively use every day. Is it my fault the things I like are good stocks?
But to your point, I took two more minutes and listed the stocks I use often (or my family uses often):
Chipotle (CMG); quick, easy meals.
McDonald's (MCD); same. I have a strange weakness for Filet-o-Fish sandwiches from time to time.
Lululemon (LULU); the ladies in my life love it, and the men's stuff is good, too.
Costco (COST); great stuff and great prices.
Williams Sonoma (WSM); we buy much of our house/kitchen stuff there.
Home Depot (HD); just went there yesterday.
What if I bought those companies? They are a recurring part of my life and I come back to them repeatedly. Here are the returns. Remember the S&P 500 returned 396%.
CMG kills the market (1,982%).
MCD beats the market (487%).
LULU kills the market (2,571%).
COST kills the market (1,214%).
WSM kills the market (987%).
HD kills the market (1,330%).
Hmm. I took less than 7 minutes and picked a portfolio that returned an average of 1,400%. That's over 3.5x better than the unbeatable index fund.
Did I grossly cherry pick these stocks? Nope. There were reasonable, true reasons for the list. Your list might have even more stocks that kill the market. Further, there's a book that explains doing something like this in detail. I recommend it.
Will those stocks continue to kill the market going forward? No one knows, obviously.
But if those companies stay indispensable, why wouldn't they?
That said, I'm still not a big fan of buy-and-hold.
In our next Newsletter, we'll see if a simple automated strategy can destroy the market, too.
Join the free Newsletter list here .
Get Robot information HERE.
Visit my Performance Page HERE.
Buy my new book HERE.
The Inevitability of Becoming Rich is HERE.
My latest YouTube video is HERE.
Disclaimer:
It should not be assumed that the methods, techniques, or indicators presented in these products will be profitable or that they will not result in losses. Past results are not necessarily indicative of future results. Examples presented on these sites are for educational purposes only. These set-ups are not solicitations of any order to buy or sell. The authors, the publisher, and all affiliates assume no responsibility for your trading results. There is a high degree of risk in trading.
HYPOTHETICAL OR SIMULATED PERFORMANCE RESULTS HAVE CERTAIN INHERENT LIMITATIONS. UNLIKE AN ACTUAL PERFORMANCE RECORD, SIMULATED RESULTS DO NOT REPRESENT ACTUAL TRADING. ALSO, SINCE THE TRADES HAVE NOT ACTUALLY BEEN EXECUTED, THE RESULTS MAY HAVE UNDER- OR OVER-COMPENSATED FOR THE IMPACT, IF ANY, OF CERTAIN MARKET FACTORS, SUCH AS LACK OF LIQUIDITY. SIMULATED TRADING PROGRAMS IN GENERAL ARE ALSO SUBJECT TO THE FACT THAT THEY ARE DESIGNED WITH THE BENEFIT OF HINDSIGHT. NO REPRESENTATION IS BEING MADE THAT ANY ACCOUNT WILL OR IS LIKELY TO ACHIEVE PROFITS OR LOSSES SIMILAR TO THOSE SHOWN.