08 May

The Danger of Simple Systems
The Danger of Simple Systems
May 8, 2023
Simple systems are great.
For one, we can understand them.
Remember what Buffett says? Remember what Peter Lynch says?
Only buy things you understand. 
A simple system fits that profile.
Simple is also great because simple works forever.
For example, when will giving a sincere compliment ever stop being fun? When will providing more value than it costs ever stop being profitable? When will trend following ever stop producing profit?
Obviously, never, never, and never.
Simple things will always work.
Some simple things.
Not every simple thing.
And not every simple system.
The danger of a simple system is its nature.
Simple doesn't always work in the short run. In fact, an uncomplicated system is guaranteed not to work for periods of time. Sometimes long periods of time. Why? Because it doesn't try to adapt to every situation.
It only worries about the most important situations.
If you have the simple, always-profitable concept of selling cold lemonade on a steamy summer day, that system will work very poorly during a surprising cold spell. If your lemonade stand doesn't have the adaptability of serving hot chocolate during a cold snap, your simple business is going to suffer.
Trading systems are no different.
My favorite simple system of the past two years is the Bollinger Band™ hourly robot using the Master Trend Robot. You can see the video on this system by using the link on the Performance Page or by clicking here.
Here's the tested Equity Curve on the Master Trend 1-Hour BB from 2003-2023 using 1 lot each time:
That's why I like this system so much.
But guess what? It's simple. It enters on a break above/below an extreme Band setting and goes for big targets with a big stop. It uses the basic idea that says, "If price breaks out of a big volatility range, it has a chance to move a long way."
That makes sense. And it clearly works–over the long-term.
How has it done lately?
Not good.
2023 has been an unprecedented year for traders. In the U.S., the battle between high inflation and a good economy has perplexed the brightest minds in finance and also many famous traders. At the same, banks all over the world have alternated between suddenly changing policy and then backing off.
No one knows what surprise is coming tomorrow.
And that has shredded systems that need long, protracted, trending periods. The Master 1H is just that sort of system. It needs big breakouts and long trends that play out in one direction.
The past several months have been the opposite of that. Here's the Annual Return breakdown: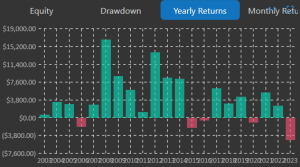 It's just cruised along for twenty years…until 2023. The twitchy volatility has not been kind.
So, what can we do?
One response (which is usually the best response) is to do nothing.
This is a lemonade stand during a cold front. It's going to get warm again. The one-way trends are going to come back.
But what if sitting idly by scares us half to death?
Is there anything we can do?
Yes.
And we'll talk about that in the upcoming Newsletters.
Join the free Newsletter list here .
Get Robot information HERE.
Visit my Performance Page HERE.
Buy my new book HERE.
The Inevitability of Becoming Rich is HERE.
My latest YouTube video is HERE.
Disclaimer:
It should not be assumed that the methods, techniques, or indicators presented in these products will be profitable or that they will not result in losses. Past results are not necessarily indicative of future results. Examples presented on these sites are for educational purposes only. These set-ups are not solicitations of any order to buy or sell. The authors, the publisher, and all affiliates assume no responsibility for your trading results. There is a high degree of risk in trading.
HYPOTHETICAL OR SIMULATED PERFORMANCE RESULTS HAVE CERTAIN INHERENT LIMITATIONS. UNLIKE AN ACTUAL PERFORMANCE RECORD, SIMULATED RESULTS DO NOT REPRESENT ACTUAL TRADING. ALSO, SINCE THE TRADES HAVE NOT ACTUALLY BEEN EXECUTED, THE RESULTS MAY HAVE UNDER- OR OVER-COMPENSATED FOR THE IMPACT, IF ANY, OF CERTAIN MARKET FACTORS, SUCH AS LACK OF LIQUIDITY. SIMULATED TRADING PROGRAMS IN GENERAL ARE ALSO SUBJECT TO THE FACT THAT THEY ARE DESIGNED WITH THE BENEFIT OF HINDSIGHT. NO REPRESENTATION IS BEING MADE THAT ANY ACCOUNT WILL OR IS LIKELY TO ACHIEVE PROFITS OR LOSSES SIMILAR TO THOSE SHOWN.