05 Apr

The Cost of Being Closed-Minded
The Cost of Being Closed-Minded
Apr. 5, 2023
Here's what's at stake:

That's a lot of profit for very little drawdown.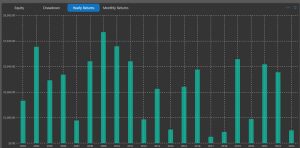 And there are no losing years.
That backtesting is the best backtesting I've seen. Once I was done spending over 2,500 hundred hours on the Hornet robot, the numbers were excellent. You can understand why I wanted to trade it.
And, as I've mentioned, the Hornet worked perfectly in real life–until I had to leave Tradestation and the leverage was changed by regulators.
But I gave up about two years ago. I stopped trading the Hornet and its cousin, the Heron.
I gave up because the unpredictably large spreads made real-life trading different from my testing.
That seems reasonable, right?
You can't trade strategies if the numbers aren't perfect.
But, then again, so what?
So what if the numbers in real-life don't exactly match the testing? If the numbers are reasonably close, what does that bring?
It brings in a whole lot of profit and a very high win percentage (over 80% in some cases).
Further, while trend following strategies like the Dragonfly have struggled at times in 2023 (in March specifically), on paper the Hornet has done quite well.
Even 80-90% Hornet results would have been wonderful so far this year.
Granted, if the numbers are 40-50% of the testing, then it is best to leave it alone.
But, for fun, I ran the Hornet in the past two weeks of March on the EURJPY 15-minute chart.
The testing said I should have had two winning trades.
What did I get?
Two winning trades.
How much different was the testing? About 5% less in real life. Close, but not perfect.
So, what do you think?
If the Hornet results going forward are 5-10% less than the testing, should it be thrown out?
Or is this the sort of closed-minded thinking that's costing me a whole bunch of money?
And, by not recommending it strongly, have I cost other people money, too?
While pondering that, here again are the settings for the GBPUSD Heron from last week (on a Daily chart). Are Daily charts worth considering along with the original 15-minute ones? Are different timeframe combinations a way to get out of closed-mindedness? It's a lot to think about.
Here are the GUSD Daily Heron details:
Long Entry: Price must be above the 100 SMA and the 5 SMA must also be above the 100 SMA (opposite for Shorts)
Target: 130 pips
Stop: 160 pips
Must close into Oversold on CCI 16 length, 100/-100 Overbought/Oversold; CCI for Shorts is 14 length, 90/-82 for Overbought/Oversold
Can exit on stop, profit target, or a close into Overbought (Oversold for Shorts)
Remember, this strategy isn't as good as the 15-minute versions on paper, but is potentially less prone to spreads due to the bigger targets. And it's done very well since 2020.
In our next Newsletter, the case against closed-mindedness gets even stronger.
Talk to you soon.
Join the free Newsletter list here .
Get Robot information HERE.
Visit my Performance Page HERE.
Buy my new book HERE.
The Inevitability of Becoming Rich is HERE.
My latest YouTube video is HERE.
Disclaimer:
It should not be assumed that the methods, techniques, or indicators presented in these products will be profitable or that they will not result in losses. Past results are not necessarily indicative of future results. Examples presented on these sites are for educational purposes only. These set-ups are not solicitations of any order to buy or sell. The authors, the publisher, and all affiliates assume no responsibility for your trading results. There is a high degree of risk in trading.
HYPOTHETICAL OR SIMULATED PERFORMANCE RESULTS HAVE CERTAIN INHERENT LIMITATIONS. UNLIKE AN ACTUAL PERFORMANCE RECORD, SIMULATED RESULTS DO NOT REPRESENT ACTUAL TRADING. ALSO, SINCE THE TRADES HAVE NOT ACTUALLY BEEN EXECUTED, THE RESULTS MAY HAVE UNDER- OR OVER-COMPENSATED FOR THE IMPACT, IF ANY, OF CERTAIN MARKET FACTORS, SUCH AS LACK OF LIQUIDITY. SIMULATED TRADING PROGRAMS IN GENERAL ARE ALSO SUBJECT TO THE FACT THAT THEY ARE DESIGNED WITH THE BENEFIT OF HINDSIGHT. NO REPRESENTATION IS BEING MADE THAT ANY ACCOUNT WILL OR IS LIKELY TO ACHIEVE PROFITS OR LOSSES SIMILAR TO THOSE SHOWN.