28 Apr

The Building Block
The Building Block
Apr. 28, 2021
Maybe you're brand new to trading (or ready to start over) and have just begun to realize how important it is.
Do you know how important trading is?
It's the critical key to financial independence.
And here are the steps.
First, examine your relationship with money. Is making money okay? Some people think money is the devil, so make sure that's not the case.
Second, save money.
Third, live on less than your expenses.
Those three are the pillars the financial self-help gurus swear by. (And those are pretty good tips.)
But it's the fourth pillar that financial gurus get fantastically wrong.
The fourth building block is to use a trading system.
Not an index fund.
So, maybe you're a saver and a smart budgeter and now you realize that if your money makes money, you and your loved ones might be financially free for the rest of your lives.
That's kind of a good thing.
But how do you do it.
As we mentioned on Monday, nothing can happen if you don't think it can happen. If you think the financial gurus are right and some anonymous Newsletter writer on the internet is wrong, guess what?
No trading system will ever work for you.
You'll be impervious to trading system profits.
But let's say you have an open mind. Let's say you see the gaping holes in the gurus' passive investing argument. What then?
Well, here's an idea.
Trade breakouts.
And here's a very simple way to do it.
Buy when price breaks above the high of the past 100 bars.
Sell when price breaks below the low of the past 20 bars.
How would that have done on AAPL (hypothetically using $10k of stock each time)?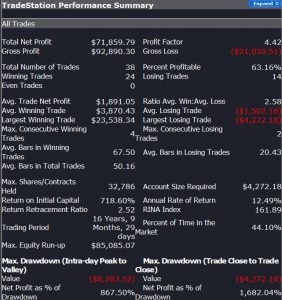 Here are the hypothetical annual returns: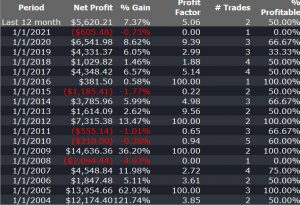 Yes, there are losing years. We lose sometimes. Nothing grows to the moon.
But we make a ton of hypothetical money too.
What about the experts who say buying and holding AAPL would have made more money?
Yes, that's true.
But using a system is one million times easier than just holding AAPL because the drawdowns using a trading system are exponentially less.
The dirty secret to buy-and-hold is that it's horrifying in real time.
If you're looking to change your life by having your money make money, breakouts are a good place to begin.
In fact, you can build everything on top of trading breakouts.
And as you can see on AAPL, a simple system can hypothetically make a very big difference in the long-term.
Talk to you soon.
Join the free Newsletter list here.
To become a Member go here.
Disclaimer:
It should not be assumed that the methods, techniques, or indicators presented in these products will be profitable or that they will not result in losses. Past results are not necessarily indicative of future results. Examples presented on these sites are for educational purposes only. These set-ups are not solicitations of any order to buy or sell. The authors, the publisher, and all affiliates assume no responsibility for your trading results. There is a high degree of risk in trading.
HYPOTHETICAL OR SIMULATED PERFORMANCE RESULTS HAVE CERTAIN INHERENT LIMITATIONS. UNLIKE AN ACTUAL PERFORMANCE RECORD, SIMULATED RESULTS DO NOT REPRESENT ACTUAL TRADING. ALSO, SINCE THE TRADES HAVE NOT ACTUALLY BEEN EXECUTED, THE RESULTS MAY HAVE UNDER- OR OVER-COMPENSATED FOR THE IMPACT, IF ANY, OF CERTAIN MARKET FACTORS, SUCH AS LACK OF LIQUIDITY. SIMULATED TRADING PROGRAMS IN GENERAL ARE ALSO SUBJECT TO THE FACT THAT THEY ARE DESIGNED WITH THE BENEFIT OF HINDSIGHT. NO REPRESENTATION IS BEING MADE THAT ANY ACCOUNT WILL OR IS LIKELY TO ACHIEVE PROFITS OR LOSSES SIMILAR TO THOSE SHOWN.