09 Jan

The Advantages of Not Using a Stoploss
The Advantages of Not Using a Stoploss
January 9, 2019
Winning is wonderful.
Stop-outs are for the birds.
How do we build wealth by taking a stoploss?
We don't, that's how.
Which is why trading without a stoploss is so alluring.
Question: What kind of bear is best?
Sorry, that's not what I meant to ask. (black bear, by the way).
Question: How many long-time losers does Warren Buffett have in his portfolio today?
How about zero?
Let's take a quick look at Coca-Cola (KO). He bought it in 1988 at $2.45 and now it's at over $47.
Another question: What was Buffett's stoploss on his KO buy?
Oh, that's right. He didn't have one.
And if we'd invested $1,000 in KO when Buffett did, we'd have over $17,000 today.
Not too shabby. And no losing.
Those are two pretty big advantages of not having stoplosses: 1) We don't lose any trades; 2) We make a lot of money.
So how do we incorporate this philosophy into our trading?
One, we could buy stocks and sell option premium to create constant income and reduce our cost basis. (Hmm, that sounds like something we'll be talking about in the future).
Two, we could buy and hold stocks forever.
Three, we could just buy and hold an Index Fund.
Four, we could buy any instrument simply not use stops.
But there are some problems.
One, options are scary and risky and scary and no one should ever trade them because they're complicated.
Two, it's great when KO or AAPL pays off long-term. It's not great when you buy and hold something like this: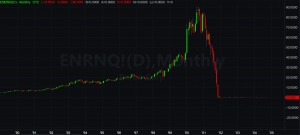 For history buffs, that's a picture of the 7th-biggest company in America going from $90 to $0 in about two years.
Three, we could buy and Index Fund. We could do that. And we could lose money in 2018 and suffer 50% drawdowns and go ten years with no profits.
Four, trading without stops can be disastrous.
Not using a stop in our day-to-day trading is tricky. If we're trading a stock, we'll probably be okay in the LONG run but stocks can go to zero (as we saw). Stocks can also go sideways for a long time. Stocks can also be volatile. But they do have an upward bias, at least.
Other instruments, like Forex, can go a long way with high leverage in either direction. A simple drawdown on paper turns into an account-killer in Forex (and Futures) because of the high leverage.
But even if it doesn't wreck our accounts, a trade without a stop can drag on for weeks, months, and years. Even if it ends up working out okay in the end, I find it very difficult to be in a losing trade for a long time. Maybe other traders love that.
The bottom line? There's no better trade in the world than buying-and-holding a high-flying stock. Nothing can match that. You never lose and you make more money than anything else could.
It's also pretty much impossible. Great traders have caught high-flyers but not only high-flyers. Almost every big winner comes in the context of a huge portfolio filled with laggards and losers.
But trading without stops–not losing ever–is intoxicating. And it might be the best style for certain traders.
This week, we'll look at ways to trade without stops.
Talk soon.
Get on the email list here.
To see my weekly YouTube video, go here.
Disclaimer:
It should not be assumed that the methods, techniques, or indicators presented in these products will be profitable or that they will not result in losses. Past results are not necessarily indicative of future results. Examples presented on these sites are for educational purposes only. These set-ups are not solicitations of any order to buy or sell. The authors, the publisher, and all affiliates assume no responsibility for your trading results. There is a high degree of risk in trading.
HYPOTHETICAL OR SIMULATED PERFORMANCE RESULTS HAVE CERTAIN INHERENT LIMITATIONS. UNLIKE AN ACTUAL PERFORMANCE RECORD, SIMULATED RESULTS DO NOT REPRESENT ACTUAL TRADING. ALSO, SINCE THE TRADES HAVE NOT ACTUALLY BEEN EXECUTED, THE RESULTS MAY HAVE UNDER- OR OVER-COMPENSATED FOR THE IMPACT, IF ANY, OF CERTAIN MARKET FACTORS, SUCH AS LACK OF LIQUIDITY. SIMULATED TRADING PROGRAMS IN GENERAL ARE ALSO SUBJECT TO THE FACT THAT THEY ARE DESIGNED WITH THE BENEFIT OF HINDSIGHT. NO REPRESENTATION IS BEING MADE THAT ANY ACCOUNT WILL OR IS LIKELY TO ACHIEVE PROFITS OR LOSSES SIMILAR TO THOSE SHOWN.