08 Dec

The $100 Million Trade
The $100 Million Trade
Dec. 8, 2021
To reach our potential, we need to surround ourselves with greatness.
Because we're under attack.
By the time we reach adulthood, we've heard "it can't be done" hundreds of thousands of times. And since our subconscious minds don't know the difference between a lie and the truth, we spend all our time –whether we know it or not– doing everything in our power to make sure "it can't be done".
We're doomed.
But there is a cure: greatness.
Greatness contradicts all the negativity. "I can do it because I've seen it done" replaces the other garbage.
Slowly but surely, we start spending all our time trying to become great.
So, to reach our potential we can do a couple things. One, we could watch Federer matches on a loop twenty-four hours a day.
Or we can study and surround ourselves with greatness.
Here's an example. It's a doozy. It's the simple story of how Andrew Hall made $100 million betting on Oil reaching $100.
Back in 2003, Hall did some research and figured oil would eventually reach $100. It was around $30 at the time. Against everyone's better judgment, he started buying cheap long-dated oil-futures that would pay off if the price of oil reached $100 at any point over the next five years.
In 2008, it hit the target for 100 million pound gain. If it hadn't reached $100, he would've made nothing. Scary!
If a regular person believed in oil, she could have done something even simpler. She could've just used a basic 40in/20out trend following breakout strategy on a long-term chart. That would have returned a boatload of money.
If we had $100,000 and traded 10 contracts on the first 40-week breakout around 2003, we would have made $376,000 when we finally exited when price broke the 20-week trailing stop. The drawdown would not have been that bad, either.
Then we could've traded 20 contracts on the next trade and lost $161,000. Boo. But then we could've traded 20 contracts again (because of our previous gain) and that would have made us $1.4 million. Here's the chart: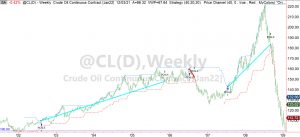 Just trading that simple system would have turned a hypothetical $100k into $1.7 million — if we were willing to bet big and increase our trade size.
That's not as much as Mr. Hall, but we don't know what Hall started with or how many contracts he traded. I think it's fair to say we did pretty well.
And here's the thing that stands out when studying the greatest trades of all time. The big winners aren't from super secret research or brilliant trading.
Sometimes the trading part is actually terrible (as we'll see in our next Newsletter).
What makes a great trade is the willingness to believe in our idea and use a massively convicted trade size.
Greatness is not something that other people have. Greatness is waiting all around us, just waiting for us to believe in ourselves.
And we'll take a look at other famous trades that made billions this week.
Join the free Newsletter list here .
Get The Legend of Purple Valley: An Incredible Trading Journey here.
Get The Inevitability of Becoming Rich here.
To become an Elite Member go here.
Disclaimer:
It should not be assumed that the methods, techniques, or indicators presented in these products will be profitable or that they will not result in losses. Past results are not necessarily indicative of future results. Examples presented on these sites are for educational purposes only. These set-ups are not solicitations of any order to buy or sell. The authors, the publisher, and all affiliates assume no responsibility for your trading results. There is a high degree of risk in trading.
HYPOTHETICAL OR SIMULATED PERFORMANCE RESULTS HAVE CERTAIN INHERENT LIMITATIONS. UNLIKE AN ACTUAL PERFORMANCE RECORD, SIMULATED RESULTS DO NOT REPRESENT ACTUAL TRADING. ALSO, SINCE THE TRADES HAVE NOT ACTUALLY BEEN EXECUTED, THE RESULTS MAY HAVE UNDER- OR OVER-COMPENSATED FOR THE IMPACT, IF ANY, OF CERTAIN MARKET FACTORS, SUCH AS LACK OF LIQUIDITY. SIMULATED TRADING PROGRAMS IN GENERAL ARE ALSO SUBJECT TO THE FACT THAT THEY ARE DESIGNED WITH THE BENEFIT OF HINDSIGHT. NO REPRESENTATION IS BEING MADE THAT ANY ACCOUNT WILL OR IS LIKELY TO ACHIEVE PROFITS OR LOSSES SIMILAR TO THOSE SHOWN.