19 Jan

Stock Trading Gone Crazy
Stock Trading Gone Crazy
Jan. 19, 2022
As you may know, I don't like index funds.
I think they're a way for rich people to prey on innocent people in the name of "sound financial advice".
Contrary to their advice, the market doesn't always go up (it was stagnant for 80 years from 1849-1929) and didn't go up for over a decade (from 2000-2013). Plus there are consistent drawdowns of 50% or more.
But if regular people want to invest (and they absolutely should) and don't want to use index funds, what should they do?
Forex seems hard to understand and Futures seem complicated. So, what can we do?
We can take steroids.
Not those types of steroids. Figurative steroids for our trading.
Here's what I mean.
The SPY ETF is extremely popular and is a way to be a beloved passive investor. Just buy-the-SPY-and-say-goodbye. And during the unstoppable bull market from 2009-2022, doing that has worked.
If you bought the SPY on August 25, 2009 and held it to now, a $10,000 account would have grown to about $45,000. That's better than a sharp stick in the eye. Should we just stop there, though?
We don't have to.
They have developed super-charged instruments that add a little spice to our lives. One of those is the SPXL.
Like the SPY, the SPXL only trades the biggest and best-known companies in the S&P 500. The difference is: the SPXL is turbo-charged. It's highly-leveraged and goes up way more than the market and also goes down way more than the market.
For comparison, if you bought the SPXL in August 2009 and held it to today, a $10,000 account would now hypothetically be a $300,000 account. That's crazy.
What's the catch?
The catch is that something that moves that hard can fall that hard. In 2020, for example, our hypothetical SPXL account would have suffered a $149,000 drawdown. Yikes.
It recovered but that's some serious heat: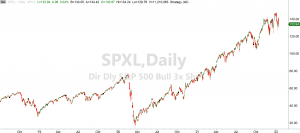 So, is this better than buying an index fund? I would say yes. Why settle for less money?
But could we trade this using something other than buy-and-hold? Of course.
And we'll talk about that in the next Newsletter.
Talk to you soon.
Join the free Newsletter list here .
Get The Legend of Purple Valley: An Incredible Trading Journey here.
Get The Inevitability of Becoming Rich here.
To become an Elite Member go here.
Disclaimer:
It should not be assumed that the methods, techniques, or indicators presented in these products will be profitable or that they will not result in losses. Past results are not necessarily indicative of future results. Examples presented on these sites are for educational purposes only. These set-ups are not solicitations of any order to buy or sell. The authors, the publisher, and all affiliates assume no responsibility for your trading results. There is a high degree of risk in trading.
HYPOTHETICAL OR SIMULATED PERFORMANCE RESULTS HAVE CERTAIN INHERENT LIMITATIONS. UNLIKE AN ACTUAL PERFORMANCE RECORD, SIMULATED RESULTS DO NOT REPRESENT ACTUAL TRADING. ALSO, SINCE THE TRADES HAVE NOT ACTUALLY BEEN EXECUTED, THE RESULTS MAY HAVE UNDER- OR OVER-COMPENSATED FOR THE IMPACT, IF ANY, OF CERTAIN MARKET FACTORS, SUCH AS LACK OF LIQUIDITY. SIMULATED TRADING PROGRAMS IN GENERAL ARE ALSO SUBJECT TO THE FACT THAT THEY ARE DESIGNED WITH THE BENEFIT OF HINDSIGHT. NO REPRESENTATION IS BEING MADE THAT ANY ACCOUNT WILL OR IS LIKELY TO ACHIEVE PROFITS OR LOSSES SIMILAR TO THOSE SHOWN.