03 Aug

Sifting Through the Hype
Sifting Through the Hype
Aug. 3, 2022
Where does propaganda come from?
How do we mislead people?
Simple.
Just say something many, many times. Even if it doesn't make sense–even if we know better–as long as we hear it over and over, "Well, then, it must be true."
Nowadays, you can't listen to a podcast or read a post or watch an investing/personal finance video without being bombarded with, "The only way to invest is through index funds." It's everywhere.
Even though the math says it's not true. Even though the Efficient Market Hypothesis has been completely disproven with real-life examples.
We still believe in index funds. Why? Because it's been pounded into our heads so many times.
And also because index funds have worked to a small degree. People have made money using them. At least, they've made money in the past few years. In perfect market conditions.
It makes me wonder, were financial gurus singing the praises of index funds from 2000-2013 when the market went nowhere? Was making no money still touted as the best way to invest?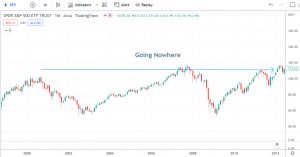 Just for argument's sake, what if we used a trend following trading system (trend following systems have worked for centuries) with a leveraged instrument that trends very hard? What if decided to trust a paradigm that makes sense?
Here's a simple Master Trend system during the same period (risking 7% per trade):

Which Equity Curve is better? It's not close, right? The Master Trend isn't perfect but it makes a significant amount of money–which is significantly more than $0.
But wait. I used a terrible time period for stocks. What about the glory days? Here's the SPY from 2012-2022: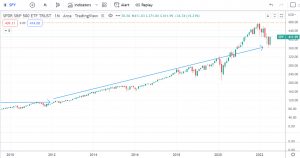 There you go! See, the market is the best!
Here's our trend following system during the same time:

Hmm. Our system did better in the glory days, too. The market made 293% while our system made 508% with less drawdown (risking 7% on each trade and starting with a hypothetical $25k).
A trading system destroyed the market when the market was one of the worst investments in the world and it destroyed the market when the market was doing great and getting millions of people to sing its praises.
By any metric, a system is superior. So why do index funds get so much hype?
And why wouldn't anyone put money into a system instead of the market?
We'll talk about that, and give all the system details, in the next Newsletter.
Talk to you soon.
Join the free Newsletter list here .
Get Robot information HERE.
Visit my Performance Page HERE.
Buy my new book HERE.
The Inevitability of Becoming Rich is HERE.
My latest YouTube video is HERE.
Disclaimer:
It should not be assumed that the methods, techniques, or indicators presented in these products will be profitable or that they will not result in losses. Past results are not necessarily indicative of future results. Examples presented on these sites are for educational purposes only. These set-ups are not solicitations of any order to buy or sell. The authors, the publisher, and all affiliates assume no responsibility for your trading results. There is a high degree of risk in trading.
HYPOTHETICAL OR SIMULATED PERFORMANCE RESULTS HAVE CERTAIN INHERENT LIMITATIONS. UNLIKE AN ACTUAL PERFORMANCE RECORD, SIMULATED RESULTS DO NOT REPRESENT ACTUAL TRADING. ALSO, SINCE THE TRADES HAVE NOT ACTUALLY BEEN EXECUTED, THE RESULTS MAY HAVE UNDER- OR OVER-COMPENSATED FOR THE IMPACT, IF ANY, OF CERTAIN MARKET FACTORS, SUCH AS LACK OF LIQUIDITY. SIMULATED TRADING PROGRAMS IN GENERAL ARE ALSO SUBJECT TO THE FACT THAT THEY ARE DESIGNED WITH THE BENEFIT OF HINDSIGHT. NO REPRESENTATION IS BEING MADE THAT ANY ACCOUNT WILL OR IS LIKELY TO ACHIEVE PROFITS OR LOSSES SIMILAR TO THOSE SHOWN.