02 Feb

Searching for Robust
Searching for Robust
Feb. 2, 2022
Drawdowns are awful.
When you go through a month or two of losing (or more), it's practically unbearable.
It feels like slow torture that only ends in financial ruin.
What's interesting, though, is that we don't handle all drawdowns that way.
Many drawdowns we shrug off easily.
For example, how do we handle rainy days?
We all want beautiful sunny days. We save our money for years so we can live in a place that isn't gray and rainy. And after studying different locales and spending our life savings on it, guess what? It rains.
Sometimes it pours.
What do we do then? Do we panic and pack up our things to move? Do we sit around depressed? Do we get on reddit threads to find a new place to live?
No. We don't give it a second thought.
It will be sunny again tomorrow or the next day. Let's enjoy the break and be ready for the inevitable sunshine. Because it's coming.
No one would move after a rainy week. That would be ridiculous.
Why would we panic when the sun is clearly coming back? And how do we know it's coming back?
Because the rain has been followed by sun for thousands of years. If it's come back thousands of times over thousands of years, it's coming back tomorrow. Worrying about it is silly.
And so we don't.
How can we make trading systems the same way?
We have to believe it's coming back. How do we believe that? If it's come back thousands of times over many years, it's coming back tomorrow. Worrying about it is silly.
And that's where old systems come in. They're the ones that have proven their worth over a long period of time.
How do we find them? A great place to look is old trading books.
Not long ago, Kevin Davey did a piece on systems from old trading books. In one of those books was a system called LUXOR. It was created around 2008 and it was tested from around 2002-2008. If this system has worked since then, that's a long period of success. Which fits the profile of robust.
Let's take a look.
The first problem is that the code was in EasyLanguage but the system was for Forex. We obviously can't trade Fx on Tradestation anymore and, although I'm fairly proficient at EasyLanguage coding, I am completely oblivious to MQL4 coding.
But there's a way around that. I could use Multicharts. This platform uses EasyLanguage and is tradable using my Oanda data. So, if this works, we could trade it tomorrow.
Here are the details.
This is a moving average cross system on 30-minute bars on the GBPUSD currency pair. Right off the bat, this system is using timeless trend following principles. That's a good start.
It also uses one of the major currencies (although it's not my favorite). It also trades a certain part of the day because Fx trading is very different in different parts of the day. This book highly recommends trading specific pockets in Fx. It also discussed trailing stops and hard stops and targets and a few other things. For our purposes, I kept it simple and used almost the exact same settings as the original methodology.
The Slightly-Modified LUXOR System (30M)
Long: When the fast Simple Moving Average (SMA, 16 Length) closes over the slow SMA (44 Length), it's a buy.
Short: When the fast Simple Moving Average (SMA, 15 Length) closes under the slow SMA (44 Length), it's a sell.
Time Window: 10:00-17:00 Eastern Time (no trades taken outside of that window)
Target: $3400 (per 1.0 lot)
Stop: $5000 (per 1.o lot)
Note: This system stops & reverses on an opposite signal
Here are some trade examples from 2021: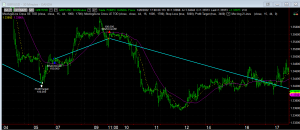 On the left, a Short trade closes out in profit and then we see some Long and Short trades right after.
How did it do from 2007-now?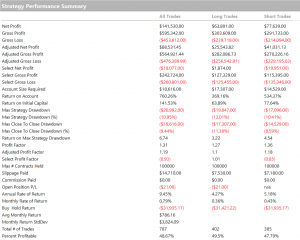 It has held up very well. Here are the Annual Returns:

There are some hugely profitable years. But obviously, there's an elephant in the room.
It has losing years.
Here's the question, though. Could we survive through a drawdown if a system has been performing well since 2002?
Would 2017 be the end of our trading (it's over) or a rainy weekend (no worries, it's robust)?
The years after 2017 were nicely profitable and these numbers are way better than the market.
Is it robust enough to get us through the downpour? It's been around a long time. Is that enough?
In our next Newsletter, we'll look at an even older system. This one's been around since the 1920s.
Join the free Newsletter list here .
Get The Legend of Purple Valley: An Incredible Trading Journey here.
Get The Inevitability of Becoming Rich here.
To become an Elite Member go here.
Disclaimer:
It should not be assumed that the methods, techniques, or indicators presented in these products will be profitable or that they will not result in losses. Past results are not necessarily indicative of future results. Examples presented on these sites are for educational purposes only. These set-ups are not solicitations of any order to buy or sell. The authors, the publisher, and all affiliates assume no responsibility for your trading results. There is a high degree of risk in trading.
HYPOTHETICAL OR SIMULATED PERFORMANCE RESULTS HAVE CERTAIN INHERENT LIMITATIONS. UNLIKE AN ACTUAL PERFORMANCE RECORD, SIMULATED RESULTS DO NOT REPRESENT ACTUAL TRADING. ALSO, SINCE THE TRADES HAVE NOT ACTUALLY BEEN EXECUTED, THE RESULTS MAY HAVE UNDER- OR OVER-COMPENSATED FOR THE IMPACT, IF ANY, OF CERTAIN MARKET FACTORS, SUCH AS LACK OF LIQUIDITY. SIMULATED TRADING PROGRAMS IN GENERAL ARE ALSO SUBJECT TO THE FACT THAT THEY ARE DESIGNED WITH THE BENEFIT OF HINDSIGHT. NO REPRESENTATION IS BEING MADE THAT ANY ACCOUNT WILL OR IS LIKELY TO ACHIEVE PROFITS OR LOSSES SIMILAR TO THOSE SHOWN.