01 Jun

Screwup #1: Falling Asleep in the Getaway Car
Screwup #1: Falling Asleep in the Getaway Car
June 1, 2022
It's really easy to not be successful.
There are so many ways to screw it up.
For one, we could choose the wrong partner, the wrong guru, or the wrong trading system.
Starting wrongly won't lead to riches.
How do we not choose wrongly? We use common sense and timeless principles.
If it's a super-secret secret, it's probably a bad choice. If you're being pressured to ACT NOW, it's probably a bad choice. If the promised returns are literally impossible to recreate, it's a bad choice.
Any of those can guarantee failure. But let's say we sidestep those land mines. Are we out of the woods?
Not by a long shot, unfortunately.
As the saying goes, even if you're on the right track, you'll get run over if you stop in the middle. And that's a surefire way to ruin a sure thing.
For example, what if you finally were worn-down by all your get-rich-quick friends and bought the QQQ ETF in March 2000. You were sensible, so you didn't buy a crazy internet stock. You bought the tech ETF instead. How prudent.
And then this happened: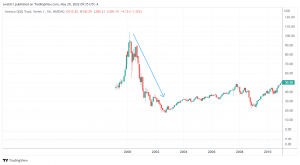 While buying-and-holding is a dubious decision, it has worked out for some people in some occasions. However, the massive drop in QQQ was too much to bear. The fear was too great.
And you sold out.
By selling out, your financial life took a huge hit. Maybe a fatal hit.
The cruel twist is: buying-and-holding the QQQ actually worked out in the long run. It took well over a decade, but it worked out.
If you had just stayed the course, buying at $92.90 at the top of the Dot-Com bubble would have produced a compounded return of 5.6% per year. A $10k investment would have turned into $33k.
We could be sitting on a sure thing, and instead of just staying the course, we could screw it all up with a short-term horrible decision.
We could be sitting in the getaway car with a clear path in front of us, and still get caught because we decided to take a quick nap.
In short, even if we choose the right system based on evidence, research, and common sense, our guaranteed future won't happen if we deviate.
All we have to do is stay awake and drive away. All we have to do is stay on the path.
It seems easy to do. And it is.
But it's also easy not to do. And that's how we get screwed up.
We'll talk about another big obstacle to our inevitable success in our next Newsletter.
Talk to you soon.
Join the free Newsletter list here .
Get Robot information HERE.
Visit my Performance Page HERE.
Buy my new book HERE.
The Inevitability of Becoming Rich is HERE.
My latest YouTube video is HERE.
Disclaimer:
It should not be assumed that the methods, techniques, or indicators presented in these products will be profitable or that they will not result in losses. Past results are not necessarily indicative of future results. Examples presented on these sites are for educational purposes only. These set-ups are not solicitations of any order to buy or sell. The authors, the publisher, and all affiliates assume no responsibility for your trading results. There is a high degree of risk in trading.
HYPOTHETICAL OR SIMULATED PERFORMANCE RESULTS HAVE CERTAIN INHERENT LIMITATIONS. UNLIKE AN ACTUAL PERFORMANCE RECORD, SIMULATED RESULTS DO NOT REPRESENT ACTUAL TRADING. ALSO, SINCE THE TRADES HAVE NOT ACTUALLY BEEN EXECUTED, THE RESULTS MAY HAVE UNDER- OR OVER-COMPENSATED FOR THE IMPACT, IF ANY, OF CERTAIN MARKET FACTORS, SUCH AS LACK OF LIQUIDITY. SIMULATED TRADING PROGRAMS IN GENERAL ARE ALSO SUBJECT TO THE FACT THAT THEY ARE DESIGNED WITH THE BENEFIT OF HINDSIGHT. NO REPRESENTATION IS BEING MADE THAT ANY ACCOUNT WILL OR IS LIKELY TO ACHIEVE PROFITS OR LOSSES SIMILAR TO THOSE SHOWN.