30 Nov

Question: Can We Use Correlations to Help our Trading?
Question: Can We Use Correlations to Help our Trading?
Nov. 30, 2022
When I first came across the idea of correlations, I was fascinated.
If we know for certain that one instrument always moves in lockstep with another instrument (or does the exact opposite), we can concoct all sorts of profitable scenarios.
We could only buy something when the other something goes up. We could sell one thing while buying another. We could only go Long if the other component goes Long.
That sort of thing.
Oh, and we could also use correlation to make sure our buy-and-hold portfolios never go down in Bear Markets. After all, if our stocks are all un-correlated, some will go up and some will go down during bearishness and I'll be perfectly fine.
You can see where this is going.
Once I actually started testing correlations, I realized something. Instruments can always be correlated to something else…until they're not.
My stocks may look un-correlated and may even test out to appear that way, and then a Bear Market slaps that "un-correlated" portfolio right in the face by suddenly making them all very correlated.
As another example, I've looked at correlations between the EURJPY and the GBPJPY, and found something surprising: the two aren't correlated!
What??
It was true. Even though they should be similar, the software was showing that they were moving independently.
Until that wasn't true.
A few months later the correlation number was back in line. They were correlated again.
Another infamous example of a correlation breakdown is 2022 itself. The traditional 60/40 portfolio is regurgitated by financial advisors everywhere because why? Stocks and bonds are un-correlated.
Of course, that's not true at all this year. Everything has gotten hammered for buy-and-holders. It's the worst year in a century for that "un-correlated" portfolio.
So. let's look at a chart showing the GBPJPY and the SPY (S&P 500 ETF). Can we find any correlations?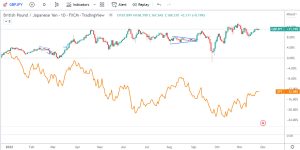 The GJPY is shown with colored candlesticks. The SPY is the orange line. What do you see?
If you're like me, you see a whole lot of nothingness.
Sometimes they've moved together in 2022. Sometimes they've moved exactly opposite of each other. And sometimes one's been stagnant while the other is trending. I've watched the comparison of these two every day for years and it's been wildly inconsistent.
So, there's nothing I can find to make this profitable. Mostly because I've found correlations to be spurious. They can change anytime they want to.
This doesn't mean that correlations don't exist. They can appear to exist for certain periods of time.
But I can't put my money on the line for a coincidence, even if it's a good-looking one.
In our next Newsletter, we're going to look at options once again. I got a ton of emails about options last week, so I wanted to delve into that subject a little more.
Join the free Newsletter list here .
Get Robot information HERE.
Visit my Performance Page HERE.
Buy my new book HERE.
The Inevitability of Becoming Rich is HERE.
My latest YouTube video is HERE.
Disclaimer:
It should not be assumed that the methods, techniques, or indicators presented in these products will be profitable or that they will not result in losses. Past results are not necessarily indicative of future results. Examples presented on these sites are for educational purposes only. These set-ups are not solicitations of any order to buy or sell. The authors, the publisher, and all affiliates assume no responsibility for your trading results. There is a high degree of risk in trading.
HYPOTHETICAL OR SIMULATED PERFORMANCE RESULTS HAVE CERTAIN INHERENT LIMITATIONS. UNLIKE AN ACTUAL PERFORMANCE RECORD, SIMULATED RESULTS DO NOT REPRESENT ACTUAL TRADING. ALSO, SINCE THE TRADES HAVE NOT ACTUALLY BEEN EXECUTED, THE RESULTS MAY HAVE UNDER- OR OVER-COMPENSATED FOR THE IMPACT, IF ANY, OF CERTAIN MARKET FACTORS, SUCH AS LACK OF LIQUIDITY. SIMULATED TRADING PROGRAMS IN GENERAL ARE ALSO SUBJECT TO THE FACT THAT THEY ARE DESIGNED WITH THE BENEFIT OF HINDSIGHT. NO REPRESENTATION IS BEING MADE THAT ANY ACCOUNT WILL OR IS LIKELY TO ACHIEVE PROFITS OR LOSSES SIMILAR TO THOSE SHOWN.