12 Apr

No Stops, No Losing
No Stops, No Losing
Apr. 12, 2023
Full Disclosure: The best trading period of my life was when I was trading without stoplosses.
We made about 50% on our account in 3 months and won over fifty series of trades in a row.
Full Disclosure Part II: I don't trade this way anymore.
Why?
I don't like drawdowns. I don't like watching a trade go against me for hours, days, weeks. I prefer taking a trade and moving on.
But could this be another one of my trading blunders?
Why do people love systems with no stops? It's because the good systems like that never lose.
It's not that they never lose, though. That's not quite correct. They never lose a series of trades (and I go over this in great detail in my old Fair Value Course).
Systems with no stops typically enter a trade several times and then exit when all of those trades added up equals a profit amount. For my old Fair Value system, it was a dollar amount.
I would wait for price to get very Oversold on a Bollinger Band™, and then enter with the goal of making a few dollars. If it went against me, the robot (or the person) would enter again and try to have both trades combine for that profit number.
The good part of trading this way? Theoretically, you never lose a series of trades. You keep entering until you win. That's it.
The bad part? What if the trade never comes back?
If that happens, you lose it all.
And that's why I don't trade that way currently. Plus, to trade this way effectively, you have to use a small trade size. And small trade sizes mean smaller profits.
But this can't be said enough: There's something intoxicating about never losing a series of trades.
Let's look at an example from my old course using my old Fair Value/BB Multi Trade robot. I did a series of videos on this system six years ago. Watch it on YouTube here: https://www.youtube.com/watch?v=dsR-RFHx6o0&list=PLvuTGCuHKnomDCBN3onZRcn-Eoxi-WM9A
Here are the details for the 15M EURJPY Fair Value System:
Entry: Long Only
Entry Trigger: Price closes outside the BBand (600 Length, 3 standard deviations)
Exit: When trade is $10 USD in profit
Entries: Enter up to 5 times with equal trade size (0.1 lots)
It's an eccentric system, to be sure. But it worked well 6 years ago. Here are some winning examples from February 2023:

How has it done since? Probably awfully, right?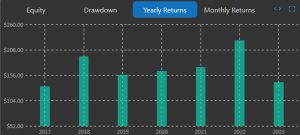 Not at all. It's kept right on going. Here's the Curve (created via Portfolio Architect):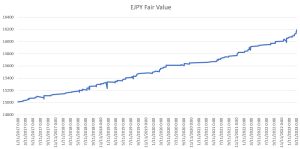 It's straight up, just like it was when I developed the system.
If winning is the main goal, this system does it, at least on the EJPY.
In our next Newsletter, we'll look at the downsides and a portfolio of charts like EJPY.
And we'll see if something like this could be used for prop trading.
Join the free Newsletter list here .
Get Robot information HERE.
Visit my Performance Page HERE.
Buy my new book HERE.
The Inevitability of Becoming Rich is HERE.
My latest YouTube video is HERE.
Disclaimer:
It should not be assumed that the methods, techniques, or indicators presented in these products will be profitable or that they will not result in losses. Past results are not necessarily indicative of future results. Examples presented on these sites are for educational purposes only. These set-ups are not solicitations of any order to buy or sell. The authors, the publisher, and all affiliates assume no responsibility for your trading results. There is a high degree of risk in trading.
HYPOTHETICAL OR SIMULATED PERFORMANCE RESULTS HAVE CERTAIN INHERENT LIMITATIONS. UNLIKE AN ACTUAL PERFORMANCE RECORD, SIMULATED RESULTS DO NOT REPRESENT ACTUAL TRADING. ALSO, SINCE THE TRADES HAVE NOT ACTUALLY BEEN EXECUTED, THE RESULTS MAY HAVE UNDER- OR OVER-COMPENSATED FOR THE IMPACT, IF ANY, OF CERTAIN MARKET FACTORS, SUCH AS LACK OF LIQUIDITY. SIMULATED TRADING PROGRAMS IN GENERAL ARE ALSO SUBJECT TO THE FACT THAT THEY ARE DESIGNED WITH THE BENEFIT OF HINDSIGHT. NO REPRESENTATION IS BEING MADE THAT ANY ACCOUNT WILL OR IS LIKELY TO ACHIEVE PROFITS OR LOSSES SIMILAR TO THOSE SHOWN.