23 Jun

Mysterious Profits
Mysterious Profits
June 23, 2021
"Every great magician has one trick they truly don't understand."
That was a throw-away line from the classic 1980s show Moonlighting (and if you know that show, you just became one of my favorite people).
But it's stuck with me for decades.
Because while I try to only deal with evidence-based truths, there are things out there I don't understand.
And they're fascinating.
Even more, the greatest trader of all time, Jim Simons, has admitted to trading systems with mysterious profits. Even though he prefers to start with ideas that make sense and test from there, Simons admits that his record-breaking fund trades strategies that defy logic.
He can't figure out why they work.
They just do.
So he trades them anyway.
Very recently, I came across one such system.
It was featured in an article by David Bean way back in 2007, and it was made for the Euro Futures contract and the EURUSD.
Here's the Forex version of the system (using EURUSD). Are you ready for this?
Short-Only Countertrend Bermuda Triangle System (60-Minute)
Short Entry: If the time is 1659 (Eastern time) then look to go Short on the next bar on a Limit Order that's 40 points above the close of the 16:59 bar.
Exit: At 21:00, buy to cover at the close of the bar.
Wait, what?
Let's try to analyze it.
The Forex day stops at 4:59 pm EST and starts up again at 5:00 pm EST.
This system is looking at the close of the 16:00 bar (the end of the day) and then going Short if price rises 40 points above that close.
Essentially, we're fading any rise off of the day's closing bar.
What about Long trades? Nope.
Why not Long trades? No reason.
What about a stop loss? Not using one.
What about a target? Just letting it run until 21:00.
Does it work? Brace yourself.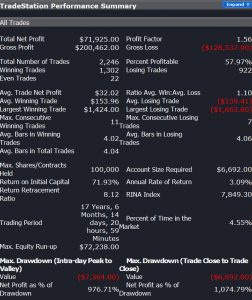 It made a ton of profit trading 1 full lot each time. And here's the Equity Curve: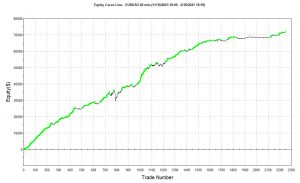 I've puzzled over this and can't figure it out. Hearing the idea, I would've bet a large amount of money that it would crash and burn quickly.
It did the opposite of that.
Of course, an astute observer would notice a few subtle danger signs in our unexplainably profitable system.
And we'll talk about those in the next Newsletter.
Join the free Newsletter list here to get those results.
To become a Member go here.
Disclaimer:
It should not be assumed that the methods, techniques, or indicators presented in these products will be profitable or that they will not result in losses. Past results are not necessarily indicative of future results. Examples presented on these sites are for educational purposes only. These set-ups are not solicitations of any order to buy or sell. The authors, the publisher, and all affiliates assume no responsibility for your trading results. There is a high degree of risk in trading.
HYPOTHETICAL OR SIMULATED PERFORMANCE RESULTS HAVE CERTAIN INHERENT LIMITATIONS. UNLIKE AN ACTUAL PERFORMANCE RECORD, SIMULATED RESULTS DO NOT REPRESENT ACTUAL TRADING. ALSO, SINCE THE TRADES HAVE NOT ACTUALLY BEEN EXECUTED, THE RESULTS MAY HAVE UNDER- OR OVER-COMPENSATED FOR THE IMPACT, IF ANY, OF CERTAIN MARKET FACTORS, SUCH AS LACK OF LIQUIDITY. SIMULATED TRADING PROGRAMS IN GENERAL ARE ALSO SUBJECT TO THE FACT THAT THEY ARE DESIGNED WITH THE BENEFIT OF HINDSIGHT. NO REPRESENTATION IS BEING MADE THAT ANY ACCOUNT WILL OR IS LIKELY TO ACHIEVE PROFITS OR LOSSES SIMILAR TO THOSE SHOWN.