18 Sep

My "Savings Account" Obsession
My "Savings Account" Obsession
Sept. 17, 2023
Subscribe to my YouTube Channel HERE.
I like listening to esteemed financial advisors talk about money.
Some of the stuff, while very repetitive, is useful and comes highly recommended.
Other things they say are probably criminally negligent. But we can let that slide.
There's one comment I heard, though, that has burrowed into my brain and gnaws at me every day.
In this particular interview, the successful millionaire said he (pause for dramatic effect) "uses SPY as his savings account."
In other words, when he has extra cash, he doesn't put it into a bank.
He puts it into his trading account and buys more SPY (the S&P 500 ETF).
Wait, what?
He buys more SPY with all of his free cash? Why on earth would he do that?
His answer, of course, is that the SPY always goes up. So, if he puts his surplus there, his money is always making money.
Even in these days of 4+% savings accounts, his rationale is that the stock market averages 8% per year over time. And eight is bigger than four no matter how you cut it.
Did it work for him?
Absolutely.
Because he arbitrarily and luckily did this at exactly the time the market decided to average 10% per year.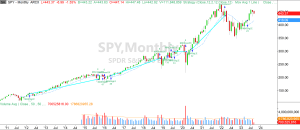 What a glorious time to have a SPY savings account.
If we started with a $10,000 account, put $200 in every month, and bought more SPY every month, our $10k would have turned into $89k from September 2013 to September 2023: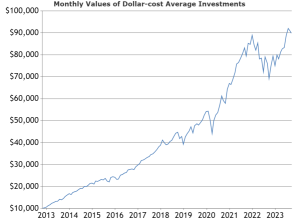 However.
If we did the exact same thing starting in September 2007 and did it until September 2010, we would've lost 30% of our money and would be right at the very same $10k level we started. The only thing keeping us afloat would be the $200 we put in every month.
Yikes.
But the concept is excellent. It's bold and based on good logic.
Putting our extra money into a money-making vehicle is a guaranteed road to success.
It's what every rich person does.
But the SPY?
Passively investing in something that doesn't go up every year and makes far less than almost any trading system is the best choice?
Obviously not.
And that's the gnawing thought in my head.
There has to be a better way.
And we'll look at some possibilities in the upcoming Newsletter.
Join the free Newsletter list here .
Get Robot information HERE.
Visit my Performance Page HERE.
Buy my new book HERE.
The Inevitability of Becoming Rich is HERE.
My latest YouTube video is HERE.
Disclaimer:
It should not be assumed that the methods, techniques, or indicators presented in these products will be profitable or that they will not result in losses. Past results are not necessarily indicative of future results. Examples presented on these sites are for educational purposes only. These set-ups are not solicitations of any order to buy or sell. The authors, the publisher, and all affiliates assume no responsibility for your trading results. There is a high degree of risk in trading.
HYPOTHETICAL OR SIMULATED PERFORMANCE RESULTS HAVE CERTAIN INHERENT LIMITATIONS. UNLIKE AN ACTUAL PERFORMANCE RECORD, SIMULATED RESULTS DO NOT REPRESENT ACTUAL TRADING. ALSO, SINCE THE TRADES HAVE NOT ACTUALLY BEEN EXECUTED, THE RESULTS MAY HAVE UNDER- OR OVER-COMPENSATED FOR THE IMPACT, IF ANY, OF CERTAIN MARKET FACTORS, SUCH AS LACK OF LIQUIDITY. SIMULATED TRADING PROGRAMS IN GENERAL ARE ALSO SUBJECT TO THE FACT THAT THEY ARE DESIGNED WITH THE BENEFIT OF HINDSIGHT. NO REPRESENTATION IS BEING MADE THAT ANY ACCOUNT WILL OR IS LIKELY TO ACHIEVE PROFITS OR LOSSES SIMILAR TO THOSE SHOWN.