31 Oct

The Overlooked Key To Trading-For-A-Living
The Overlooked Key To Trading-For-A-Living
October 31st, 2018
Studies have shown that the most important creator of happiness is hope.
Of course, that means the number one creator of sadness is having no hope.
So the question is: What creates the feeling of hopelessness in trading?
Is it a stop-out?
If we put on a trade and it stops out, do we then feel hopeless about our trading system?
Maybe. But not likely.
We'll just try to put on another trade.
I've never lost sleep over a stop-out. I've been angry. I've called my broker. I've cursed the chart I was trading. But I've never felt hopeless.
On the other hand, the worst feeling I've ever had in trading was being in a trade that didn't have a stop. For a four-day period, I don't think I ever got into REM sleep. I was sad all the time. It affected every waking moment of my day. It made me a zombie.
Why?
Because my size was too big and there was no hope in sight. No stoploss to save me or end the madness. This horrible life I was in could just go on indefinitely. It was awful.
And that's the potential life we'll lead if we trade with an Index Fund.
If we were using the market for trade-for-a-living, we would have seen almost nothing but losing from October 3, 2018 to October 26, 2018. And it may not be over yet.
"The market always goes up over time" platitude doesn't amount to jack squat when the key to our financial survival is losing every day. There's no stop-out to end it. There's nothing to end it. it could end tomorrow or it could end two years from now.
And how do we feel when there's no end in sight to our losses?
Hopeless.
Trading changes that. Yes, there's losing. Yes, there are stop-outs. Yes, taking a loss isn't fun.
But we live to fight another day. The losing does end at some point.
There's hope.
And if we add on the possibility of making more money than the market, then what are we even talking about?
That's why I believe trading is the better path for regular people to change their lives. Now all we have to do is find a trading system we like.
Speaking of trading systems, let's add another instrument on to our system from last week. First we looked at USDJPY, and then we looked at EURJPY. Today we'll look at GBPUSD.
Here are the details (same as last week):
System: Stochastics to Trade-For-a-Living
Philosophy Behind It: We want a basic indicator that anyone can use that can outperform the market
Need Special Indicator? No.
Chart: Daily
Instrument: GBPUSD
Long or Short? Both Long and Short
Entry: 1) Price must close into Oversold; 2) Then fast line must close over slow line; 3) Enter at the Open of the next bar (opposite is true for Short trades);
Indicator settings: Stochastics Slow (26 Length/20 Oversold/80 Overbought)
Hypothetical Profit: $62,695
Hypothetical Max drawdown: -$10,218
Profit target: 340 pips for Long, 345 pips for Short
Stop loss: 285 pips for both
Trade size: 0.75 lots
Timed exit: exit after 30 bars for Long, 13 bars for Short
Hypothetical account size: $15,000
Test Period: 1997-2018
Number of Trades: 129
The Performance Report is here: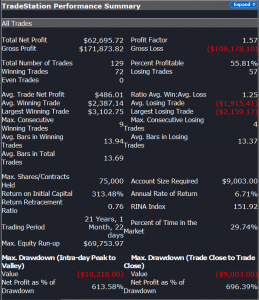 The drawdown gets a little higher using this trade size on GBPUSD, but the profit is higher also. The winning rate is still decent at 55%.
This return is very similar Index Fund over 21 years but trading a system keeps us from falling into hopelessness. That's something to always keep in the back of our minds.
And we can always combine the GBPUSD with other instruments. Later this week, we'll look at adding more to our portfolio.
Get on the email list here.
To see the weekly YouTube video on this system, go here.
Disclaimer:
It should not be assumed that the methods, techniques, or indicators presented in these products will be profitable or that they will not result in losses. Past results are not necessarily indicative of future results. Examples presented on these sites are for educational purposes only. These set-ups are not solicitations of any order to buy or sell. The authors, the publisher, and all affiliates assume no responsibility for your trading results. There is a high degree of risk in trading.
HYPOTHETICAL OR SIMULATED PERFORMANCE RESULTS HAVE CERTAIN INHERENT LIMITATIONS. UNLIKE AN ACTUAL PERFORMANCE RECORD, SIMULATED RESULTS DO NOT REPRESENT ACTUAL TRADING. ALSO, SINCE THE TRADES HAVE NOT ACTUALLY BEEN EXECUTED, THE RESULTS MAY HAVE UNDER- OR OVER-COMPENSATED FOR THE IMPACT, IF ANY, OF CERTAIN MARKET FACTORS, SUCH AS LACK OF LIQUIDITY. SIMULATED TRADING PROGRAMS IN GENERAL ARE ALSO SUBJECT TO THE FACT THAT THEY ARE DESIGNED WITH THE BENEFIT OF HINDSIGHT. NO REPRESENTATION IS BEING MADE THAT ANY ACCOUNT WILL OR IS LIKELY TO ACHIEVE PROFITS OR LOSSES SIMILAR TO THOSE SHOWN.