24 Jul

Interesting Dilemmas
Interesting Dilemmas
July 24, 2023
Subscribe to my YouTube Channel HERE.
Tennis is a game of emergencies.
It's not "whoever has the best strokes wins." It's not a checklist.
Tennis is constant adapting to what's happening now.
The wind is blowing my toss everywhere.
Why is that parent yelling at me?
My forehand feels terrible today.
Uh oh, my ankle is hurting again.
And so on.
But maybe emergency isn't the right word. Maybe dilemma is better.
Because a tennis match is a constant puzzle-solving challenge. And dilemma, by definition, is a "a situation in which a difficult choice has to be made between two or more alternatives." And the choices are sometimes unpleasant.
Trading is no different.
In fact, trading brings us more opportunities to make unpleasant choices than just about any other profession.
And here's one such dilemma.
Let's say we have a good trading strategy, one we like, makes sense, and produces profit (hypothetical or otherwise). For this example, we'll use a 30-minute Futures strategy that was inspired by Art Collins. Details here:
ES.D 30-Minute Open Momentum
Start time: 10:30 am ET
Long entry: the low of the current bar is greater than the open for the day.
Short entry: the high of current bar is less than the open for the day.
Stop: $300 per contract
Exit at the end of the day. No overnight trades.
And here's the Equity Curve from 2007-2022: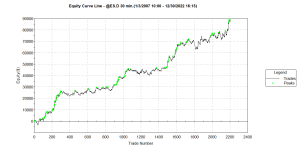 That looks excellent. No problems whatsoever.
No problems, that is, until 2023 happens:

Here's a perfectly sound strategy that has done very well for over 15 years.
But 2023–one of the most uniquely troublesome years of all time–has been quite negative. It's down over $8k (hypothetically trading 1 contract).
That's an interesting dilemma.
Do we continue to trade something that's worked for a decade and a half? After all, the year isn't over yet.
Or do we think the market has changed?
And if it's changed, what do we do?
Stop going Short? Stop going Long?
Stop trading it until the losing streak is over and the hypothetical account is back positive?
Re-test every parameter?
Or add more money because drawdowns are an ideal opportunity to big on a good system in a temporary dip?
Trading is never a straight line. There are always mental mountains to climb.
If we're ready for the dilemmas, if we embrace them, we can be successful.
If we're looking to avoid pain at every curve ball, we're in trouble.
In our next Newsletter, we'll look at another interesting dilemma.
Talk soon.
Join the free Newsletter list here .
Get Robot information HERE.
Visit my Performance Page HERE.
Buy my new book HERE.
The Inevitability of Becoming Rich is HERE.
My latest YouTube video is HERE.
Disclaimer:
It should not be assumed that the methods, techniques, or indicators presented in these products will be profitable or that they will not result in losses. Past results are not necessarily indicative of future results. Examples presented on these sites are for educational purposes only. These set-ups are not solicitations of any order to buy or sell. The authors, the publisher, and all affiliates assume no responsibility for your trading results. There is a high degree of risk in trading.
HYPOTHETICAL OR SIMULATED PERFORMANCE RESULTS HAVE CERTAIN INHERENT LIMITATIONS. UNLIKE AN ACTUAL PERFORMANCE RECORD, SIMULATED RESULTS DO NOT REPRESENT ACTUAL TRADING. ALSO, SINCE THE TRADES HAVE NOT ACTUALLY BEEN EXECUTED, THE RESULTS MAY HAVE UNDER- OR OVER-COMPENSATED FOR THE IMPACT, IF ANY, OF CERTAIN MARKET FACTORS, SUCH AS LACK OF LIQUIDITY. SIMULATED TRADING PROGRAMS IN GENERAL ARE ALSO SUBJECT TO THE FACT THAT THEY ARE DESIGNED WITH THE BENEFIT OF HINDSIGHT. NO REPRESENTATION IS BEING MADE THAT ANY ACCOUNT WILL OR IS LIKELY TO ACHIEVE PROFITS OR LOSSES SIMILAR TO THOSE SHOWN.