06 Oct

Incredible Dividends from An Incredible Place
Incredible Dividends from An Incredible Place
Oct. 6, 2023
Subscribe to my YouTube Channel HERE.
This week we've been talking about using an income stream to help us trade our trading systems.
Specifically, we've discussed using high-yield dividends.
Because high-yield keeps money coming in.
Hoping our Aristocrat's share price goes up is not as effective as actually having money each month.
But what if we're somewhere in between?
Yes, we want to create a side income stream, but we also want as much money as possible.
And that's the problem with high-yield. Yes, it's a nice, reliable payment. But it's capped.
Furthermore, a high-yield ETF almost always won't rise in share price.
So, is there a solution?
Yes, and it's a crazy one.
One of the best dividend stocks in the world is…the QQQ ETF?
Wait, what?
I know. It's nutty.
For one, QQQ only has a yield of 0.60%.
Wait, what??
You already said that.
But how can an ETF with almost no yield be the best dividend stock?
Because we're going to pull shares out each year.
For this comparison, if QQQ goes up in any given year, we'll sell shares off to get back to our original stake. In this case we'll use $10,000 as our original investment and we'll compare QQQ to QYLD.
From January 2014 – September 2023, QYLD would've brought in $8,769. Those payments were reliable and a created a certain stream of income.
But if we sold shares each time QQQ went up and also took all the tiny dividend payments, we could have pulled out a whopping $20,511!
And we still would have had about $10k worth of stock in our account in 2023.
Put another way, here's the total return between QQQ and QYLD from '14-'23: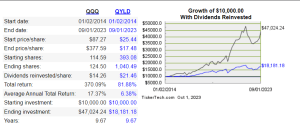 Dividend champion QQQ wins by a mile.
Of course, there are a few big problems.
One is that by selling shares, we run the risk of running out of shares. If we sell everything, the price appreciation and income stream are both gone.
Two, the price may not go up! Here's the total return of QQQ from October 2007-October 2010: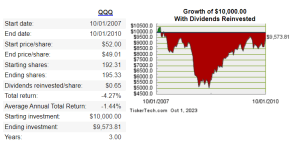 Losing money is not a very good income stream.
QYLD, on the other hand, has mostly gone down since its inception, but it's continued to pay each month, albeit in differing amounts. It would have paid us during the time that QQQ was negative (if it existed back then).
The other problem, of course, is that a high-yield instrument can drop its yield. High dividend-payers have been cutting their dividends disturbingly often these days. While an ETF solves that individual stock dividend-cut problem, the yield can still go down.
And something like QYLD could continue to drop down to $0 over the next decades.
If that happens, our high-yield guarantee wouldn't look so great.
But it almost certainly would pay us the income stream we need for quite some time.
And the constant income stream is the important key we've been discussing all week.
Talk to you soon.
Join the free Newsletter list here .
Get Robot information HERE.
Visit my Performance Page HERE.
Buy my new book HERE.
The Inevitability of Becoming Rich is HERE.
My latest YouTube video is HERE.
Disclaimer:
It should not be assumed that the methods, techniques, or indicators presented in these products will be profitable or that they will not result in losses. Past results are not necessarily indicative of future results. Examples presented on these sites are for educational purposes only. These set-ups are not solicitations of any order to buy or sell. The authors, the publisher, and all affiliates assume no responsibility for your trading results. There is a high degree of risk in trading.
HYPOTHETICAL OR SIMULATED PERFORMANCE RESULTS HAVE CERTAIN INHERENT LIMITATIONS. UNLIKE AN ACTUAL PERFORMANCE RECORD, SIMULATED RESULTS DO NOT REPRESENT ACTUAL TRADING. ALSO, SINCE THE TRADES HAVE NOT ACTUALLY BEEN EXECUTED, THE RESULTS MAY HAVE UNDER- OR OVER-COMPENSATED FOR THE IMPACT, IF ANY, OF CERTAIN MARKET FACTORS, SUCH AS LACK OF LIQUIDITY. SIMULATED TRADING PROGRAMS IN GENERAL ARE ALSO SUBJECT TO THE FACT THAT THEY ARE DESIGNED WITH THE BENEFIT OF HINDSIGHT. NO REPRESENTATION IS BEING MADE THAT ANY ACCOUNT WILL OR IS LIKELY TO ACHIEVE PROFITS OR LOSSES SIMILAR TO THOSE SHOWN.