08 Jun

How I Made 22% in One Day
How I Made 22% in One Day
June 8, 2022
This isn't clickbait or a wacky promotion to hard-sell you something.
It's a true story.
It happened recently on June 1st, 2022.
But there's a big lesson to be learned in this trade, and it has to deal with luck.
Because my gain was probably 90% lucky.
First, here is my Futures account statement: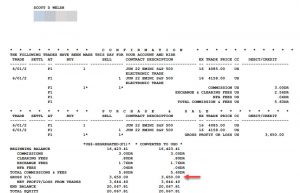 I made $3,650 on a $16k account in one day, which is about a 22% gain. Hooray.
How did I do it?
By accident.
Even though this was an automated strategy, that doesn't mean a human isn't involved. A human always has to check on the robot to make sure the internet is connected. If the connection is severed, then the robot can't take the trade out and any profit targets or stops will not be honored.
This, obviously, can lead to disastrous runaway trade that was presumed to be stopped out.
Or, in my case, it can lead to a highly-profitable runaway trade that was supposed to be exited for a small gain.
Here's my Futures chart:

The thick cyan line is where I should have exited. The dashed line is where I manually exited. Quite a difference.
How did it happen?
I set up my automated chart in the morning, as usual. I've been doing this for a while now while testing out this new strategy. When I return to my computer a few hours after the opening, the trade is always over (if it takes one at all).
When I looked at my computer on June 1st, however, there was an error message on my screen. After some quick investigation, I realized my automation was off and I was live in the market sitting on a big gain. I then exited manually.
Sounds lucky, right? And it is.
Except this robot uses timeless principles. It fades gap openings. According to the research, gaps in the ES fill around 70% of the time–a big number. I was in a trade that had an exceptionally high win rate.
I wasn't Long crypto because of a rah-rah blockchain convention. I wasn't Long GME at $300 because of a message board.
I was Short the Index off a gap up which works a very high percentage of the time. Is it really that surprising that my trade went the way it did? Could a trade like mine theoretically run to a big target like this many, many times?
Absolutely.
The trade methodology was sound. I choose to take small profits normally but I don't have to. Fading gaps works with all sorts of targets and stops.
In that regard, it wasn't luck. Yes, I flopped an Ace on the River but I was holding pocket Aces and betting properly. I'll win those hands most of the time and sometimes I'll get lucky and catch a big break.
Make no mistake, I never meant to make 22%. It could have gone the other way.
But I wasn't stupid, either. I got lucky doing something sensical.
There are ways to tempt luck to be on our side.
And we'll talk about that in the next Newsletters.
Talk to you soon.
Join the free Newsletter list here .
Get Robot information HERE.
Visit my Performance Page HERE.
Buy my new book HERE.
The Inevitability of Becoming Rich is HERE.
My latest YouTube video is HERE.
Disclaimer:
It should not be assumed that the methods, techniques, or indicators presented in these products will be profitable or that they will not result in losses. Past results are not necessarily indicative of future results. Examples presented on these sites are for educational purposes only. These set-ups are not solicitations of any order to buy or sell. The authors, the publisher, and all affiliates assume no responsibility for your trading results. There is a high degree of risk in trading.
HYPOTHETICAL OR SIMULATED PERFORMANCE RESULTS HAVE CERTAIN INHERENT LIMITATIONS. UNLIKE AN ACTUAL PERFORMANCE RECORD, SIMULATED RESULTS DO NOT REPRESENT ACTUAL TRADING. ALSO, SINCE THE TRADES HAVE NOT ACTUALLY BEEN EXECUTED, THE RESULTS MAY HAVE UNDER- OR OVER-COMPENSATED FOR THE IMPACT, IF ANY, OF CERTAIN MARKET FACTORS, SUCH AS LACK OF LIQUIDITY. SIMULATED TRADING PROGRAMS IN GENERAL ARE ALSO SUBJECT TO THE FACT THAT THEY ARE DESIGNED WITH THE BENEFIT OF HINDSIGHT. NO REPRESENTATION IS BEING MADE THAT ANY ACCOUNT WILL OR IS LIKELY TO ACHIEVE PROFITS OR LOSSES SIMILAR TO THOSE SHOWN.