20 Nov

Getting Out of Slumps
The Hot Hornet
Nov. 20, 2023
Subscribe to my YouTube Channel HERE.
I've been asked many times over the years about getting out of slumps.
And I've seen students go into losing streaks and then come roaring out of them.
The solution (in tennis) is a simple one.
See the ball go in. 
Stop trying to do the perfect stroke you worked on last week. Stop trying to hit the serve 132 mph (even though you definitely can). Stop trying to hit your forehand as hard as you normally do.
Hit it in.
When the brain sees the ball go in, it reconfigures. It relaxes. It realizes, "Of course. That's what the ball should do."
And confidence reappears. Losing streaks reverse.
If you can make it a preposterous proposition that you won't succeed, you'll succeed.
In other words, if you hit everything in at 80% skill and hustle maniacally hard for two hours, it is reasonable to continue losing?
No.
Unless you're playing Federer, hitting the ball in will certainly end the slump.
But what about trading slumps?
As we've discussed, this year has been filled with pitiful trends and maddening reversals. A trader starting his/her journey this year could easily be jaded.
What's the cure?
Seeing a winning trade.
How can we do that?
Use a system with a high win rate. And a portfolio.
An example of this is the Hornet.
It's my oldest system and it's historical win rate is between 60-75%, depending on what target and stoploss we use.
Is it reasonable that a system with that win percentage will lose forever? (Well, maybe. If the system is an internet scam.)
Further, if you trade several high-percentage robots in one portfolio, is it reasonable that the portfolio will suffer massively long drawdowns?
Probably not, right?
And, lately, in my live Hornet account, I've seen a nice winning streak. It's been a very welcome sight.
On my Performance Page, I track a Hornet portfolio of 9 pairs. Here's the hypothetical 2023 Equity Curve via Portfolio Architect through Nov. 19, 2023 trading 1 lot each time with no compounding: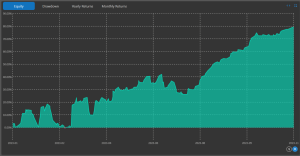 As you can see, there have been some hiccups (nothing has been immune), but the high win rate has reasonably turned into a nice hypothetical win streak lately. It's up about 80% on a hypothetical $15k account.
If you've struggled this year, here's a tip. Trade your high-percentage system.
Get some wins.
In our next Newsletter, we'll change the stop loss. This Hornet has a very big stop.
Would a small stop create good winning streaks and do even better? We'll take a look.
Talk to you soon.
Join the free Newsletter list here .
Get Robot information HERE.
Visit my Performance Page HERE.
Buy my new book HERE.
The Inevitability of Becoming Rich is HERE.
My latest YouTube video is HERE.
Disclaimer:
It should not be assumed that the methods, techniques, or indicators presented in these products will be profitable or that they will not result in losses. Past results are not necessarily indicative of future results. Examples presented on these sites are for educational purposes only. These set-ups are not solicitations of any order to buy or sell. The authors, the publisher, and all affiliates assume no responsibility for your trading results. There is a high degree of risk in trading.
HYPOTHETICAL OR SIMULATED PERFORMANCE RESULTS HAVE CERTAIN INHERENT LIMITATIONS. UNLIKE AN ACTUAL PERFORMANCE RECORD, SIMULATED RESULTS DO NOT REPRESENT ACTUAL TRADING. ALSO, SINCE THE TRADES HAVE NOT ACTUALLY BEEN EXECUTED, THE RESULTS MAY HAVE UNDER- OR OVER-COMPENSATED FOR THE IMPACT, IF ANY, OF CERTAIN MARKET FACTORS, SUCH AS LACK OF LIQUIDITY. SIMULATED TRADING PROGRAMS IN GENERAL ARE ALSO SUBJECT TO THE FACT THAT THEY ARE DESIGNED WITH THE BENEFIT OF HINDSIGHT. NO REPRESENTATION IS BEING MADE THAT ANY ACCOUNT WILL OR IS LIKELY TO ACHIEVE PROFITS OR LOSSES SIMILAR TO THOSE SHOWN.