13 Apr

Finding a Great Long-Term Strategy
Finding a Great Long-Term Strategy
Apr. 13, 2022
What would our lives look like if we had financial independence?
What if we spent less than we earned and had a long-term trading strategy that reliably produced money we could live on? With drawdown that wouldn't put us in therapy.
Everything would be better.
That's why the question is so important.
But the problem is: what long-term strategy is best? It's a tougher question than you think.
Because there are things to consider if people are actually going to change their minds and use a strategy.
It has to be understandable (not something opaque like crypto).
Why it works has to make logical sense.
It has to be easy to execute.
This is why the index fund industrial complex has been able to make billions of dollars for its salespeople. It fits all of those.
One, "the market" is understandable. A salesman says, "The market always goes up!" and a regular person says, "That sounds pretty good!" It doesn't matter if the market can go down for years. When they see a chart from 1929, they buy in.
Two, it makes sense. The American economy has not stopped growing for a long time, thus the market goes up. Logical.
Three, aside from filling out forms or calling Vanguard, an index fund is relatively easy to set up.
Presto, John Bogle and his acolytes get rich. Oh, and some people make some returns, too. Maybe.
But, of course, there's something better that anyone can do.
Forex, for one. Nearly every week I write about long-term Fx strategies that beat the market and sometimes beat it by huge margins. Unfortunately, Fx runs head-first into Qualification #1: Easy to understand. It's not easy to understand.
I've tried many times to explain to people that I trade Fx. I'm not sure one person has gotten it. Forex is out of people's comfort zones (in most cases). Yes, I'm hoping to change that. But, for now, no matter what my research shows, Fx is almost certainly not going to be initially chosen by someone unfamiliar.
What is understandable? Stocks. So, for now, if I had to present a long-term strategy, I'd have to use stocks.
We won't use buy-and-hold, though. As you know, that's a horror show. So we'll use a stock system and make sure it makes logical sense (Qualification #2).
Here's the long-term, Long-Only stock system:
Filter: The long-term trend must be up. For us, that means the Monthly chart of the instrument must be above the 6-month moving average. (I did no optimizing for this number, just common sense.)
Entry: On the Weekly chart, price must break above the high of the previous 10-bars (10 weeks).
Exit: When the long-term trend moves down. When the Monthly chart closes below the 6-month moving average, the trade is closed.
Makes sense, right?
We only get into a trade when the long-term trend is on our side. This not only puts probabilities on our side, it allows us to sidestep almost every major drawdown. For example, this system isn't in the market in 2008. It doesn't see a second of that drawdown.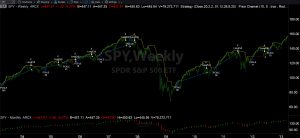 And we only exit when the long-term trend turns sour. This has the combined benefit of riding winners and getting out the the trend is over.
That is way more logical than "just stay in the market forever no matter what".
Last, it's easily executable. The robot I built for this system is in the picture above but doing this manually would take about 5 minutes a week.
Check the Monthly chart, put in a Buy Stop order. Done.
Check the Monthly chart next month. Is it above the average? Yes, do nothing.
Is it below the average? Yes, then exit. Done.
But does it work?
From 1999-2022, the market (aka the SPY ETF) created a 258% return with a max drawdown over 50%.
If you only traded the SPY with this system over the same time period and compounded your gains, you hypothetically created a 261% return with a 6% drawdown.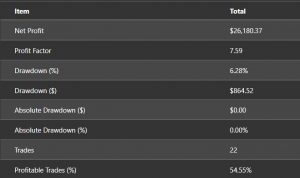 From a profit to drawdown perspective, this simple long-term system is 8 times better than buy-and-hold. And it fulfills all the Qualifications.
That's just the "market," though. If a trader was hypothetically willing to trade an individual stock, the improvement using this system is unbelievable.
We'll talk about that in the next Newsletter.
Talk to you soon.
Join the free Newsletter list here .
Get Robot information HERE.
Visit my Performance Page HERE.
Buy my new book HERE.
The Inevitability of Becoming Rich is HERE.
My latest YouTube video is HERE.
Disclaimer:
It should not be assumed that the methods, techniques, or indicators presented in these products will be profitable or that they will not result in losses. Past results are not necessarily indicative of future results. Examples presented on these sites are for educational purposes only. These set-ups are not solicitations of any order to buy or sell. The authors, the publisher, and all affiliates assume no responsibility for your trading results. There is a high degree of risk in trading.
HYPOTHETICAL OR SIMULATED PERFORMANCE RESULTS HAVE CERTAIN INHERENT LIMITATIONS. UNLIKE AN ACTUAL PERFORMANCE RECORD, SIMULATED RESULTS DO NOT REPRESENT ACTUAL TRADING. ALSO, SINCE THE TRADES HAVE NOT ACTUALLY BEEN EXECUTED, THE RESULTS MAY HAVE UNDER- OR OVER-COMPENSATED FOR THE IMPACT, IF ANY, OF CERTAIN MARKET FACTORS, SUCH AS LACK OF LIQUIDITY. SIMULATED TRADING PROGRAMS IN GENERAL ARE ALSO SUBJECT TO THE FACT THAT THEY ARE DESIGNED WITH THE BENEFIT OF HINDSIGHT. NO REPRESENTATION IS BEING MADE THAT ANY ACCOUNT WILL OR IS LIKELY TO ACHIEVE PROFITS OR LOSSES SIMILAR TO THOSE SHOWN.