18 Mar

Does the Turtle Strategy Still Work? (Because We Need It)
Does the Turtle Strategy Still Work? (Because We Need It)
Mar. 18, 2020
Here are a few things we know.
One, the market is historic. The volatility has been off the charts and it's set records not matched even in 2008-2009.
Two, trend followers (on the whole) made boatloads of money the last time we had a historically wild market. Look up a famous trend following trader or firm and you'll see big profits during volatile times.
In short, when a crisis hits, we need trend following. It might be the best strategy to use when chaos reigns supreme.
And who were the most famous trend followers? The Turtles.
Question: why not just do what they did?
We can't.
Why?
Because the Turtle Strategy doesn't work anymore.
Isn't that what you've heard? I know I've heard it for years. I've even heard it from one of the original Turtle traders (who's still trading today).
People say it doesn't work because the markets are different now. People still use trend following. They just don't use those old rules.
Is that true? Because we could really use a trend following strategy right now.
First, never trust anyone else's opinion. Always verify for yourself.
Second, trend followers are notoriously stubborn and tunnel-visioned.
They trade it one way and one way only. No new ideas. No exceptions.
For example, a trend follower would say we have to trade everything. Period. No discussion.
Even if something has not produced a trend in 30 years, you have to trade it.
Why? Because the next 30 years might be tremendously trendy.
Really? That makes sense?
Someone who's eaten peanut butter toast every day for 30 years is going to start eating a poached egg for the next 30?
I've never understood why trend followers think that way.
If you're following a trend for a living, why trade things that don't trend?
But I digress.
We need something that works in chaos. We've seen evidence that trend following works. We know the Turtles made 100% per year back in the 1980s.
So, does the Turtle Strategy still work? (That link has the original rules.)
Decide for yourself.
Here's the Performance Report for Gold on the Daily chart from 2002-2023. I used the 55-day breakout with a $600 stop, by the way: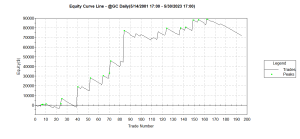 It's profitable, and not just a little bit profitable.
How has it done in 2020? It's up.
It's making money while the market has been losing it.
What the heck?
Why does everyone tell us it doesn't work?
In our next email, we'll look at other instruments.
Maybe we'll find out it doesn't work if we look around.
Or maybe we'll find that the Turtle Strategy might still be something we can use.
Talk to you soon.
Join the free email Newsletter list here.
To get on the email list, go here.
To become a Member go here.
Disclaimer:
It should not be assumed that the methods, techniques, or indicators presented in these products will be profitable or that they will not result in losses. Past results are not necessarily indicative of future results. Examples presented on these sites are for educational purposes only. These set-ups are not solicitations of any order to buy or sell. The authors, the publisher, and all affiliates assume no responsibility for your trading results. There is a high degree of risk in trading.
HYPOTHETICAL OR SIMULATED PERFORMANCE RESULTS HAVE CERTAIN INHERENT LIMITATIONS. UNLIKE AN ACTUAL PERFORMANCE RECORD, SIMULATED RESULTS DO NOT REPRESENT ACTUAL TRADING. ALSO, SINCE THE TRADES HAVE NOT ACTUALLY BEEN EXECUTED, THE RESULTS MAY HAVE UNDER- OR OVER-COMPENSATED FOR THE IMPACT, IF ANY, OF CERTAIN MARKET FACTORS, SUCH AS LACK OF LIQUIDITY. SIMULATED TRADING PROGRAMS IN GENERAL ARE ALSO SUBJECT TO THE FACT THAT THEY ARE DESIGNED WITH THE BENEFIT OF HINDSIGHT. NO REPRESENTATION IS BEING MADE THAT ANY ACCOUNT WILL OR IS LIKELY TO ACHIEVE PROFITS OR LOSSES SIMILAR TO THOSE SHOWN.