07 Dec

DANGER: This System Wins 96% of the Time
DANGER: This System Wins 96% of the Time
Dec. 7, 2022
Every cell in my body wants to trade a high percentage trading system.
Coming from athletics, the lesson is clear: the more you win, the better you do.
Period.
Winning 96% of your matches on Tour will never turn out poorly. Winning 96% of your sales calls will never have a bad outcome.
But trading is a completely different animal.
Winning in trading is really, really bad.
Remember the people who lost billions with Madoff? He never lost.
Remember when the entire financial system almost collapsed when Long Term Capital Management went bust? Those geniuses won all their trades.
Remember when the 7th-largest company in the country (Enron) started the Dot-Com crash? Their earnings never went down.
And remember how trend following has outperformed buy-and-hold by 3x over decades of research? Trend following loses all the time.
And yet.
There is nothing more satisfying that a system that wins all the time. Let's take a look at a prime example.
Here's a backtested options strategy on MSFT. The details are as follows:
Use a sample $25k account
Use 45% of your allotted capital on each trade
Max of 90% invested at any one time
Use a Short Put Spread with a 90 day expiration (or as close as possible)
Sell a Short delta of 0.15
Buy a Long delta of 0.05
Take profit at 25% of your credit amount
No stoploss
Exit position at 20 days to expiration
Does this work? You bet! Take a look at the Equity Curve: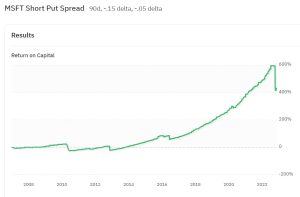 Here are the stats: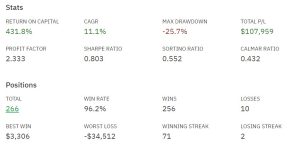 There we have it: a 96% win rate.
So, what's the problem? The problem are the massive drawdowns when it doesn't work. Because the massive drawdowns are always lurking.
Let's put this same system on an ETF. That should be even safer. Here's the QQQ with the same rules: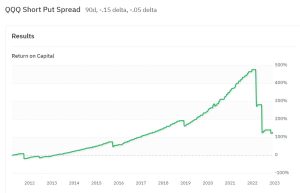 Oops. It did amazingly well for a long time (95.8% win rate)…and then lost almost everything.
And here's the same system on SPY: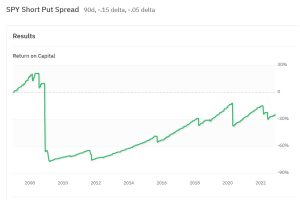 Yikes. SPY is actually a long-term loser.
And it seems logical to think that all charts using this system will eventually end up like SPY.
It's so much fun to win at a high percentage (even though the danger is omnipresent).
So we'll take a look at another big winner in our next Newsletter.
Join the free Newsletter list here .
Get Robot information HERE.
Visit my Performance Page HERE.
Buy my new book HERE.
The Inevitability of Becoming Rich is HERE.
My latest YouTube video is HERE.
Disclaimer:
It should not be assumed that the methods, techniques, or indicators presented in these products will be profitable or that they will not result in losses. Past results are not necessarily indicative of future results. Examples presented on these sites are for educational purposes only. These set-ups are not solicitations of any order to buy or sell. The authors, the publisher, and all affiliates assume no responsibility for your trading results. There is a high degree of risk in trading.
HYPOTHETICAL OR SIMULATED PERFORMANCE RESULTS HAVE CERTAIN INHERENT LIMITATIONS. UNLIKE AN ACTUAL PERFORMANCE RECORD, SIMULATED RESULTS DO NOT REPRESENT ACTUAL TRADING. ALSO, SINCE THE TRADES HAVE NOT ACTUALLY BEEN EXECUTED, THE RESULTS MAY HAVE UNDER- OR OVER-COMPENSATED FOR THE IMPACT, IF ANY, OF CERTAIN MARKET FACTORS, SUCH AS LACK OF LIQUIDITY. SIMULATED TRADING PROGRAMS IN GENERAL ARE ALSO SUBJECT TO THE FACT THAT THEY ARE DESIGNED WITH THE BENEFIT OF HINDSIGHT. NO REPRESENTATION IS BEING MADE THAT ANY ACCOUNT WILL OR IS LIKELY TO ACHIEVE PROFITS OR LOSSES SIMILAR TO THOSE SHOWN.