04 Sep

CORRECTION: Match the Market Forever, And Do It Better
CORRECTION: Match the Market Forever, And Do It Better
Sept. 4, 2023
Subscribe to my YouTube Channel HERE.
I would like this Newsletter to be the most useful place on the internet to go for trading and investing ideas.
To have a chance at that, of course, the information has to be useful.
And correct.
A Newsletter reader wrote to me late last week about the post on VIG. In that post, we discussed an ETF that has outperformed the market (SPY).
Unfortunately, there was a glitch in the Matrix– and the software I used.
For some reason, the software calculated the returns on VIG from 1995.
Great!
The problem? VIG started in 2006: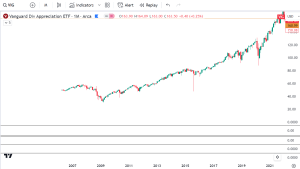 I'm not sure why the software did that. It automatically adjusts for every other instrument I looked up.
But here is the corrected comparison between VIG and SPY: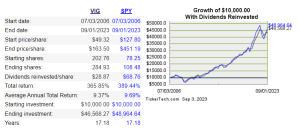 VIG is actually slightly behind over that time period.
So, we can almost beat the market forever (and definitely beat it during Bear Markets).
Please accept my apology.
However.
I've seen many videos on the internet that yell about the worthlessness of dividend stocks.
"Beat the dividend stocks with SPY's superior return and just sell shares when you need the money!"
Hmm. Interesting point.
But I do have one question.
How do I take money out when my shares are gone?
Let's say my 100 shares of SPY outperform VIG over a certain amount of time. At the end, I'll have more money in my account by using SPY.
Woohoo.
But the whole point of saving is that I can draw money out after quitting my job.
Yes, I can sell 10 shares when I need money. But then I only have 90. Then 80-70-60. Soon I have zero shares.
My income stream is gone forever.
VIG (or another dividend instrument) on the other hand, has a little less money to start.
The huge difference is that I can withdraw my dividend payments and leave my total amount of shares the same.
Dividend stocks can pay out indefinitely while never touching the original amount.
Instead of having zero shares after a while, I have the same amount of shares I started with.
That's galactically better than owning SPY and selling off shares.
So, while VIG doesn't "beat" the SPY per se, it beats it by a country mile if we're looking to draw money out of our investing account.
We'll change gears and discuss something else in our next Newsletter.
Talk to you soon.
Join the free Newsletter list here .
Get Robot information HERE.
Visit my Performance Page HERE.
Buy my new book HERE.
The Inevitability of Becoming Rich is HERE.
My latest YouTube video is HERE.
Disclaimer:
It should not be assumed that the methods, techniques, or indicators presented in these products will be profitable or that they will not result in losses. Past results are not necessarily indicative of future results. Examples presented on these sites are for educational purposes only. These set-ups are not solicitations of any order to buy or sell. The authors, the publisher, and all affiliates assume no responsibility for your trading results. There is a high degree of risk in trading.
HYPOTHETICAL OR SIMULATED PERFORMANCE RESULTS HAVE CERTAIN INHERENT LIMITATIONS. UNLIKE AN ACTUAL PERFORMANCE RECORD, SIMULATED RESULTS DO NOT REPRESENT ACTUAL TRADING. ALSO, SINCE THE TRADES HAVE NOT ACTUALLY BEEN EXECUTED, THE RESULTS MAY HAVE UNDER- OR OVER-COMPENSATED FOR THE IMPACT, IF ANY, OF CERTAIN MARKET FACTORS, SUCH AS LACK OF LIQUIDITY. SIMULATED TRADING PROGRAMS IN GENERAL ARE ALSO SUBJECT TO THE FACT THAT THEY ARE DESIGNED WITH THE BENEFIT OF HINDSIGHT. NO REPRESENTATION IS BEING MADE THAT ANY ACCOUNT WILL OR IS LIKELY TO ACHIEVE PROFITS OR LOSSES SIMILAR TO THOSE SHOWN.