09 Jul

Checking In On The Simple "Holy Grail" Portfolio
Checking In On The Simple "Holy Grail" Portfolio
July 7, 2023
Subscribe to my YouTube Channel HERE.
There's a certain theme that keeps pounding me in the head and won't stop.
It's pounding me because it's the "secret" to trading that I haven't used to its fullest extent.
That secret is: multiple trading systems that do different things.
As I've said before, I've spent over 2,500 hours on the Hornet robot in my lifetime. Why? Because hard work always pays off and focus is the key.
And I'm pretty happy with that journey. The Hornet robot worked very well until Tradestation shut down its Forex division, and I'm currently building a massive portfolio of Hornet robots to trade live. More on that in upcoming Newsletters.
But other traders have quietly hinted that no one strategy can solve all of a trader's problems. In fact, looking for just one strategy is why most traders fail.
Why? Because the only way to get one strategy to be acceptable is to walk the perilous line of curve-fitting. And no matter how careful you are, forcing one strategy to be great is very, very difficult.
You know what's easier?
Putting together a group of pretty good strategies.
They're pretty good, which means they're not over-fit. Further, when one fails, the others pick up the slack because they trade differently.
Seems logical, right?
Then how come almost nobody does this (including the former me)?
Because it's not as fun as "conquering" a single strategy. And, as BMW tells us, "pretty good" is not good enough.
As I've become aware of the power of pretty good strategies, I created a "Simple 'Holy Grail'" portfolio on my website. (See it here.)
This portfolio uses the 3 MA Cross robot we talked about in the last Newsletter plus the basic 1-hour Master Trend GBPJPY robot plus the 1-hour Master Trend RSI strategy discussed in the Master Trend course videos.
Are they different methodologies?
The 30M MA Cross robot is pure trend following. It doesn't have a hard stop or target.
The simple Bollinger Band™ robot is a breakout robot that only trades extreme breakouts and has hard targets and stops.
The RSI Master Trend robot trades breakouts with a different indicator and has different-sized targets and stops.
Are they all pretty good strategies?
Yes.
Could I piece together more strategies and/or more pairs that trade differently?
Yes. These all use the GJPY and could be combined with a mean-reversion strategy (or more things that are different).
But how has it done?
Using Portfolio Tester for the testing and Portfolio Architect for the analyzing, here is the Report for the past 5 years trading 1 lot each time on a hypothetical $20k account:

And here are the Annual Returns: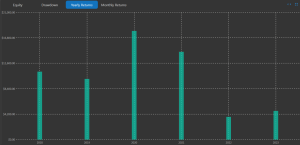 Each of these strategies has weaknesses on their own.
But together they make an impressive hypothetical portfolio.
Hmm. 
Talk to you soon.
Join the free Newsletter list here .
Get Robot information HERE.
Visit my Performance Page HERE.
Buy my new book HERE.
The Inevitability of Becoming Rich is HERE.
My latest YouTube video is HERE.
Disclaimer:
It should not be assumed that the methods, techniques, or indicators presented in these products will be profitable or that they will not result in losses. Past results are not necessarily indicative of future results. Examples presented on these sites are for educational purposes only. These set-ups are not solicitations of any order to buy or sell. The authors, the publisher, and all affiliates assume no responsibility for your trading results. There is a high degree of risk in trading.
HYPOTHETICAL OR SIMULATED PERFORMANCE RESULTS HAVE CERTAIN INHERENT LIMITATIONS. UNLIKE AN ACTUAL PERFORMANCE RECORD, SIMULATED RESULTS DO NOT REPRESENT ACTUAL TRADING. ALSO, SINCE THE TRADES HAVE NOT ACTUALLY BEEN EXECUTED, THE RESULTS MAY HAVE UNDER- OR OVER-COMPENSATED FOR THE IMPACT, IF ANY, OF CERTAIN MARKET FACTORS, SUCH AS LACK OF LIQUIDITY. SIMULATED TRADING PROGRAMS IN GENERAL ARE ALSO SUBJECT TO THE FACT THAT THEY ARE DESIGNED WITH THE BENEFIT OF HINDSIGHT. NO REPRESENTATION IS BEING MADE THAT ANY ACCOUNT WILL OR IS LIKELY TO ACHIEVE PROFITS OR LOSSES SIMILAR TO THOSE SHOWN.