06 Apr

Catching Big Moves
Catching Big Moves
Apr. 6, 2022
We can't trade everything the same way.
To say we can is a losing argument.
For example, trading something for multiple decades is different than trying to catch a parabolic move.
One is trying to make 6% a year.
The other is trying to make 160% as soon as possible.
If you decided to buy-and-hold AMC last year when price broke above $50 (it was going to $500… reddit told you so), you're currently up a creek without a swimsuit:
If you decided to buy-and-hold Zoom (ZM) in 2020 because that's the way of the future, you were terribly out of luck: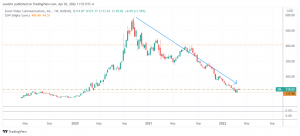 Buy-and-hold might be barely acceptable for long-term investing (maybe), but it's horrifying for fast-moving instruments.
What is acceptable? What will catch big moves?
Breakouts.
What kind of breakouts?
Any kind, really. But using indicators is a great way.
For example, here's a simple Long-Only Bollinger Band™ system that buys on a breakout above the Band (set to default settings of 20 length and 2 standard deviations) and gets out when price closes below the mid-line of the Band.
This type of system will catch big moves and, equally as importantly, get out when the move gets exhausted. Here's that simple system on a famous, hard-trending instrument, AAPL: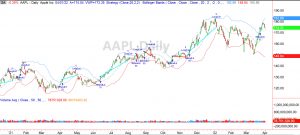 It gets in when price gets hot and trails a stop when the move is over. Here's how that system does on AAPL since 2004: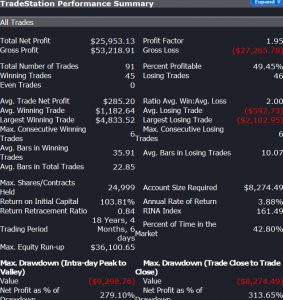 Not bad. Obviously, AAPL has been trendy for quite a while.
But this week, we're talking about things that move even faster than that. We're talking about stocks that move like crazy. Is there a way to trade those?
Well, what's been crazy in the past two years? How about ZM?
Instead of buying-and-holding, we could've used this Band Breakout system and almost doubled our account without the worry about when to sell: https://www.screencast.com/t/XT11Cdikmk5. When it stopped making new highs, move on to something else.
What's been hot lately? Oil stocks, right? And how could we have known oil might be a big-mover? The Russian invasion.
Here's how oil-based MRO has done very recently: https://www.screencast.com/t/EwcE0MiNJ On a hypothetical $10k account, you'd be doing very well.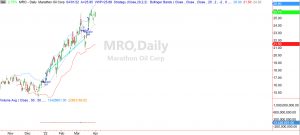 How about another oil-like company, COP? It's also done well with this simple Band Breakout strategy (hypothetically up over 20% this year):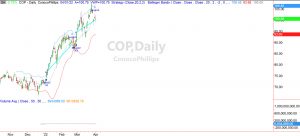 If something is in the news and you see things starting to move, a breakout strategy is a great way to trade that sort of instrument–as long as you have a target and a stopping point. A trailing stop like a Band midline is an excellent way to do it.
But there are other ways to trade fast-moving instruments, and these ways don't ask you to scan for hot stocks or be a breaking-news-watcher.
We'll talk about those in the next Newsletters.
Talk to you soon.
Join the free Newsletter list here .
Get Robot information HERE.
Visit my Performance Page HERE.
Buy my new book HERE.
The Inevitability of Becoming Rich is HERE.
My latest YouTube video is HERE.
Disclaimer:
It should not be assumed that the methods, techniques, or indicators presented in these products will be profitable or that they will not result in losses. Past results are not necessarily indicative of future results. Examples presented on these sites are for educational purposes only. These set-ups are not solicitations of any order to buy or sell. The authors, the publisher, and all affiliates assume no responsibility for your trading results. There is a high degree of risk in trading.
HYPOTHETICAL OR SIMULATED PERFORMANCE RESULTS HAVE CERTAIN INHERENT LIMITATIONS. UNLIKE AN ACTUAL PERFORMANCE RECORD, SIMULATED RESULTS DO NOT REPRESENT ACTUAL TRADING. ALSO, SINCE THE TRADES HAVE NOT ACTUALLY BEEN EXECUTED, THE RESULTS MAY HAVE UNDER- OR OVER-COMPENSATED FOR THE IMPACT, IF ANY, OF CERTAIN MARKET FACTORS, SUCH AS LACK OF LIQUIDITY. SIMULATED TRADING PROGRAMS IN GENERAL ARE ALSO SUBJECT TO THE FACT THAT THEY ARE DESIGNED WITH THE BENEFIT OF HINDSIGHT. NO REPRESENTATION IS BEING MADE THAT ANY ACCOUNT WILL OR IS LIKELY TO ACHIEVE PROFITS OR LOSSES SIMILAR TO THOSE SHOWN.