23 Nov

Can Options Beat the Market?
Can Options Beat the Market?
Nov. 23, 2022
The problem with options is that there's no way to backtest them.
And it seems like gurus love that. If a guru can confuse you into compliance, then results are not his fault.
No backtesting means no culpability if people blow up their accounts.
But that's starting to change.
I recently bought software from Option Alpha that allows you to backtest option strategies on a limited basis. It's nowhere near as robust (or flexible) as normal system backtesting and I'm not sure where the data comes from.
But I've run a bunch of tests on some very simple strategies, and it's worth a discussion.
Here's one interesting fact. Selling options is better than buying options (for the most part). You can buy Calls and Puts and do well through discretionary skill, but we're keeping it simple. We're assuming our portfolio is on cruise-control and we're hypothetically letting an options robot take all our trades. This method is as automatic as index fund investing.
And if you're on automatic, selling options is more lucrative than buying (for the most part).
Here's the simple strategy:
SPY Put Credit Spread (A Bullish Strategy)
Brief Explanation: You place your bet underneath the current stock's price and wager that price will stay above your bet for the next 30 days. The mathematical probability of winning is around 70%.
Expiration: 30 Days
Short Delta: .30
Long Delta: .05
IV Rank: Greater than 30
Take Profit: At 50% of your maximum win (credit)
Exit: Get out of trades when you have 20 days remaining until expiration
Bet Size: Use $25k of buying power each time (as you may know, Put Credit Spreads have a fixed loss amount; you can't lose more than you bet up front).
Frequency: Look for a trade once a week
If you do all that mumbo jumbo, here is the Equity Curve since 2008: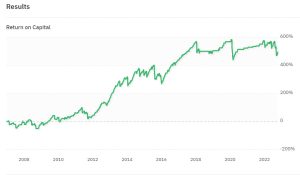 And here are some stats: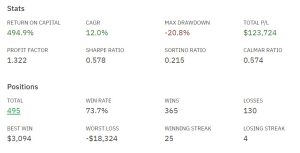 Okay, that seemed like a lot. Here are some takeaways.
One, if you don't understand any of that, that's okay. All you have to do is watch a video on how to enter a Put Credit Spread on your particular platform and use the above parameters (it's not as hard as you might think). And know that you want the stock to go up and that it must stay above your level. For example, if SPY is at $400 and a .30 Delta price is $385, if SPY stays above $385, you win.
Two, you can exit options at any time. You don't have to wait until the end. It's just like anything else. And this strategy automatically exits with 20 days remaining.
Three, this didn't include compounding. But, as it is, it beats the market.
Four, we don't know where the data came from or how accurate any of that is. It feels logical, though.
Five, the general conclusion from this test is good enough. A trader could definitely do better than this test by using some technical analysis.
But it's nice to know a simple automated strategy with no compounding is theoretically better, and just as safe, as an index fund.
In our next Newsletter, we'll look at another backtested options strategy.
Join the free Newsletter list here .
Get Robot information HERE.
Visit my Performance Page HERE.
Buy my new book HERE.
The Inevitability of Becoming Rich is HERE.
My latest YouTube video is HERE.
Disclaimer:
It should not be assumed that the methods, techniques, or indicators presented in these products will be profitable or that they will not result in losses. Past results are not necessarily indicative of future results. Examples presented on these sites are for educational purposes only. These set-ups are not solicitations of any order to buy or sell. The authors, the publisher, and all affiliates assume no responsibility for your trading results. There is a high degree of risk in trading.
HYPOTHETICAL OR SIMULATED PERFORMANCE RESULTS HAVE CERTAIN INHERENT LIMITATIONS. UNLIKE AN ACTUAL PERFORMANCE RECORD, SIMULATED RESULTS DO NOT REPRESENT ACTUAL TRADING. ALSO, SINCE THE TRADES HAVE NOT ACTUALLY BEEN EXECUTED, THE RESULTS MAY HAVE UNDER- OR OVER-COMPENSATED FOR THE IMPACT, IF ANY, OF CERTAIN MARKET FACTORS, SUCH AS LACK OF LIQUIDITY. SIMULATED TRADING PROGRAMS IN GENERAL ARE ALSO SUBJECT TO THE FACT THAT THEY ARE DESIGNED WITH THE BENEFIT OF HINDSIGHT. NO REPRESENTATION IS BEING MADE THAT ANY ACCOUNT WILL OR IS LIKELY TO ACHIEVE PROFITS OR LOSSES SIMILAR TO THOSE SHOWN.