04 Aug

Better Than Buffett
Better Than Buffett
Aug. 4, 2021
Warren Buffett is the best.
He's all I read when I started investing and I still like reading him now.
He has pearl after pearl of wisdom. It never goes out of style.
Which brings us to maybe the most perplexing question for anyone who's looking to get better:
Why do smart people have blind spots?
This week, we're talking about 3 trading systems. They're not related to each other, just random ideas that I hope will mean something to you.
First up is Buffett's great trade on BAC (Bank of America).
He bought it in 2011 when price was around $10. Now BAC's price is around $38. That's a great trade and Buffett himself is proud of it. He should be.
But how did he get it?
Of course, he read on it for probably 8 hours a day and talked to every smart person in the world. Then he got a sweet deal on it (warrants at $7.15 plus other things). Then he bought and held.
Ah, yes. Buy and hold. The preferred weapon of geniuses.
There's just one problem.
It's not the best way to trade. Let's take a look.
What if we used trend following? This evidence has been around for decades (conspicuously available for anyone in Nebraska who's a voracious reader) and goes back centuries. Again, this is all public knowledge.
So, here's a basic trend following system:
Better Than Buffett Daily System
Long Entry: buy when stock breaks above the high of the past 50 daily bars.
Stop: exit when price moves against current price by 5x the current Average True Range (ATR)
Profit Target: exit when profit equals 10x the current Average True Range
No buying-and-holding whatsoever
Here are the first few trades that would have occurred in the year Buffett bought BAC: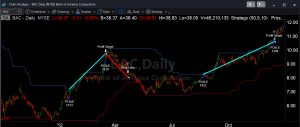 Pretty simple, right?
Now to compare. If both Buffett and us started at exactly the same time, Buffett would've made 432% and would have suffered a 68% drawdown. Pretty big drawdown, but okay.
According to the Tradestation website, customers get 50% margin, which doubles the buying power of a trader's account. So, if we have a $10,000 account, we can actually buy $20,000. Let's try it.
If we buy $20k of stock on our first trade and then use our margin on every trade after — adjusting to the size of our account after each win and loss — our $10,000 account turns into a $74,000 account.
(Note: I took the time to manually re-adjust the share size on each trade. My idea of a good time.)
Buying-and-holding BAC stock would have turned a hypothetical $10,000 account into about $53,000.
That means trading BAC is far more profitable than buying-and-holding it.
If Buffett knows this, why does he ignore it?
If he doesn't know it, then why doesn't he? It's outrageous to think he's shielded himself from this data.
Now, you could say that Buffett can't "trade" because his account size is too big. I guess. It's less than 20 trades, though, in a decade. A billionaire can't figure out how to enter and exit a trade once a year?
Fine. We'll say Buffett's thought of this and ignored it because of size.
But why would we ignore it?
If we don't have billions of dollars to trade, why shouldn't we trade our positions instead of blindly hold them?
We should. Because trading is better.
I'll have another trade idea for you in the next Newsletter.
Join the free Newsletter list here to get the details.
To become an Elite Member go here.
Disclaimer:
It should not be assumed that the methods, techniques, or indicators presented in these products will be profitable or that they will not result in losses. Past results are not necessarily indicative of future results. Examples presented on these sites are for educational purposes only. These set-ups are not solicitations of any order to buy or sell. The authors, the publisher, and all affiliates assume no responsibility for your trading results. There is a high degree of risk in trading.
HYPOTHETICAL OR SIMULATED PERFORMANCE RESULTS HAVE CERTAIN INHERENT LIMITATIONS. UNLIKE AN ACTUAL PERFORMANCE RECORD, SIMULATED RESULTS DO NOT REPRESENT ACTUAL TRADING. ALSO, SINCE THE TRADES HAVE NOT ACTUALLY BEEN EXECUTED, THE RESULTS MAY HAVE UNDER- OR OVER-COMPENSATED FOR THE IMPACT, IF ANY, OF CERTAIN MARKET FACTORS, SUCH AS LACK OF LIQUIDITY. SIMULATED TRADING PROGRAMS IN GENERAL ARE ALSO SUBJECT TO THE FACT THAT THEY ARE DESIGNED WITH THE BENEFIT OF HINDSIGHT. NO REPRESENTATION IS BEING MADE THAT ANY ACCOUNT WILL OR IS LIKELY TO ACHIEVE PROFITS OR LOSSES SIMILAR TO THOSE SHOWN.