25 Aug

A Simultaneous Trade Robot Portfolio
A Simultaneous Trade Robot Portfolio
Aug. 25, 2023
Subscribe to my YouTube Channel HERE.
This week we're looking at a new robot I've developed for the Algo Trading Conference later this year in Melbourne.
The "weird" thing about this new robot is that it takes breakout trades in opposite directions at the same time.
It can simultaneously be in a Long trade and a Short trade.
It isn't always the case, though. Sometimes this strategy takes one trade from beginning to end.
But if a new entry sets up in the opposite direction, it takes it.
In our last Newsletter, we saw that this new strategy does well over time, hypothetically producing big winning years, small losing years, and profit in the ridiculous Fx market of 2023.
It did have losing years, though.
Is there anything we can do about that?
Yes.
We can use my new mantra: Trade 'em all.
So, I took this robot and slightly altered the parameters. For example, I took the same methodology but made it harder for the trade to reach its breakout trigger.
I also changed time frames to give it some variation (and enter trends at different moments).
I also added just one different currency pair: the dreaded AUDJPY.
Did making those additions help?
Let's take a look.
Here's a sample portfolio, all using the same Trade View Breakout robot. It has the 30M "2.4" version we've discussed. It also includes a 30M "2.7" version, a 1-hour version, a 15-minute version, and the aforementioned 30M AUDJPY version.
That seems like nice variety, in theory.
Here's the Report from 2007-2023 trading 1 lot each time via Portfolio Architect:

Interesting. The win percentage has increased by adding more strategies.
The drawdown is still high, though, if we traded it on a hypothetical $20k account. Again, a bigger account could be used (or a smaller trade size).
And the hypothetical profit number is excellent.
Here's the Equity Curve: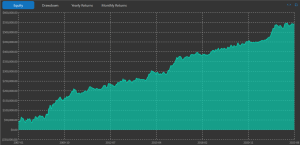 That looks pretty good, and it covers many different market regimes.
And here are the Annual Returns: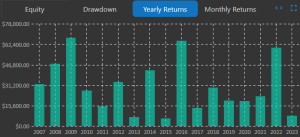 While 2023 now looks much smaller than the other big winning years, it's still profitable.
And we've hypothetically eliminated the losing years.
What are some takeaways?
One, we could add more strategies. That probably would be a good idea.
Two, simultaneous trading may be a good thing.
Three, there would be an important margin consideration. Knowing that two trades could possibly be taken at once, we'd need to make sure we use a trade size that our account can sustain. Otherwise, it's possible we could miss a trade due to running out of margin from our broker.
Overall, though, this definitely looks good. I'll be watching this trade and looking at portfolio dynamics for the next few months.
If interested, this robot will be available after the Conference in December.
Talk to you soon.
Join the free Newsletter list here .
Get Robot information HERE.
Visit my Performance Page HERE.
Buy my new book HERE.
The Inevitability of Becoming Rich is HERE.
My latest YouTube video is HERE.
Disclaimer:
It should not be assumed that the methods, techniques, or indicators presented in these products will be profitable or that they will not result in losses. Past results are not necessarily indicative of future results. Examples presented on these sites are for educational purposes only. These set-ups are not solicitations of any order to buy or sell. The authors, the publisher, and all affiliates assume no responsibility for your trading results. There is a high degree of risk in trading.
HYPOTHETICAL OR SIMULATED PERFORMANCE RESULTS HAVE CERTAIN INHERENT LIMITATIONS. UNLIKE AN ACTUAL PERFORMANCE RECORD, SIMULATED RESULTS DO NOT REPRESENT ACTUAL TRADING. ALSO, SINCE THE TRADES HAVE NOT ACTUALLY BEEN EXECUTED, THE RESULTS MAY HAVE UNDER- OR OVER-COMPENSATED FOR THE IMPACT, IF ANY, OF CERTAIN MARKET FACTORS, SUCH AS LACK OF LIQUIDITY. SIMULATED TRADING PROGRAMS IN GENERAL ARE ALSO SUBJECT TO THE FACT THAT THEY ARE DESIGNED WITH THE BENEFIT OF HINDSIGHT. NO REPRESENTATION IS BEING MADE THAT ANY ACCOUNT WILL OR IS LIKELY TO ACHIEVE PROFITS OR LOSSES SIMILAR TO THOSE SHOWN.