10 Nov

A Simple System Based on Long-Term Trust
A Simple System Based on Long-Term Trust
Nov. 10, 2023
Subscribe to my YouTube Channel HERE.
Staying in the game.
It's the most important key to success.
Want to make it on the pro tennis tour? You have to be able to stay out there for years.
Want to make it as a stand-up comic? You have to be able to stay out there for years.
Want to achieve Buffett-like investing success? You have to be able to trade something for at least a decade.
I know.
Long-term isn't fun. It isn't cool.
It isn't cutting edge.
But it works better than anything else on earth. By a mile.
In our last Newsletter, we talked about a system based on the most trustworthy thing we know: the U.S. stock market.
That system did everything an index fund would have done, only better.
Today we'll use that trustworthy, long-term story to create a simple strategy. And we'll use some recent research to make it even more simple.
Recently I read an article from a big-name firm saying that only trading the middle of the week is more profitable than trading Monday-Friday.
Let's find out. Here are the rules for this simple system, again on the ES.D futures contract (Regular Hours only).
Late Monday-Through-Thursday System
5-minute chart
Buy toward the end of Monday at 13:50 ET
Target: 2x the current Average True Range (ATR), 14 length
Stop: 14.5x the current ATR
Exit Thursday if stop or target not hit
Okay, what do we have?
We have a very buy-and-hold idea: just buy the market on Monday. We have a big stop (just like Warren Buffett does). We have an easy target to reach. Last, we're holding during the supposed best time of the week to hold.
And remember, an utterly trustworthy buy-and-hold investor would have done well in 2020 and 2021, been down in 2022, and been all over the place in 2023.
How did this system do?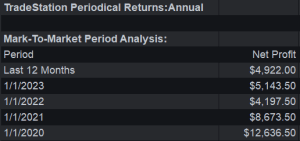 It fit the blueprint. It was way up in 2020 and 2021, was actually profitable in 2022, and is up in 2023.
As you recall, the SPY would've turned a hypothetical $10k into $14k since 2020. This strategy would've turned a hypothetical $10k into about $40k (trading 1 contract).
So, what's the problem with this strategy?
What would make you trash it?
Or, what would make you get excited and double-down on it like all the index-funders love to do?
The key to getting rich is not quitting.
Can simple strategies keep us in the game?
Talk to you soon.
Join the free Newsletter list here .
Get Robot information HERE.
Visit my Performance Page HERE.
Buy my new book HERE.
The Inevitability of Becoming Rich is HERE.
My latest YouTube video is HERE.
Disclaimer:
It should not be assumed that the methods, techniques, or indicators presented in these products will be profitable or that they will not result in losses. Past results are not necessarily indicative of future results. Examples presented on these sites are for educational purposes only. These set-ups are not solicitations of any order to buy or sell. The authors, the publisher, and all affiliates assume no responsibility for your trading results. There is a high degree of risk in trading.
HYPOTHETICAL OR SIMULATED PERFORMANCE RESULTS HAVE CERTAIN INHERENT LIMITATIONS. UNLIKE AN ACTUAL PERFORMANCE RECORD, SIMULATED RESULTS DO NOT REPRESENT ACTUAL TRADING. ALSO, SINCE THE TRADES HAVE NOT ACTUALLY BEEN EXECUTED, THE RESULTS MAY HAVE UNDER- OR OVER-COMPENSATED FOR THE IMPACT, IF ANY, OF CERTAIN MARKET FACTORS, SUCH AS LACK OF LIQUIDITY. SIMULATED TRADING PROGRAMS IN GENERAL ARE ALSO SUBJECT TO THE FACT THAT THEY ARE DESIGNED WITH THE BENEFIT OF HINDSIGHT. NO REPRESENTATION IS BEING MADE THAT ANY ACCOUNT WILL OR IS LIKELY TO ACHIEVE PROFITS OR LOSSES SIMILAR TO THOSE SHOWN.