28 Apr

A Real-Life Holy Grail
A Real-Life Holy Grail
Apr. 28, 2023
Famous author, economist, and doomsday-warner Nassim Taleb has a holy grail.
Black swans.
Taleb proudly bets on extreme, unseen events and profits extraordinarily when the extreme events come to pass.
It makes him eternally un-fragile.
For him, that's the grail.
Others might notice that Taleb loses money constantly while he waits for Black Swans, but whatever.
Holy grails aren't the same for everyone.
They can have different forms.
And here's one.
In our last Newsletter, we talked about the eye-popping returns on a simple NQ futures system. It's hypothetically made over 700% since 2020 but had small winning years mixed with losing years before the recent craziness hit.
To choose to trade it is a bit risky. What if the volatility dries up again? Then we would make a lot less or nothing at all.
It's a very hard decision to make on its own.
But what if we didn't need to make that decision?
What if we just placed this potentially lucrative system in with other, more consistent systems? What if the NQ was just one member of a larger portfolio?
If we do that, we get the potential win if the craziness stays, and we get the support of other systems if the volatility goes away.
Using complementary systems together in one portfolio is a way to have our cake and eat it too.
And anytime we get to eat our own cake, that's a good thing.
Let's take a look.
We'll keep the NQ system and we'll add one of the 30-minute momentum systems (the one that uses 2 bars to determine momentum) from the Newsletter a week ago.
Last, we'll add a system that looks to trade the beginning of the day because the other two trade later in the day.
Now we have three systems that do different things, with one of them being a potential superstar.
What does that look like from 2008-2023?
Here are the Annual Returns: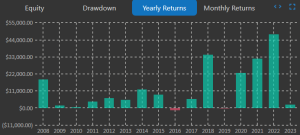 We've kept the huge winning years and stayed fairly consistent with the years the NQ was dormant. Our losing years are very tiny (if they exist at all).
By using a thoughtfully-designed portfolio, we can incorporate things that are risky by themselves and make them not as risky.
There's nothing special about these systems. They use simple, basic principles.
But there is something special about taking solid ideas and using them effectively.
Which seems eerily similar to a holy grail.
Talk to you soon.
Join the free Newsletter list here .
Get Robot information HERE.
Visit my Performance Page HERE.
Buy my new book HERE.
The Inevitability of Becoming Rich is HERE.
My latest YouTube video is HERE.
Disclaimer:
It should not be assumed that the methods, techniques, or indicators presented in these products will be profitable or that they will not result in losses. Past results are not necessarily indicative of future results. Examples presented on these sites are for educational purposes only. These set-ups are not solicitations of any order to buy or sell. The authors, the publisher, and all affiliates assume no responsibility for your trading results. There is a high degree of risk in trading.
HYPOTHETICAL OR SIMULATED PERFORMANCE RESULTS HAVE CERTAIN INHERENT LIMITATIONS. UNLIKE AN ACTUAL PERFORMANCE RECORD, SIMULATED RESULTS DO NOT REPRESENT ACTUAL TRADING. ALSO, SINCE THE TRADES HAVE NOT ACTUALLY BEEN EXECUTED, THE RESULTS MAY HAVE UNDER- OR OVER-COMPENSATED FOR THE IMPACT, IF ANY, OF CERTAIN MARKET FACTORS, SUCH AS LACK OF LIQUIDITY. SIMULATED TRADING PROGRAMS IN GENERAL ARE ALSO SUBJECT TO THE FACT THAT THEY ARE DESIGNED WITH THE BENEFIT OF HINDSIGHT. NO REPRESENTATION IS BEING MADE THAT ANY ACCOUNT WILL OR IS LIKELY TO ACHIEVE PROFITS OR LOSSES SIMILAR TO THOSE SHOWN.