26 Dec

A Great Strategy For A Down Market
A Great Strategy For A Down Market
December 26, 2018
The market is not here for our holiday merriment.
Mr. Market (last name Market, first name Equities) has been on a tear lately. And not in a good way.
The SPY has dropped over 14% in December and had 7 consecutive losing days from December 13-21.
For index-funders, that's a rough deal.
Supposedly, we all sign up for drawdowns when we sign up for Index Funds. Index Funds are the greatest and we all know that the market goes down sometimes.
But 7 days in a row? Most of them big down days? We're okay with that?
I would wager that millennials who can't even afford a $1,000 emergency wouldn't be fine with that, and I have a suspicion that an index-funder who started right after 2008 wouldn't be too happy, either.
Is there anything we can do in these troubled times?
One answer would be to trade Forex. Forex is wacky in its own right, but a Forex trader who doesn't read the news wouldn't have the faintest idea what everyone's talking about.
Another answer would be to have a system that is built for markets just like these.
Just a few days ago, an article mentioned a system that's been around forever (and was talked about in the newsletter here). The article said that Apple (AAPL) has just formed its first "Death Cross" since 2015.
In case you didn't know. Death Crosses are bearish.
Specifically, a Death Cross is when the 50 SMA crosses below the 200 SMA. The 50 and the 200 simple moving averages have been the darlings of traders since the dawn of time, and, when they interact, sparks fly.
According to the system (and trading lore), when the 50 crosses below the 200, the instrument will drop. Conversely, when the 50 crosses above the 200, the instrument will rise.
Let's take a look at the system and then examine what we can do about it.
Here are the details:
System: The Death Cross: How To Trade When the Market Hates You
Philosophy Behind It: According to trading elders, when the short term trend (50 SMA) crosses below the long-term trend (200 SMA), the times they are a-changin' (to the downside). And vice versa (cross above means go Long).
Need Special Indicators? No.
Chart: Daily
Instrument: SPY
Long or Short? Long for Golden Cross, Short for Death Cross
Golden Cross Long Entry: 1) 50 SMA must close above the 200 SMA; 2) Enter at Open of next bar
Death Cross Short Entry: 1) 50 SMA must close below the 200 SMA; 2) Enter at Open of next bar
Stoploss: $1,360 per 100 shares
Hypothetical Profit: $23,558
Hypothetical Max drawdown: -$5,363
Trade size: 100 shares each time
Test Period: 1998-2018
Number of Trades: 19
Here's the Performance Report: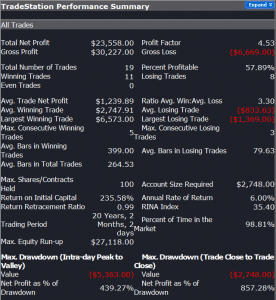 Well, look at that. By using the Death and Golden crosses, we come out nicely profitable–as long as we have a stoploss in place.
And speaking of stoplosses, notice that stoploss was per 100 shares. If you're trading 100 shares, then the stop is $1,360. If trading 200 shares, the stop is $2,720. Trading 50 shares is a stop of $680. Get it?
So what do we have?
First, we have something that's way better than buy-and-hold. Trading the Death/Golden cross with a stop is dramatically better than just buying and holding it through thick and thin. It's not even close.
Second, we're protected no matter what the market does. If it goes up, the Golden Cross will catch a lot of that move. If it goes down, the market will catch that move, too. This system doesn't have the limitations of buy-and-hold, and that's why it outperforms.
The problem for some traders would be that it only trades about once a year. That's not enough action for some people. But this system has been around for decades, so this system is not worrisome statistically. We don't need a lot of trades to know this works.
A possible move would be to set aside a conservative account and trade the Death/Golden Cross. Honestly, why do an Index Fund when we could do this?
And there's this: we'd be sitting on a $2,260 winning trade right now instead of watching our Index Fund go straight down.
Trading the Crosses is something to consider, especially in a set-aside, conservative account.
Later this week, we'll examine this system on other types of instruments.
Hope you had a great holiday! Talk soon.
Get on the email list here.
To see the weekly YouTube video on this system, go here.
Disclaimer:
It should not be assumed that the methods, techniques, or indicators presented in these products will be profitable or that they will not result in losses. Past results are not necessarily indicative of future results. Examples presented on these sites are for educational purposes only. These set-ups are not solicitations of any order to buy or sell. The authors, the publisher, and all affiliates assume no responsibility for your trading results. There is a high degree of risk in trading.
HYPOTHETICAL OR SIMULATED PERFORMANCE RESULTS HAVE CERTAIN INHERENT LIMITATIONS. UNLIKE AN ACTUAL PERFORMANCE RECORD, SIMULATED RESULTS DO NOT REPRESENT ACTUAL TRADING. ALSO, SINCE THE TRADES HAVE NOT ACTUALLY BEEN EXECUTED, THE RESULTS MAY HAVE UNDER- OR OVER-COMPENSATED FOR THE IMPACT, IF ANY, OF CERTAIN MARKET FACTORS, SUCH AS LACK OF LIQUIDITY. SIMULATED TRADING PROGRAMS IN GENERAL ARE ALSO SUBJECT TO THE FACT THAT THEY ARE DESIGNED WITH THE BENEFIT OF HINDSIGHT. NO REPRESENTATION IS BEING MADE THAT ANY ACCOUNT WILL OR IS LIKELY TO ACHIEVE PROFITS OR LOSSES SIMILAR TO THOSE SHOWN.