17 Nov

A Friendly Neighborhood Prop Firm
A Friendly Neighborhood Prop Firm
Nov. 17, 2021
It might be time to eat my words.
Because I may have found a friendly prop firm.
I've spoken out against prop firms because it feels like they're feeding on the desperate, offering the prospect of high-payouts couched in terms that seem built for a trader's failure.
But I've never been against prop firms, per se. One of the best trading books I've ever read is One Good Trade, and that is solely about prop firm trading. In conditions like that prop trading can be life-changing–in a completely good way.
What I didn't like is the predatory feeling. But what if I found a prop firm that was friendly to Forex traders?
Then I might have to eat my righteous words.
And that's what happened. As I mentioned on Monday, I had a great meeting last Friday and I'm going to do a Trial. This week, we'll look at possible ways to pass an Assessment and become a funded trader. Once funded, we would get to keep 75% of our profits while the firm puts up the money and takes all the risk.
First, we'll examine the Dragonfly robot. This is a breakout robot based on trend following principles. Trend following strategies with prop trading are good and bad. They're good because strong trends can lead to passing the Assessment very quickly. They're bad because win percentage is usually low for this type of trading, which means that drawdown limits must be watched very closely.
This version of the Dragonfly has a reduced stop loss. (The original version has a wide stop).
Further, in this test, I tried to exit on Fridays (no carrying positions over the weekend) and exited when a daily drawdown limit almost reached 4% and when a monthly drawdown limit almost reached 5%.
And I used a hypothetical $25k account. This means that our monthly losses can't exceed that percentage and we pass the test when we make $2,500. From that point on, we get 75% of the profits as long as we don't exceed the drawdown limits. Here are some hypothetical results:
In 2019: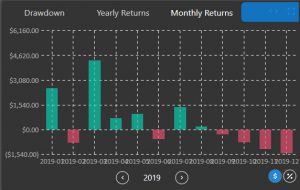 We would've passed and become funded in the very first month. Hooray! Then the next would have been a loser before a really nice profitable month. That would have been a sizable hypothetical check. We have a few more profit months before a bad finish. But as long as we didn't hit the drawdown limits, we would have made money.
2020: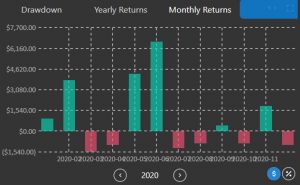 We also might have passed early in the year. If so, the big profit months in the middle of 2020 would have been wonderful. But plenty of losing months that would have delayed stopped us from qualifying or not made us any money.
2021: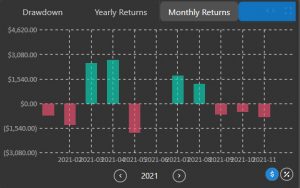 This time the early months would have prevented us from qualifying but March and April would have gotten us through. It looks like July and August also would have worked.
So, a trend following strategy looks like it would have hypothetically gotten us funded. But there definitely are some down months and we'd have to watch our restrictions closely during those time.
All told, though, trading this way would have brought some hypothetical profit into our lives. It might have been wrong to not take prop trading more seriously.
In our next Newsletter, we'll try a different strategy.
Join the free Newsletter list here to get the details on the next system.
To become an Elite Member go here.
Disclaimer:
It should not be assumed that the methods, techniques, or indicators presented in these products will be profitable or that they will not result in losses. Past results are not necessarily indicative of future results. Examples presented on these sites are for educational purposes only. These set-ups are not solicitations of any order to buy or sell. The authors, the publisher, and all affiliates assume no responsibility for your trading results. There is a high degree of risk in trading.
HYPOTHETICAL OR SIMULATED PERFORMANCE RESULTS HAVE CERTAIN INHERENT LIMITATIONS. UNLIKE AN ACTUAL PERFORMANCE RECORD, SIMULATED RESULTS DO NOT REPRESENT ACTUAL TRADING. ALSO, SINCE THE TRADES HAVE NOT ACTUALLY BEEN EXECUTED, THE RESULTS MAY HAVE UNDER- OR OVER-COMPENSATED FOR THE IMPACT, IF ANY, OF CERTAIN MARKET FACTORS, SUCH AS LACK OF LIQUIDITY. SIMULATED TRADING PROGRAMS IN GENERAL ARE ALSO SUBJECT TO THE FACT THAT THEY ARE DESIGNED WITH THE BENEFIT OF HINDSIGHT. NO REPRESENTATION IS BEING MADE THAT ANY ACCOUNT WILL OR IS LIKELY TO ACHIEVE PROFITS OR LOSSES SIMILAR TO THOSE SHOWN.